Veganism is on the rise. According to one estimate, around 8% of the world's population currently follows a vegan diet, and this number is growing every year. 
In the UK, the number of individuals following a vegan diet increased by 40% in 2020.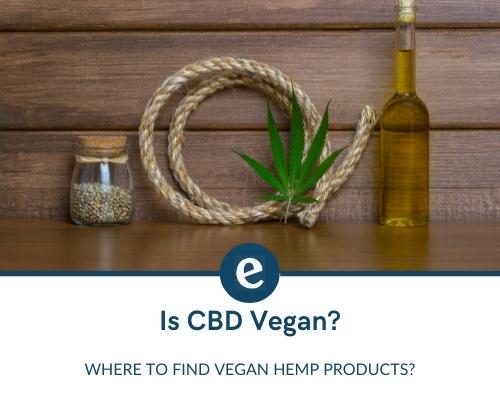 Those turning their back on animal products in favour of a more sustainable lifestyle might be wondering if their CBD oil makes the cut. 
So, is CBD oil vegan?
While many CBD products are marked as vegan, there are some ingredients to avoid if you're looking for a cruelty-free addition to your wellness routine.
So, Is CBD Oil Vegan?
In its purest form, CBD oil is vegan and does not contain any animal-derived products. 
However, not all CBD products are vegan.
Companies may blend their CBD with carrier oils that are either not vegan or are otherwise problematic. Or companies might create CBD products such as gummies or chewing gum that are not 100% vegan.
If you're trying to navigate the world of veganism and find a suitable CBD product for your needs, these are the factors you will need to consider.
Where Does CBD Oil Come From?
CBD is a compound extracted from the cannabis plant. The most popular form of extracting the cannabinoids from the plant material is with supercritical CO2 extraction. 
So far, no animals have been harmed in the production of your CBD product.
CBD isolate isn't a very common or widespread product. Instead, most companies add CBD to other items such as carrier oil or food items. 
This is when the CBD is most likely to lose its vegan credentials.
If you're curious to know if your CBD oil is vegan, pay close attention to the carrier oil. Most companies will use high-quality MCT oil, but look out for other ingredients that may not be vegan. 
If you are concerned about the sustainability of your CBD products, make sure you choose organic products and steer clear of products containing non-sustainable oils such as palm oil.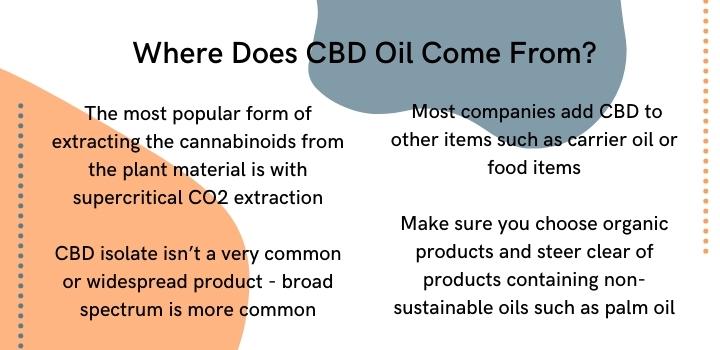 Which CBD Products Are Not Vegan?
Not all CBD products are clearly marked as vegan, even when they are. And some might have sneaky ingredients that you will want to avoid.
CBD gummies
CBD gummies are fruit-flavoured jelly sweets containing a specific measure of CBD in each sweet. 
They may be made with bovine gelatine, which is not vegan. 
Look for products made with vegan gelling agents such as pectin, agar agar or seaweed extract.
CBD capsules
These are similar to multivitamins and will contain a specific amount of CBD in each capsule. The majority are vegan, but some will use gelatine to create the soft capsule. 
Other non-vegan capsule ingredients include shellac and beeswax.
CBD skin care
When choosing CBD skin care products, you should look for the presence of animal-derived ingredients and cruelty-free practices.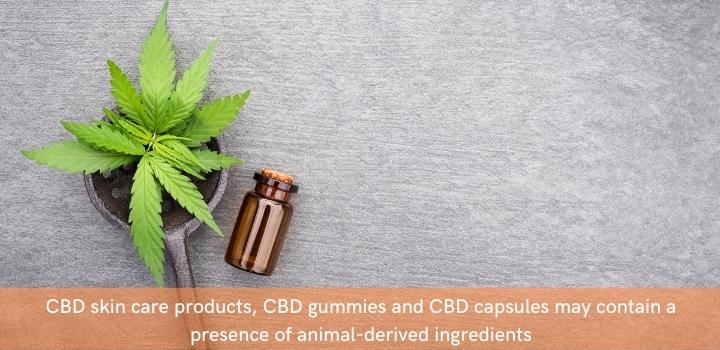 How To Choose The Right CBD Products For Your Needs
The CBD industry can be overwhelming for newcomers. With so many new terms and concepts to learn before you even get to pick your products.
When choosing CBD products, you should always look for suppliers that are open and transparent about the ingredients. 
This is how you can be sure you're getting premium-quality CBD blended with vegan ingredients.
The easiest way to ensure your CBD products are vegan is to choose a high-quality CBD oil. 
CBD oil is very accessible and easy to add to your daily routine.
To use CBD drops, you first need to calculate the amount of CBD in one drop, and then work out how many drops you need to enjoy your intended dosage. 
You place the drops under your tongue and then leave for a few minutes.
The CBD is absorbed through the small vessels under your tongue. You swallow the remaining oil which can then be absorbed through the lining of your digestive tract.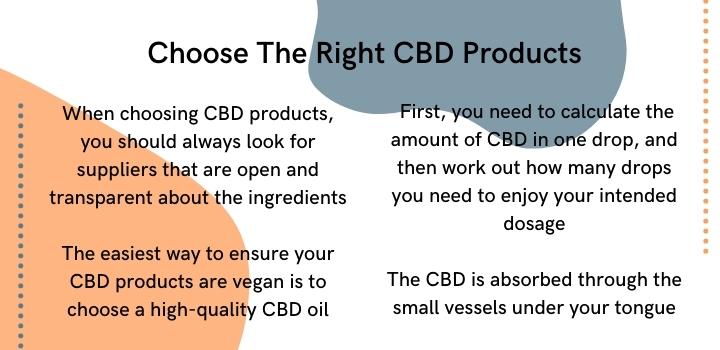 Why Choose Evopure CBD Products
We offer organically-grown, broad spectrum CBD products. We can trace our CBD from farm to door and we're proud to offer a range of vegan products.
These are some of the ways that we ensure we can deliver high-quality CBD products to our customers.
We

pay close attention to our supply chain

. We can track our ingredients from the farm to the shop, so we know if the ingredients found within are really vegan and cruelty-free.
We only use

organic CBD.

Organic farming is heavily regulated, which means we can be sure the CBD that ends up in our products is free from pesticides and chemicals.
Our

CBD is extracted using supercritical CO2 extraction.

This means that no chemicals are used to extract the cannabinoids from the plant material, which reduces the risk of contamination with non-vegan compounds.
Our

CBD is broad-spectrum.

A broad-spectrum CBD contains a wide range of cannabinoids and terpenes with no THC. By choosing broad-spectrum products, you are enjoying CBD in its most natural form.
We use

3rd party lab testing.

Every product includes a third-party lab analysis of the contents so you know exactly what you are getting. Not every company offers this level of detail.
Our

capsules are made with a vegan-friendly vegetable shell.

This means you can be confident there are no animal products in our capsules.
Download your FREE Buyers Guide for an introduction to CBD
Check our other blog posts for more information about CBD – or buy CBD oil online from our shop if you're ready to give it a try! With our 30-day happiness guarantee, there's nothing to lose.