Veganism is on the rise. According to one estimate, around 8% of the world's population currently follows a vegan diet, and this number is growing every year. 
In the UK, the number of individuals following a vegan diet increased by 40% in 2020.
Those turning their back on animal products in favour of a more sustainable lifestyle might wonder if their CBD oil makes the cut. 
So, is CBD oil vegan?
While many CBD products are marked as vegan, there are some ingredients to avoid if you're looking for a cruelty-free addition to your wellness routine.
In this article, we'll cover:
Where CBD oil comes from

What the main ingredients are in CBD

What to look out for when buying vegan CBD

… And much more. But let's start at the beginning.
Is CBD vegan?
In short – yes, CBD is vegan. 
CBD (also called Cannabidiol) is a cannabinoid that can be extracted from both cannabis and hemp plants (i.e. the low-THC cousin of the cannabis plant).
In its raw form, CBD is 100% plant-based. 
So, this may seem like a forgone conclusion: a compound extracted from a plant will always be vegan… Right? 
Sorry, wrong. Many products you may initially assume to be vegan can go through various stages in production processes that negate their vegan status. 
Products such as CBD gummies or gel capsules – while still 'plant-based' – often cannot be classed as vegan for this reason.
10% off on your first order
Complete this one-minute quiz and find the right products for you.
So, is CBD oil vegan?
In its purest form, CBD oil is vegan and does not contain animal-derived products in its purest form. 
However – as already alluded to – not all CBD products are vegan – and it's not just gummies you have to be wary of.
To aid CBD's bioavailability and produce a consumable oil, most companies add carrier oil or food items to the extracted CBD.
This is when CBD is most likely to lose its vegan credentials.
If you're curious to know if your CBD oil is vegan, pay close attention to the carrier oil. Most companies will use high-quality MCT oil but look for other ingredients that may not be vegan. 
If you are concerned about the sustainability of your CBD products, make sure you choose organic products and steer clear of products containing non-sustainable oils such as palm oil.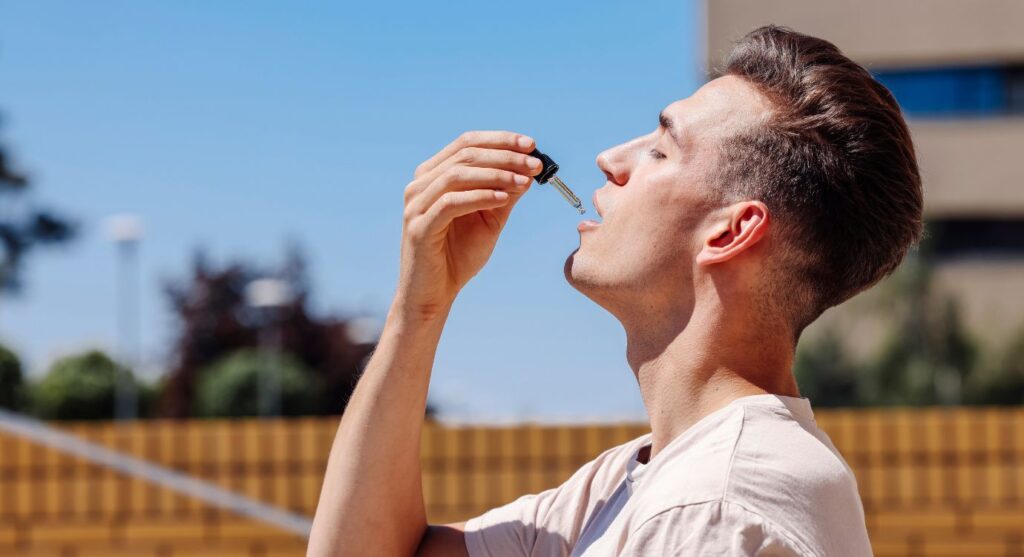 4 CBD products that may not be vegan
Not all CBD products are clearly marked as vegan, even when they are. And some might have sneaky ingredients that you will want to avoid.
1. CBD gummies
CBD gummies are fruit-flavoured jelly, sweets containing a specific measure of CBD in each sweet. 
They may be made with bovine gelatine, which isn't vegan. 
Look for products made with vegan gelling agents such as pectin, agar agar or seaweed extract. All vegan products should always be labelled as such, but if you're unsure, research or contact the brand.
2. CBD capsules
CBD capsules are similar to multivitamins and, like gummies, will contain a specific amount of CBD in each capsule. Most capsules are vegan, but some will use gelatine (derived from animal products) to create the soft capsule. 
Other non-vegan capsule ingredients include shellac and beeswax – make sure you keep your eyes peeled for these.
Cheeky brag – at Evopure, we make our CBD capsules with vegan shells!
3. CBD skincare
While many CBD skin care options will be vegan, it's also easy to be caught off guard. When choosing CBD skin care products, look for the presence of animal-derived ingredients.
4. CBD chocolates
This may seem obvious, but be careful with any CBD chocolate products. Unless stated otherwise, we'd say always assume they will contain dairy!
Certain gelling agents used in CBD gummies are animal-derived
Some CBD capsules are made with non-vegan shells
Skincare products may contain non-vegan ingredients or be animal tested
Unless stated otherwise, CBD cholocates contain diary
How to add CBD to a vegan diet
CBD oil and a vegan diet can be easily paired and actually work incredibly well together – in part because vegan diets often contain lots of naturally fatty foods (such as avocado, olive oil, and brazil nuts) – of which promote the absorption of CBD. 
Our favourite cannabinoid can also supplement a vegan diet with essential nutrients – including plant proteins, iron, amino acids and vitamin B.
Great! But how do I add CBD oil to my vegan diet? 
There are a few options – so let's go through them one at a time.
Sublingually
Taking CBD sublingually is done by placing a few drops of oil or tincture under your tongue. This method results in the best bioavailability, as CBD bypasses the stomach and directly enters the bloodstream.
Topically
When you think of veganism, you think of food – right? But it's not just about eating. Vegan CBD products can also be applied topically (i.e. directly onto the skin). 
Instead of travelling into the digestive system or bloodstream, topical CBD interacts with receptors in the cannabinoid system located on your skin's surface.
Orally
CBD can be added to your food and drink, or you can choose to consume ready-made vegan products which already contain CBD – or take a CBD capsule with your meal. 
While this is a  straightforward method to integrate CBD into your vegan diet, be mindful that effects may not be instantaneous.  When CBD is taken orally,  the active ingredients in the cannabinoid have to travel through the digestive system and liver before entering the bloodstream.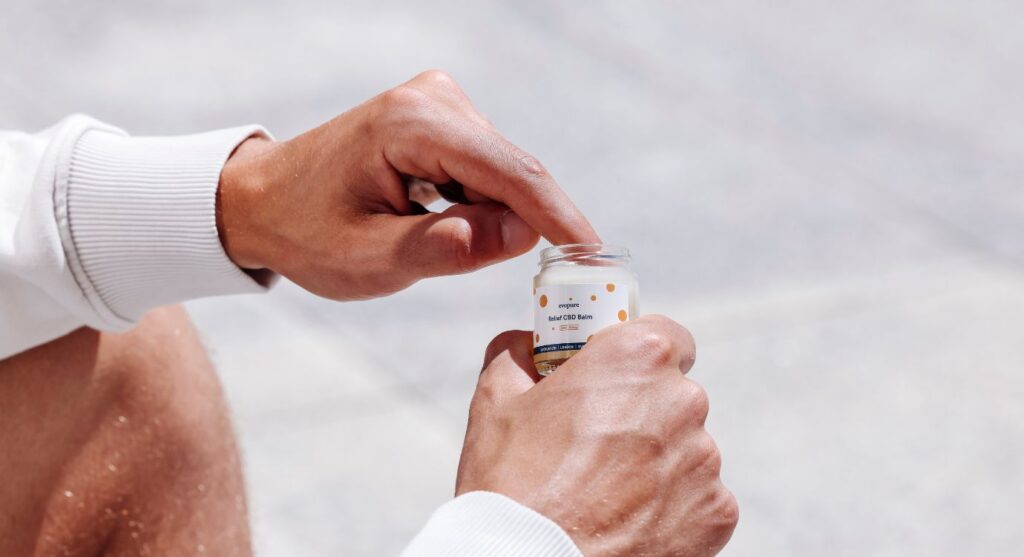 What to look for when you buy vegan CBD
Whether you're strictly vegan, prefer plant-based products, or opt for cruelty-free options where possible – one thing stays the same – easily identifiable products are essential.
While most brands love to shout from the rooftops when their products are any of the above (cough, cough, oh hey!) – sometimes it takes a little digging to find out the nitty-gritty of the ingredients and where they are sourced. 
Because who knew Oreos were vegan?!
Some descriptors or stamps we'd suggest you look for in the best vegan CBD oil (and broader) products are:
Vegan CBD will sometimes but not always will be

Vegan Society approved
Sustainably produced certifications (B corporations, Climate Neutral, Fairtrade International

are all labels you may be aware of)

Organic (might be

Soil Association

approved)

3rd party lab testing – this is a super important one to look out for in all CBD products. It means the product you're buying includes third-party lab analysis of the contents and ingredients – so you can be sure of what's in every bottle. 
Final words on vegan CBD
Since it is extracted from plants, CBD itself is 100% vegan. That bit is easy. But never assume that CBD products are also vegan.
Vegan CBD gummies, vegan CBD oil, and vegan CBD capsules all exist in abundance – but it's always worth checking and choosing reputable brands.