Important Note: In the United Kingdom it is currently not legal to market CBD products to pets directly. 
Any company doing this should be avoided. 
Nonetheless, the majority of these products are simply the same CBD product offered to humans, but usually in lower doses (based on the size of the animal). 
Using CBD oil for dogs has been growing in popularity in recent years. 
Since more humans have been using it to attain overall wellness and restore balance, people are wondering if our furry friends can enjoy the same benefits. 
In this guide, we will cover: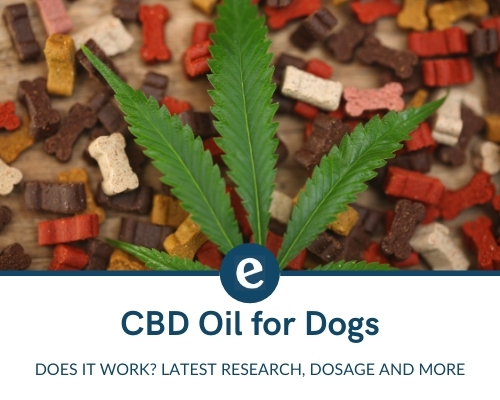 Can dogs have CBD oil?

Can CBD oil help dogs?

How does CBD oil work for dogs?

How do you use CBD oil for dogs?
Does CBD work the same for dogs as it does for humans?
Let's take a look.
Can Dogs Have CBD Oil?
Seeing as dogs are animals that can experience emotions, a lack of wellbeing, and other human traits, many wonder if dogs can use CBD oil too. 
Seeing as the human body can take CBD and reap its effects due to the cannabinoids interacting with the body's endocannabinoid system (ECS), that is the question you will want to ask here. 
As opposed to asking "can dogs have CBD oil?", you need to ask "do dogs have an endocannabinoid system?". 
The simple answer is yes. 
Dogs also have their own endocannabinoid system responsible for many of the things it controls in human bodies.
Dogs CB1 and CB2 receptors act in slightly different ways to humans and THC can be toxic for them. 
For this reason, you should avoid using Full-Spectrum CBD oil for dogs – because you may accidentally give them traces of THC found in the CBD product.
Can CBD Oil Help Dogs?
A dog's endocannabinoid system does not work in the same way as a human. 
There are a lot more CB1 receptors in the brain of a dog than in a human brain, which is why THC can be toxic to them.
However, a dog's endocannabinoid system does carry out the same functions and their ECS works to promote balance and maintain homeostasis. 
So, it might seem that if a dog takes CBD oil it can reap the same restorative and balancing properties that a human does.
CBD isn't medicine and should not be taken as a treatment for humans or dogs.
No CBD product should be used for treating any particular ailment.
With dogs in particular, CBD in the UK is not cleared for animal use. Therefore you should only take it at your own risk and after speaking with a vet about your options.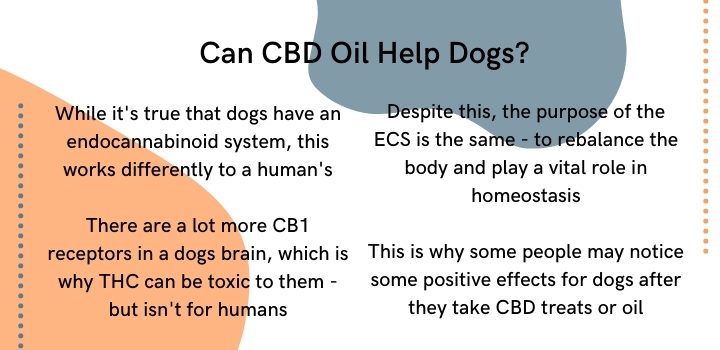 Will CBD Get My Dog High?
Nobody can get high from CBD, including dogs. 
CBD products contain either none or a minimal amount of THC, known as Tetrahydrocannabinol, which is the cannabinoid found in the cannabis plant that results in the "high" effect. 
Seeing as minimal or no THC is present in CBD oil products, you'll be glad to hear that the answer is no, dogs cannot get high.
For CBD oil to be legal, it has to contain less than 0.2% THC, which isn't enough for any psychoactive effects.
However, buying from brands that are not reputable and do not share their lab test results puts your dog at risk of ingesting THC levels which may be toxic.
Read more:

CBD vs THC

: Breaking down the differences for good. 
Since CBD and the other cannabinoids are not psychoactive, your dog isn't going to be laying on your sofa eating all of your snacks after you give it a drop of CBD tincture!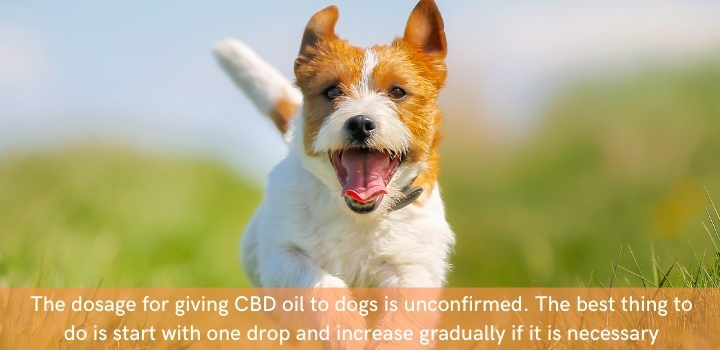 Why Should You Be Wary of Companies Selling CBD Oil For Dogs?
At the end of the day, CBD has not been cleared in the UK for animal use.
Some places in the USA and other countries have cleared it, meaning approval may be on the way in the UK, but as of right now any company selling CBD oil for dogs isn't adhering to regulations.
Companies like this are not trustworthy.
Whilst it's true that CBD may influence your dog in the same way it works for you because of the shared endocannabinoid system, brands that are selling specific CBD for dog use are likely unreliable companies.
If you are willing to take the risk to give CBD to your dog, you must ensure that the company reaches high standards.
Furthermore, you should always ensure if you or your dog uses CBD oil, you should use it as a supplement and not a medicine. 
It works to promote wellness as opposed to treating conditions. 
Thus, this should always be kept in mind as well as purchasing products from legitimate and verified sellers.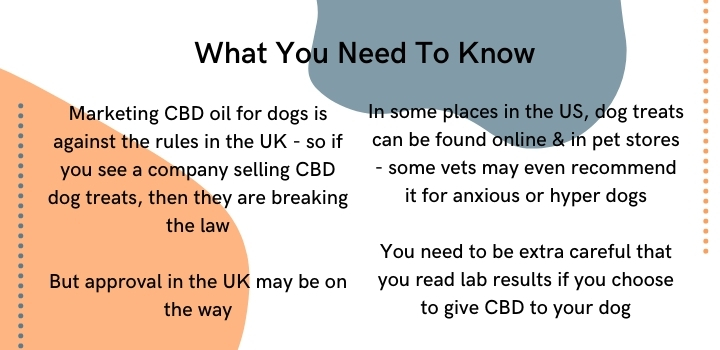 How Does CBD Oil Work?
CBD oil for dogs works similarly to humans. 
It works with the endocannabinoid system, also referred to as ECS, where the cannabinoids from the CBD interact with the body's receptors. 
The two main receptors within the ECS are CB1 and CB2, which are responsible for:
Restoring balance

Controlling bodily functions

Maintaining homeostasis. 
When CBD is consumed orally via drops under the tongue, the product bypasses the digestive system and directly enters the bloodstream. 
When CBD enters the bloodstream, it interacts with the CB1 and CB2 receptors. 
When doing so, it transmits signals to the brain, which can impact the body's biological and physiological processes. 
Then, it can restore balance, achieve better wellness, and function properly.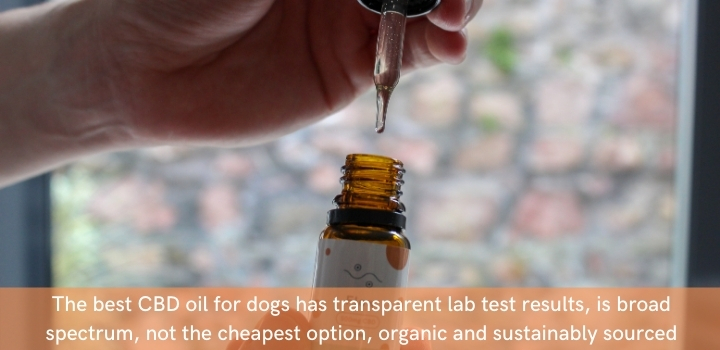 How Do You Use CBD Oil for Dogs?
Speaking of applying CBD directly under a dog's fur coat, there are other ways they can use it. 
In terms of dosage, there is currently no recommended dosage for dogs. 
The best way to prevent any negative side effects is to simply keep the dose small. 
This could be given sublingually or drops in their food. 
Humans are typically advised to gradually increase their dose over time to find the sweet spot. 
Unfortunately, this isn't possible with dogs since you can't simply ask how they're feeling to measure any effects.
As a result, it's probably best to keep it at one drop per day, especially for smaller dogs.
The bioavailability for dogs may differ due to their slower metabolism and slightly different functioning of their endocannabinoid system. 
If you're willing to take the risk and give CBD oil to your dog, it's imperative that you speak to your vet first. 
Some of the products available on the market include: 
Tinctures
It is possible to offer CBD to dogs through tincture products. 
These can be dropped directly on their tongue or in the food and drink. If your furry friend is fussy, adding it to their food may be the easiest option.
Edible CBD
Speaking of food, dogs love treats. 
There are a few CBD dog treats and snacks available created and sold in the USA and other countries that contain CBD. 
These include chews and small snacks and typically include broad-spectrum CBD. 
We wouldn't recommend these products, because they do not adhere to UK standards.
Topical products
To restore any issues that involve the skin or areas under the skin, topical products may be used. 
These can be applied in the same way as a human would, directly to the affected area.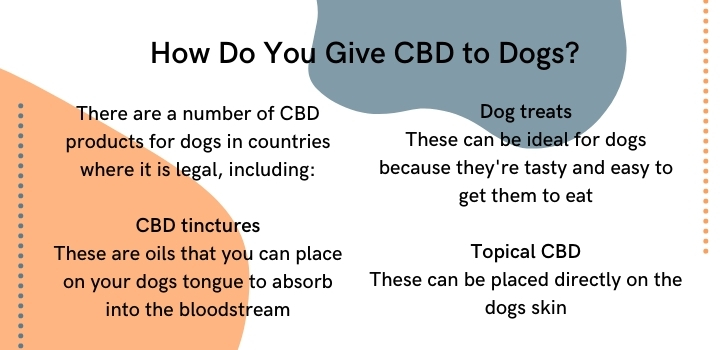 Which CBD Oil is Best?
The trending nature of CBD oil and its restorative and balancing effects has led many brands to get involved in the industry. 
Some of them do their due diligence and provide high-quality products.
However, others do not.
Therefore, you must be wary and know how to avoid scams.
As a result, your strategy in looking for the best CBD oil for dogs in the UK (or elsewhere) shouldn't be to find a specific CBD for dogs.
Instead, it should rather be to find a brand you can trust to provide high-quality CBD oil.
Things to look out for include:
Published lab-test results
Organic, ethical and sustainable
Industry average prices – anything too cheap is likely bad value
Broad-spectrum
Published lab results
A company that publishes its lab results online is confident in its product and has nothing to hide.
You'll also want to use these results to ensure that the product contains either zero THC or less than 0.2%. 
Any more than that is both illegal and can be toxic for your dog.
Not the cheap option
Never go for the cheap option. 
Yes, we know, this is always tempting to do. 
Unfortunately, most cheaper forms of CBD oil are poor quality or don't contain CBD at all. 
Even if it does, it may be full of herbicides, pesticides, heavy metals or other dangerous ingredients. 
This doesn't mean all expensive CBD products are good, but if you're willing to do your research and pay a little more, you'll usually be rewarded.
Organic, ethical and sustainable
Other beneficial factors include looking for a product that's organic and sustainably produced.
These are free from pesticides and other harmful chemicals, are good for the planet, and good for you.
Looking for UK-based brands (if you're based in the UK) is a great way to combat the carbon footprint of deliveries.
Broad spectrum CBD oil
There are several types of CBD oil on the market. 
All can promote wellness and wellbeing. 
The key difference is the range of cannabinoids used and whether or not they contain other ingredients. 
Full-spectrum

: contains a large amount of naturally occurring compounds from the plant itself, and a small, legal level of THC. 

Broad-spectrum

: you get the full benefit of the hemp plant, with no added THC.

CBD isolate

: leaves behind the purest form of CBD with no other cannabinoids or flavonoids.
As long as you follow these rules and do your research, there should be nothing to stop you from finding high-quality CBD oil for dogs in the UK.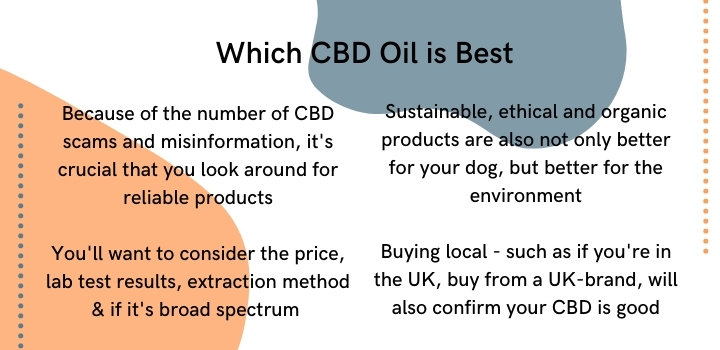 Bottom Line
Giving CBD oil to your dog may one day be approved in the UK, as it is in the US and other countries.
It's not yet, though, so you should only use CBD oil for your dog at your own risk – and after checking with your vet.
Ensuring you choose a high-quality brand can limit the risk you're taking by giving your dog CBD.
Dogs have an endocannabinoid system as humans do, meaning they can attain the same restorative and balancing properties. 
The CBD bioavailability and efficacy may be different, but they still should witness similar effects with small and safe doses. 
It is important to take extreme caution when giving anything new to your pets, including CBD oil.
If you do give your dog CBD, ensure to monitor them after consumption and take good care of them. 
Have you tried giving CBD to your dog? Did you experience any benefits? Feel free to get in touch! If you're looking to start your own CBD oil journey, check out our shop to buy CBD oil online!