"CBD bath bombs? What next!" 
We hear you – it can feel like it's hard to leave your house these days without hearing about another new product that CBD has worked its way into.
But with an exploding 'self-care' market (currently worth around $450 billion), it makes sense that CBD – a cannabinoid that works to help maintain our sense of wellness – is popping up literally everywhere. 
People are increasingly taking a holistic approach to their health while prioritising natural products and experiences that offer benefits for both their mental and physical well-being. 
And CBD oil fits perfectly within this category. 
Now – how do we make those bath bombs again? 
Stick with us as we share: 
How to make CBD bath bombs

As easy CBD bath bomb recipe

How to use CBD bath bomb
How to make CBD bath bombs
Here comes the fun part: making your own CBD bath bombs. 
Choosing your CBD bath bomb ingredients
As with any homemade beauty recipe, you'll get better results if you choose the highest quality products.
The basic ingredients for a CBD bath bomb are:
Baking soda

Citric acid

Cornstarch

Essential oils

CBD isolate

You can also enhance your CBD bath bombs with soothing ingredients such as Epsom salts. These are ideal for bath bombs as they contain magnesium, which can help reduce inflammation and relax aching muscles. 
You can also add shea or coconut butter, to help leave your skin feeling soft and silky.
In addition, the essential oils you select will add an aromatherapy element to your bath bomb experience.  We love relaxing scents like lavender and chamomile, or bright and bold scents like grapefruit and ylang-ylang. 
A word of advice – don't skimp on the essential oils. Always choose high-quality, therapeutic grade A essential oils. These will contain beneficial terpenes, offer the best scents and ensure your bath bombs are free from contaminants and chemicals. 
How to add CBD oil to bath bombs
When adding CBD to your bath bombs, it's easiest to use CBD isolate as opposed to CBD oil. This is because the additional ingredients in CBD oil won't add any additional benefits.
Instead of wasting carrier oil, terpenes and flavonoids, (all present in broad-speactrum and full-spectrum CBD oil), you can use a CBD isolate to avoid wastage. 
In addition, CBD isolate is available in crystalline form, making it easy to weigh and add to the bath bomb.
However, if CBD oil is all you have, no fear. Our broad-spectrum CBD oil should still do the trick.
10% off on your first order
Complete this one-minute quiz and find the right products for you.
CBD oil bath bomb recipe
This is our tried-and-tested recipe for creating the most indulgent and relaxing CBD bath bomb to complete your self-care routine. 
It's the ideal way to wind down at the end of a long week.
The ingredients included in this CBD bath bomb will soothe aching muscles while also indulging your senses. 
They're also packed with moisturising ingredients to leave your skin feeling soft and supple.
This recipe is enough for two bath bombs, so you can use one for yourself and give another to a friend.
Ingredients
120g baking soda

60 g citric acid

60g cornflour

60g Epsom salt

10 drops of essential oils

1 tbsp shea butter

200mg Evopure CBD

1 tsp water

You'll also need two mixing bowls and a bath bomb press or mould.
Method
Start by mixing the dry ingredients. 

Melt the shea butter and then mix this with the wet ingredients. 

Next, slowly add the dry to the wet ingredients. The mixture should resemble wet sand and clump together when you squeeze it.

Press the mixture into the four halves of the bath bomb moulds so that it is slightly overflowing. 

Then, press the two halves together firmly.

You then need to take the bath bomb out of the press and allow it to dry out overnight. 

Then, the next day, you'll be ready to indulge in your own CBD bath.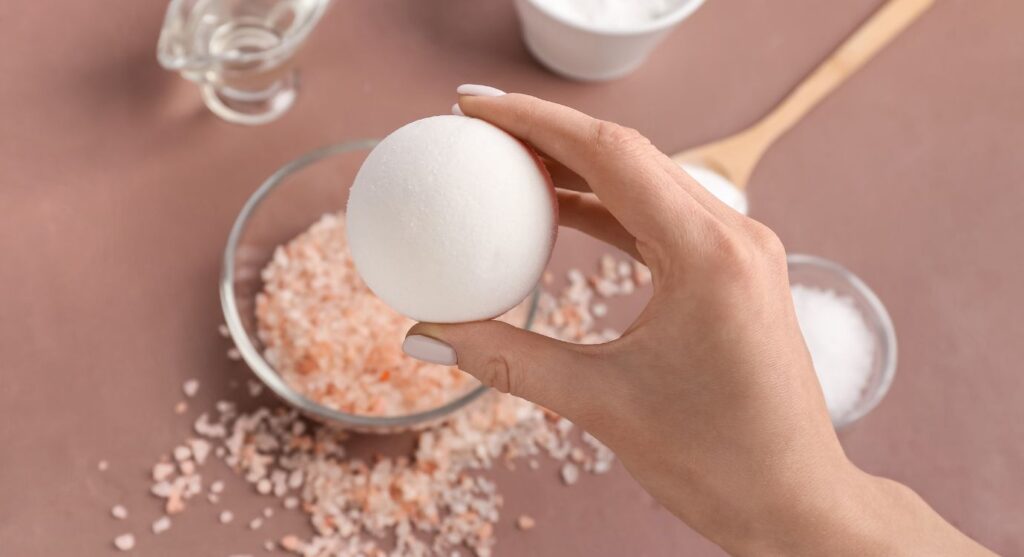 How to use CBD bath bombs
You've done the hard bit and crafted your very own CBD bath bomb. 
But how do you use it?
It's simple – just run a bath at your preferred temperature. Drop your bath bomb into the bath underneath the hot tap, for maximum fizzing.
It's up to you whether you want to halve your bath bomb (sometimes a bit messy!) or go full luxe and use a full one.
Once your bath bomb is dissolved and your water is nice and bubbly, light a candle and pop on your favourite chilled playlist. Climb into your bath and proceed to relax – letting that calming CBD goodness wash all over you.
Frequently asked questions:
The amount of CBD in bath bombs will depend on the manufacturer. For homemade bath bombs, we recommend using around 100mg per bomb.
CBD isolate is best for bath bombs. It's easiest to use isolate in crystalline form. While you can use CBD oil, the additional ingredients in the oil won't contribute any additional benefits.
The verdict on CBD bath bombs
Like it or lump it, wellness trends aren't going anywhere. 
While you may not experience the same therapeutic benefits from ocassionally enjoying a CBD bath bomb – in comparison with, say, consuming CBD oil sublingually every day, evidence points to CBD is a great antidote to stress, and it can be excellent for skin, too. 
So why not infuse your homemade bath bombs with CBD? 
We also find the process of making the CBD bath bombs equally as therapeutic as the end result – in our book, it's a win-win.