The question of CBD legality is a confusing one – but it doesn't have to be. We've summed up the worldwide legality below. Read more to find out!
With the popularity of CBD growing by the day and research on the benefits developing rapidly, confusion remains on one question: 
"Is CBD oil legal?"
The CBD compound works with the body's naturally existing endocannabinoid system to deliver a range of benefits for wellness.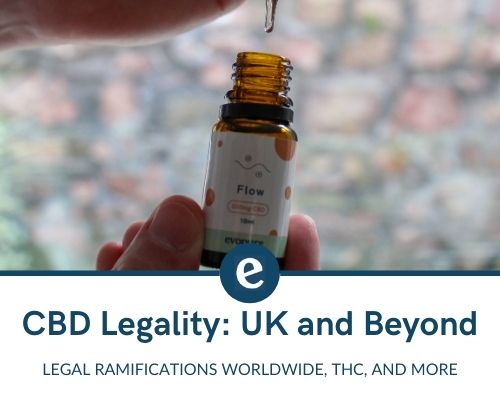 The global CBD market was worth £967.2m in 2020, with growth being around six times higher than expected. 
This may make you believe that CBD oil is legal around the world – but this isn't the case.
In this post, we are going to cover:
Is CBD oil

legal in the UK

?

Where is CBD still

illegal

?

The legality of CBD oil

around the world
But first, we'll provide some context by taking a look at the basics.
What is CBD Oil?
CBD is short for cannabidiol, which is one of two well-known organic compounds within the cannabis plant. The plant actually contains over 100 different cannabinoids, but of these, only two are well-known.
The first of these is THC, or tetrahydrocannabinol, which has psychoactive effects and is a controlled substance in the UK under the Misuse of Drugs Act 1971. 
This is found in the marijuana plant and, in lower concentrations, in the hemp plant. It is the main active ingredient that has made marijuana famous (or infamous).
The second is CBD, which has no psychoactive effects, is non-addictive and is growing in popularity as a natural herbal supplement. 
Both of these compounds, like all cannabinoids, interact with cannabinoid receptors in our body's naturally-occurring endocannabinoid system.
But is CBD oil legal in the UK?
And since we keep getting asked if they're the same thing, is cannabis oil legal?
Let's take a look:
CBD Legality: Is CBD Oil Legal in the UK?
A lot of cannabinoids remain illegal in the UK, but CBD is the exception.
CBD is legal in the UK, under the condition that it must be produced via an EU-approved strain of industrial hemp. 
The reason for this is simple, these strains are very low in THC, whereas CBD from other sources can be less predictable in terms of its THC content.
The answer to the question, "is CBD oil legal in the UK" then, is yes, with the caveat that no CBD product is allowed to contain more than 0.2% THC content – a small enough amount that any psychoactive effects will be unnoticeable, beyond some mild drowsiness.
Sativex, the trademark name of a UK-approved treatment for multiple sclerosis, is the one exception to this rule, containing a 50-50 split of THC and CBD, although this is only prescribed in very rare circumstances.
It's also worth mentioning that many of the CBD oil products you can find online are produced and sold in countries with more relaxed laws, and as such may be both illegal for use in the UK, and psychoactive. 
This is why it's highly recommended that UK CBD users only source their products from UK based suppliers with strict vetting and lab testing procedures.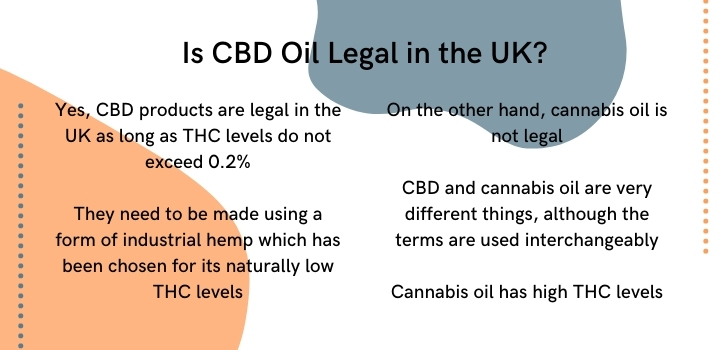 Is Cannabis Oil Legal in the UK?
With the rush of popularity and discussion about CBD oil, it can be easy to assume cannabis oil is the same thing. 
This isn't the case, with cannabis oil being extracted from the cannabis plant as a whole, meaning it contains both CBD and THC in high quantities.
Although the concentrations of THC may vary between products, it is very possible that cannabis oil will get you 'high'. 
For this reason, it is a controlled substance in the UK and many other countries around the world and more likely to be illegal. 
Generally, CBD oil and hemp oil are the same thing in countries where cannabis is illegal – whereas cannabis oil will contain a much higher level of THC.
Can I Grow Cannabis in the UK?
Because CBD products derived from certain strains of hemp plants are now legal to buy, sell, and use in the UK, this has led some people to ask whether they can grow their own hemp plants.
The short answer to this question is no.
It remains illegal in the UK to grow your own cannabis plants, and the regulations around who can produce and/or sell CBD products are extremely strict. 
CBD producers in the UK require a licence and permission from the Home Office, and all CBD products must be labelled in accordance with the Food Supplements (England) Regulations 2003. 
Additionally, all CBD cosmetics need a Cosmetic Safety Report (CPSR), CBD "flowers" or "buds" are prohibited from sale even with a THC content below 0.2%.
CBD oil can only be sold by a medical distributor as a nutritional product (but still with the necessary licence and permissions).
Any business that does not comply with these regulations could face serious criminal charges.
Now we have a pretty good idea of CBD legality in the UK, let's take a look at the situation in the rest of the world.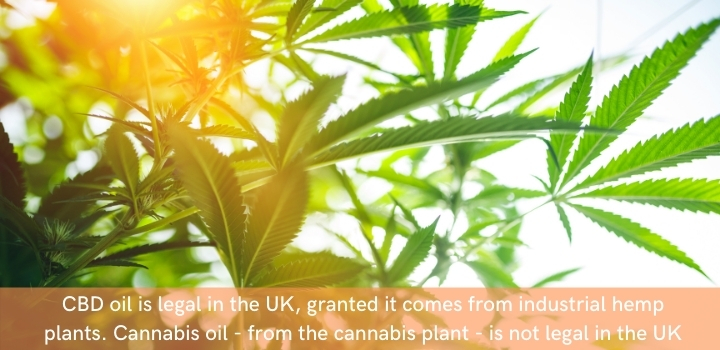 Is CBD Oil Legal Worldwide?
Laws and regulations around CBD, hemp oil, and cannabis are currently in a state of rapid change all around the world.
Differences in restrictions on growing, producing, selling and using CBD products varies wildly on a state-by-state, and nation-by-nation basis.
Because of the worldwide differences in CBD legality, travelling abroad can become a problem – our guide to flying with CBD oil has some handy tips and legal advice.
Is CBD oil legal in the US?
Is CBD legal in the United States?
What about California? Virginia?
You might be surprised to hear that federally, CBD is still classed as a Schedule 1 drug by the Drug Enforcement Agency.
Despite this, the Farm Bill allows for cultivation of hemp for research or academic purposes, and many sellers currently hide behind this legislation.
Generally, the DEA doesn't put a lot of effort into going after CBD users or sellers, so the question of whether or not you can sell it without getting into trouble mostly comes down to your local state laws.
Despite this, there remains some confusion about this – with CBD often being openly available in stores even in states where it is illegal or only available on prescription. 
This means it's always a good idea to research local laws, and not to simply assume it's allowed simply because it's available off the shelf in your local shopping mall.
As of today, CBD oil is allowed in some form in the following states:
| | |
| --- | --- |
| State | Rules |
| Alabama | CBD is allowed but only to be prescribed for those with seriously debilitating conditions, and as part of clinical trials |
| Georgia | CBD oil is allowed but only on prescription. A patient is allowed no more than 20 ounces, with THC content being 5% or less, and CBD content required to be equal or higher than THC. |
| Indiana | CBD is completely legal and no prescription is required as long as THC content remains below 0.3% |
| Iowa | Iowa allows CBD oil to be prescribed to patients with severe conditions such as AIDS and cancer. It remains illegal to purchase or for therapeutic use. |
| Kansas | CBD is completely legal in Kansas and is exempt from the State's marijuana laws. However, THC remains illegal, so all CBD products must be completely THC free. |
| Kentucky | Kentucky allows cultivation of hemp and production of CBD oil in state sponsored programs only. CBD oil remains illegal for purchase or possession, even among those who are allowed medical marijuana. Despite this, many use the 2014 Farm Bill as an excuse to keep using it. |
| Mississippi | CBD legality in Mississippi allows patients who suffer from epilepsy to use it as long as CBD content is above 15% and THC content is below 0.5%. It is also only available on prescription and cannot be legally purchased over the counter. |
| North Carolina | CBD is allowed but only for epileptic patients, and only from hemp sources. |
| South Carolina | CBD is available on prescription to those suffering from epilepsy, and cannot contain more than trace amounts of THC. |
| Tennessee | CBD is legal in Tennessee as long as it is made from hemp and not marijuana. |
| Texas | CBD remains illegal in Texas but is allowed for epileptic patients. |
| Virginia | CBD is legal in Virginia for treatment of any condition but only when prescribed by a doctor. |
| Wisconsin | CBD is legal in Wisconsin for treatment of any condition but only when prescribed by a doctor. |
| Wyoming | CBD is legal in Wyoming for epileptic patients, but only those who have failed to respond to all other treatments. |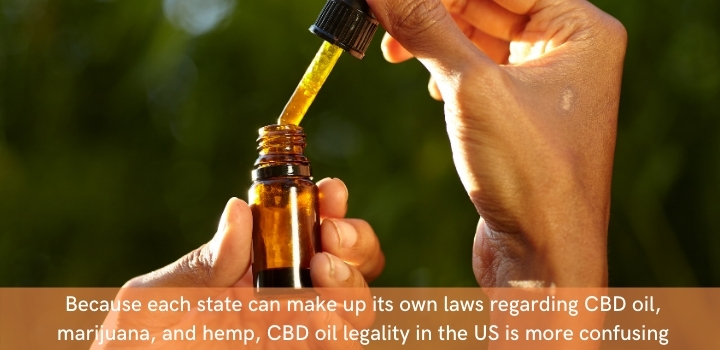 The list of states above includes those who have made specific rules to allow CBD oil, either in all cases or in specific medical situations.
While CBD laws vary from state to state, the general rule of thumb is that CBD oil from hemp is legal, whereas CBD from marijuana is illegal. 
This is because of the lower THC content of hemp and is pretty similar to the UK rules.
For CBD products to be legally sold in the US, they must contain less than 0.3% THC content, adhere to both state and federal regulations, and be sourced from hemp grown by a licensed farmer.
This is a fairly recent change: hemp was illegal to grow in the US until 2018 when the Agricultural Improvement Act of 2018 reclassified it from a Schedule 1 illegal substance to an agricultural commodity.
It's also worth mentioning that three states – Idaho, Nebraska and South Dakota, have made CBD completely illegal, even when derived from hemp and containing minimal THC. 
It is highly recommended that you avoid possessing any form of CBD product if you travel to or live in these states, as they are considered contraband.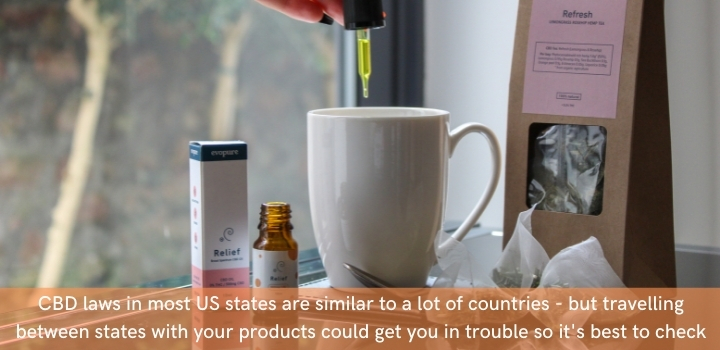 CBD, Hemp, and Marijuana Legality Across the US
The situation in the US is complicated by the fact several states have legalised cannabis itself for both medical (47 States) and recreational (10 States) use. 
This means that while CBD products derived from marijuana plants instead of hemp are illegal on the federal level, they are available in a number of states and CBD products with high THC content are commonplace.
However, there are also states where marijuana itself is considered legal for medical use, and these states typically consider CBD to be legal too, as long as it is either low in THC or used for medical purposes:
Arizona

Arkansas

Connecticut

Delaware

Florida

Hawaii

Illinois

Louisiana

Maryland

Minnesota

Missouri

Montana

New Hampshire

New Jersey

New Mexico

New York

North Dakota

Ohio

Oklahoma

Pennsylvania

Rhode Island

Utah

West Virginia
There are also the following states, where marijuana is entirely legal, even for those using it for recreational purposes and not for medical reasons. 
These states generally don't ban CBD or THC at all and so CBD oil is openly available on store shelves, with the only requirement being that the buyer is over 18 years old:
Alaska

California

Colorado

Maine

Massachusetts

Michigan

Nevada

Oregon

Vermont

Washington
Given this situation, UK users of CBD are recommended to order from trustworthy UK sources. 
Ordering from a US supplier without the correct research can lead to purchasing a product that's high in THC, which will likely never get through customs – but will have psychoactive effects and be a crime if it does!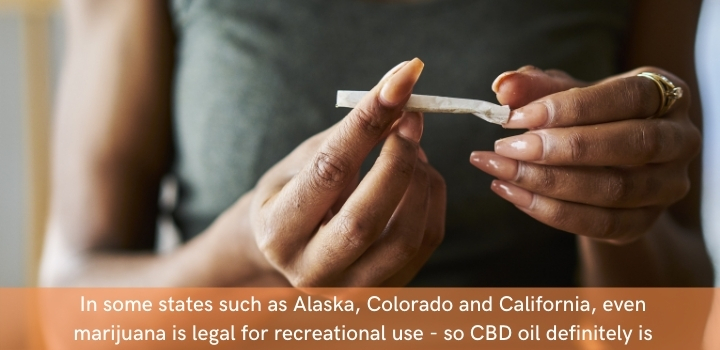 Where is CBD Oil Legal in Central & South America?
Is CBD legal in South American and Central American countries?
While laws vary a lot from country to country, a surprising number of countries across Central and South America have legalised CBD, at least within certain guidelines:
| | | | |
| --- | --- | --- | --- |
| Nation | Is CBD Legal? | Is Hemp Legal? | THC Limits |
| Argentina | Yes | Yes | N/A |
| Belize | Yes | Yes | N/A |
| Chile | Yes | Yes | N/A |
| Colombia | Yes | Yes | N/A |
| Costa Rica | Yes | N/A | N/A |
| Guatemala | Yes | Yes | N/A |
| Mexico | Yes | N/A | 1% |
| Paraguay | Yes, with a prescription | Yes | N/A |
| Puerto Rico | Yes | N/A | N/A |
| Peru | Yes | Yes | N/A |
| Virgin Islands | Yes | N/A | N/A |
| Uruguay | Yes | Yes | N/A |
In other South & Central American nations not listed here, CBD is generally illegal. However, it isn't necessarily that simple.
Brazil is similarly confusing, with marijuana being illegal but allowed in small amounts for personal use, and CBD allowed for treatment of epilepsy but strictly regulated.
Generally speaking, many nations are in a transitionary period when it comes to CBD and as such we can expect the list of nations where it is legal to grow rapidly .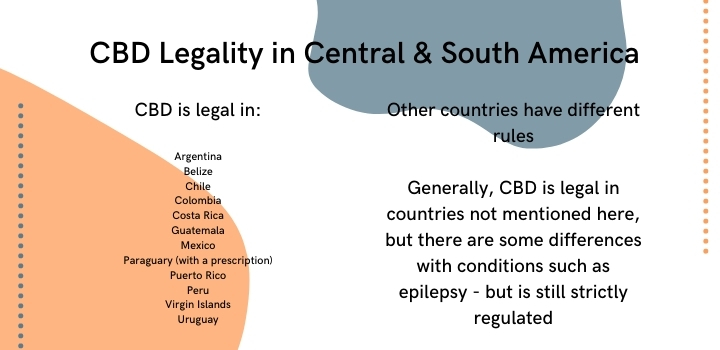 Is CBD Oil Legal in Canada?
Given Canada's relaxed approach to marijuana – it legalised medical cannabis in 2001 and recreational cannabis in 2019 – it is not surprising that CBD products are widely available here.
Each Canadian province specifies their own laws and regulations when it comes to the sale of cannabis and cannabis-derived products. 
Technically, CBD oil can only be sold for medical purposes under the federal law, but you can purchase CBD products over the counter in most provinces.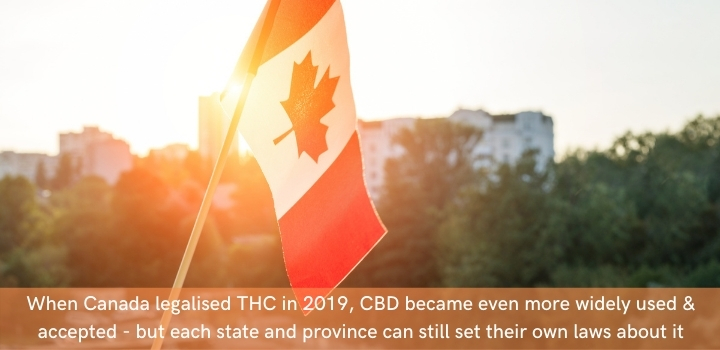 CBD Oil in Europe: Where is it Legal and Where is it Illegal?
Is CBD oil Legal in Europe?
Just like in any other continent, it depends where you go. EU regulations control the sale of CBD across much of Europe, but each country can interpret these regulations and set their own punishments.
The following European countries have legalised medical cannabis, and because of this, CBD oil is also legally available:
Austria
Belgium
Denmark
Luxembourg
The Netherlands
Romania
Spain
Portugal
Italy
The UK
It should be noted that each country has its own guidelines when it comes to CBD, so it is important to check the specifics in the country you live in or are visiting. 
For example, in:
Germany
Portugal
Austria
Finland
and Malta
CBD is only legal for those who have a medical prescription.
You might also be surprised to see the UK on the above list, as we have already discussed how marijuana is illegal in the UK. 
Whereas medical cannabis is very difficult to get in the UK, it is available for a small number of patients, though is only prescribed in rare and specific cases.
European Nations Where CBD is Illegal
While the following nations don't have specific CBD laws, they have extremely strict laws around cannabis.
As a result, it is extremely difficult if not impossible to access CBD in these countries, and doing so could land you in legal trouble:
Albania
Iceland
Russia
Serbia
Slovakia
Switzerland on the other hand, has strict laws around THC, but no rules around CBD whatsoever. 
As a result, CBD oil is legal in Switzerland and even very high CBD strains can be produced, as long as THC presence doesn't exceed 1%.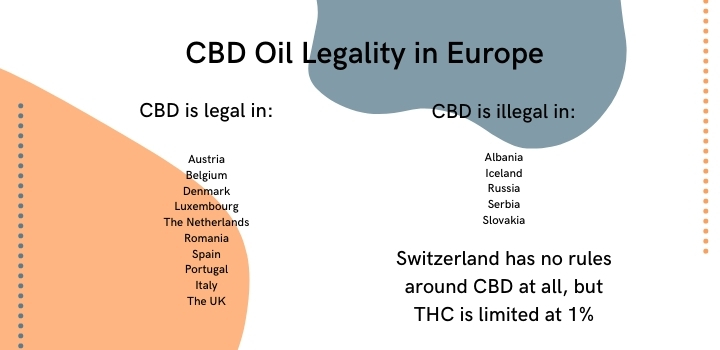 European Countries Where CBD is Legal But THC is Illegal
Similar to the UK, strict guidelines around the THC content also apply in most European countries. In most countries where CBD is legal, the maximum allowed THC content is 0.2% in accordance with EU guidelines.
In Sweden, these guidelines are extremely strict, with only CBD products with 0% THC content being legal, and sellers needing a licence from the Swedish Medical Products Agency.
The following European countries have banned THC and mostly have strict laws around cannabis, but have no specific laws banning CBD. 
As a result, CBD is generally allowed in these countries as long as THC content doesn't exceed a specific threshold:
Croatia

Cyprus

Czech Republic

Denmark

Estonia

Finland

France

Georgia

Germany

Greece

Hungary

Ireland

Italy

Latvia

Lithuania

Malta

Norway

Poland

Slovenia

Turkey
As you can see, this is by far the most numerous situation for European nations, and this is perhaps unsurprising considering how long cannabis was illegal for.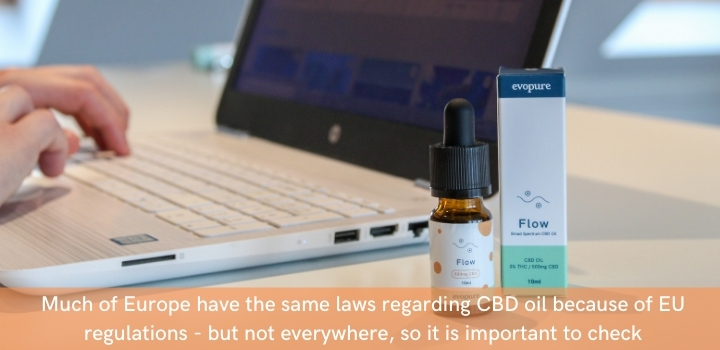 Is CBD Legal in Australia?
CBD is legal in Australia, however all products containing cannabinoids must contain no more than 50mg of any cannabinoid per kg, including CBD. 
CBD oil must also contain less than 0.3% THC.
Furthermore, as CBD is classified as medicinal cannabis, it is only available through a limited number of approved vendors.
Is CBD Oil Legal in China?
Hemp based CBD is technically legal in China as long as THC content is very low or non existent, and China is one of the world's leading hemp producers. 
However, cannabis laws are strict and exceeding this THC limit can lead to serious consequences. 
It is also illegal to bring CBD oil into China from elsewhere as this is considered a food product.
Is CBD Legal in Thailand?
In August 2019, Thailand changed their laws to take CBD off their official list of narcotic substances. 
Accordingly, CBD oil and other CBD products are now legal in the country, though only with a THC content of less than 0.2% by weight.
Is CBD Legal in Japan?
CBD is legal in Japan, however CBD products must contain zero THC content. 
This is because THC remains strictly controlled in the country, and all CBD products manufactured in or imported into Japan must be carefully formulated.
Is CBD Legal in Singapore?
CBD is a controlled substance in Singapore. While buying and selling it are not illegal, possession is. 
Therefore, visitors to Singapore should be very careful to leave their CBD at home.
Is CBD Oil Legal in South Africa?
Cannabis was decriminalised in 2018 for personal use in South Africa. 
While CBD was already legal beforehand as long as THC stayed below a certain limit, it is now generally tolerated regardless of THC content.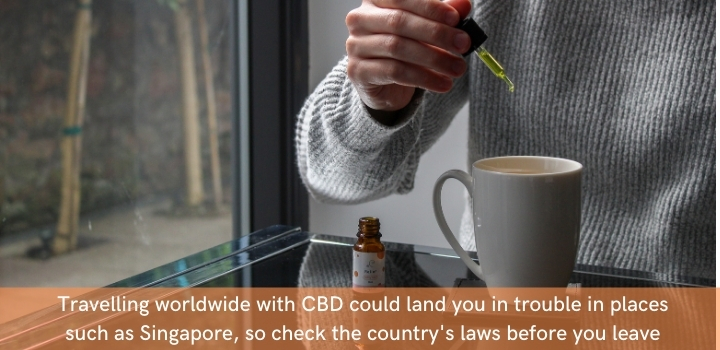 Can You Lose Your Job For Using CBD Oil?
Depending on how you wish to use it, you may be wondering "is CBD oil legal in my job?".
This is a major concern, but thankfully the chances are that CBD oil is not illegal in your profession.
However, for some professions with drug tests, or roles where you cannot risk a THC level above the legal limit, you may want to choose a CBD isolate product instead, to avoid any potential risk.
CBD oil is legal for the military
People who are actively serving in the military, police or similar may be concerned about drug test results, even when they are serving in a nation where CBD is legal.
The relationship between CBD and drug tests is a little complex. 
Essentially, if you take CBD with negligible levels of THC content – that is, any broad spectrum product that is legally sold in the UK or the US – you are unlikely to have any issues with drug tests.
However, although the likelihood is low, it is not impossible. 
Therefore, it is best for members of the military, police force, or any others in active service to only take CBD isolate or broad spectrum and can provide independent lab results showing that it contains 0% THC.
Truck drivers can use CBD oil
Of course, this changes on a state by state and country by country basis. 
However, roadside drug tests only check for THC.
This means as long as you live somewhere CBD is legal, and your CBD oil contains zero THC, you should be fine.
However, THC is psychoactive, taking it before driving can be extremely dangerous, and since some CBD oils that claim to have zero THC have been found to have some THC content, it may affect your driving. 
Therefore, it is probably best for truck drivers to avoid taking CBD directly before or while driving, or at least ensure that your product has been lab tested.
Is CBD Oil Legal for Kids?
It is important to check the legal status for kids and CBD in your location.
There are countries and states where CBD is legal but only for those over 18, and there are also locations where it is legal without such a qualifier.
The key is to avoid THC intake, as CBD on its own is not risky for children. 
There is always a risk of a small amount of THC being present, meaning it may be best to wait until your child is fully grown before exploring the benefits of CBD.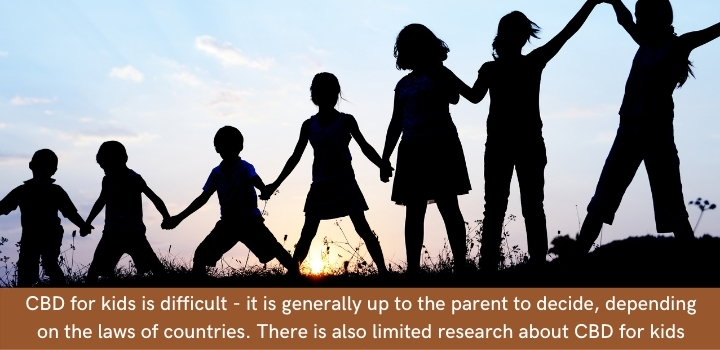 Wrapping Up
The simply answer to the question "is CBD oil legal?" is: yes, it is legal in the UK as long as the product contains less than 0.2% THC and is derived from EU-approved industrial hemp.
If you are interested in what CBD can do for you, we recommend checking out our post on the benefits of CBD oil.
Laws and regulations vary across the globe, as do the different products that are available on the international market. 
This means it's critically important to do your research, and the best option is to find a UK-made product that goes through strict testing procedures to ensure it's legal, organic and truly effective.