CBD oil has taken the wellness industry by storm in recent years and may reach $20 billion in profits by 2024 in the United States alone. 
The plant compound is known for many health benefits,  and more are being discovered daily. It is used in the health and supplement industry, as well as in food, drinks, and skin care.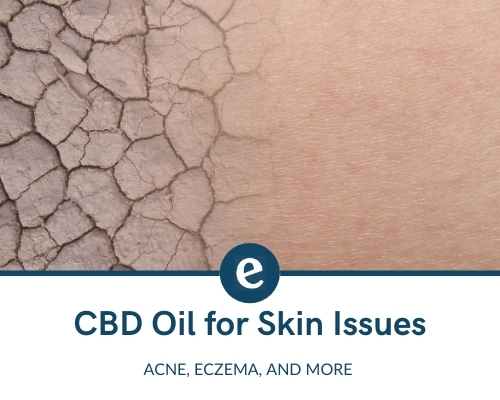 Using CBD oil for skin is growing in demand after its purported benefits for treating or inhibiting skin conditions, such as acne and dermatitis. 
Acne affects around 9.4% of people worldwide, which is a concern CBD oil may help treat, according to recent research. 
In this guide, we will cover:
Can you put CBD oil on your face?

What does CBD do for skin?

Can CBD be absorbed through the skin?

How to use CBD oil for skin

How to choose the best CBD oil for skin care
If you want help with treating or preventing skin conditions, you will be intrigued to learn about the benefits of CBD oil for skin concerns. 
Let's dive in.
Can CBD Oil Help with Skin Issues?
CBD oil was once a treatment for mind and body concerns only. It has gained a profound audience for people who want mental health issues, chronic pain, or organ diseases. 
In recent years, studies have found that the benefits of CBD oil are varied, and it is about time we take a look at its benefits for skin care. 
CBD comes from hemp and cannabis plants. The product extracted is a cannabinoid, which is an active compound that can help treat skin conditions. 
Our body has a natural endocannabinoid system, which functions similarly to the cannabinoid molecules found in CBD. Both work to fight off harmful bacterias and help restore balance. 
The body's endocannabinoid system works to fight off illness and regulate our biological functions, to help our body be in tune. 
The skin has its part to play in the endocannabinoid system, and ensures our skin is healthy and free from damage. 
Because of the way cannabinoids interact with the endocannabinoid system, it is unsurprising to scientists that CBD oil could alleviate skin problems and inflammation such as acne.
Short on time? Our video guide to CBD oil for skin should give you the rundown:
How Does CBD Oil Work for Skin Issues?
When CBD oil is applied directly to the skin, it works with the endocannabinoid system to restore balance and fight itching, redness, scaling, and other symptoms that certain skin conditions may cause. 
CBD for Acne
Acne is a skin condition often correlated with young skin. But, acne is also common among adults. 
Poor skin health and hormonal imbalances are the most likely cause of acne for any age. Other contributing factors are diet and medications.
The common skin condition arises from an increase in sebum production, which is the oily substance your skin products naturally. When the skin produces too much sebum, it can cause a buildup of oil and acne. 
Although many people believe fighting acne is hard work, it can be more straightforward with CBD oil aid.
One of the most common culprits of acne is a buildup of sebum in the sebaceous glands. It is a great thing to know that CBD research shows how cannabinoid oils can reduce sebum production in those glands. 
The reduction of sebum from the impact of CBD may help reduce acne's appearance or prevent it from developing. 
CBD is a profound anti-inflammatory for other medical issues such as diabetes and arthritis. Red acne causes inflammation on the surface of the skin. From this growing research, it's unsurprising that CBD may help calm down the inflamed areas.
Stress can cause more than acne; it can cause unstable blood sugar levels, depression, and migraines. All of which are conditions that CBD can help treat or manage. 
CBD for Eczema
Eczema is one of the most common skin conditions, which typically arises in young children. But, it is also more prevalent in adults, who leave it untreated. 
Ezcema is among the milder forms of dermatitis, often referred to as atopic dermatitis. 
Key symptoms include:
Dry skin

Itching

Bumps

Redness
The skin condition is inflammatory. CBD is known to reduce inflammation, thus reducing the symptoms and making the situation easier to manage. 
Our skin has cannabinoid receptors  which can interact with the cannabinoids in CBD oil, as well as with the cannabinoids created naturally by our body. 
When CBD oil is applied directly to the skin, it can work immediately to calm itching and reduce the appearance of eczema rashes and dryness. 
CBD for Seborrheic Dermatitis
A more severe form of dermatitis is seborrheic dermatitis, which is a chronic inflammatory skin condition. 
Its common signs are red scaly rash on the face and scalp. The symptoms can also arise on the elbows, knees, and around the chest. Seborrheic dermatitis is less common than eczema and is harmless, yet it can cause a lot of irritation. 
Many varying factors can cause seborrheic dermatitis. 
The leading causes are yeast intolerances, an overproduction of sebum, or stress. 
Other factors contributing to this condition include fatigue, immunodeficiencies, and other illnesses such as Parkinson's or a weak heart. 
As CBD is known to be useful for reducing the amount of sebum our glands produce, it may help treat seborrheic dermatitis. 
Similarly to how it can work for acne, a CBD oil directly applied to the skin can slow down the sebum production, which will mean less sebum can irritate the skin and cause such conditions. 
CBD for Psoriasis
Psoriasis is an autoimmune disorder often a problem eczema patients deal with when they leave their skin untreated. 
After eczema occurs, the red rashes and scaly skin turn pink and brown and are incurable. 
Eczema is not the only cause, with other contributing factors including weather, injury to the skin, or harmful lifestyle habits such as smoking and alcohol. 
Psoriasis occurs from an acceleration of skin cell division. Without a cure, there are a few ways to manage the symptoms, with CBD oil being one. 
Research on CBD oils' effect on psoriasis symptoms shows that it can decelerate skin division, slowing down psoriasis progression. 
Additionally, CBD oil's anti-inflammatory effects may help alleviate itchiness and soothe the acute symptoms of psoriasis patients' daily irritation. 
If you suffer from any of these skin conditions, you may want to know how to use CBD oil in your skin care routine to help manage and alleviate symptoms.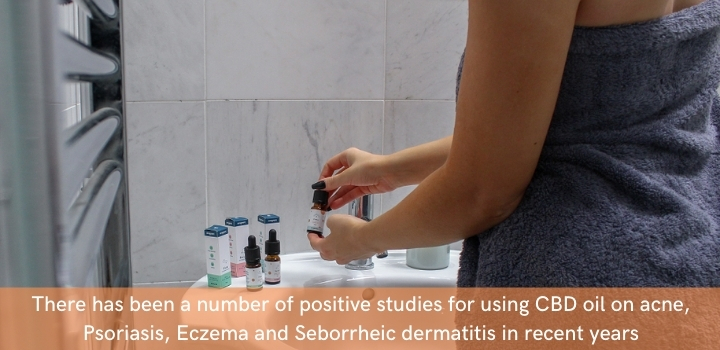 How to Use CBD Oil for Skin Care
To get the most out of CBD as a skin care product, it is most useful as a topical treatment like an oil. When using CBD oil, it is most comfortable and effective when applied directly to the affected areas.
For example, if you suffer from acne on the face around the cheeks, use the CBD oil onto the red and inflamed area by rubbing it in. To prevent the condition from worsening, do not apply any other products on top of the CBD oil.
Leave the oil to sit for a few minutes before washing off the excess with lukewarm water.
It should be safe to mix the CBD oil with another product if it is a prescribed anti-inflammatory product that a person uses to treat a skin condition, but it is best to check with your doctor.
If you use a prescribed eczema cream, mixing in a few drops of CBD oil gives you the chance to experience the CBD benefits. There is not enough research to suggest the CBD will amplify the benefits of the prescribed creams, but it may help alleviate symptoms.
You can also use CBD oil orally by dropping it under your tongue. The oral technique can offer the same benefits, but you may find applying the oil directly onto the affected area is better for your skin.
This is due to the topical technique having the advantage of reacting with the skin's cannabinoid receptors.
You can use whichever method you prefer to reap the benefits of CBD oil for skin care.
How Long Does it Take for CBD Oil to Work for Skin Issues?
If you choose to use CBD oil directly on the affected skin condition, you may see results straight away or within an hour.
With the cannabinoid compound reacting instantly with the skin's endocannabinoid system, you may see that your symptoms are alleviated or reduced within a matter of minutes.
When mixing the CBD oil with another skin product, it may take longer to work. Or, you may see less effect. To get the ratio right to see quicker results, you may need to seek your healthcare professional's advice.
They will assist you in whether CBD oil can be mixed with your product of choice and, if so, how much you can add.
For those who choose to use CBD oil sublingually, the effects may take longer. This is contrary to most problems CBD is used for, where taking CBD under the tongue is best.
As the product will not be applied directly to the skin, the oil will take longer to reach the affected area. There is no evidence to suggest how long it will take to work for skin conditions when taken sublingually; it may differ from person to person.
Individuals react differently to CBD products depending on their current health and medical conditions.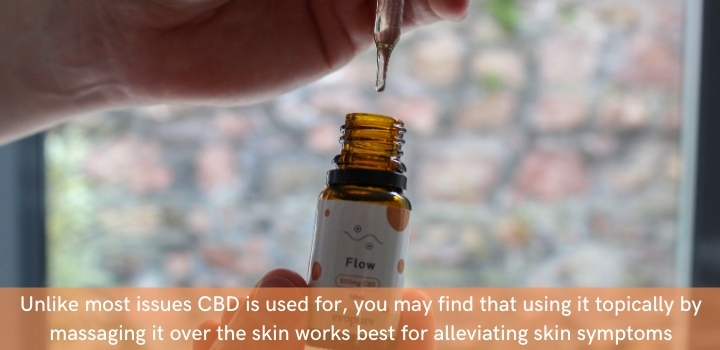 What's the Best CBD Oil for Skin Issues?
CBD oil products are available in varying formulations. There are full-spectrum CBD oils, broad-spectrum, and CBD isolates. 
Each has its chemical structure that depends on how it is extracted and mixed with other ingredients. 
For example, full-spectrum CBD oils contain a small amount of THC, whereas CBD isolate is the purest form that does not have any other plant compounds. 
For addressing skin concerns, a broad-spectrum CBD oil is the best choice as it includes cannabinoids, flavonoids, and terpenes other than cannabidiol – scientists suggest that these other comounds can work together to offer an entourage effect which amplifies the benefits.
As it is pure, it will not clog pores or increase oil levels, resulting in acne. 
Instead, CBD isolate's pure formulation helps to restore the skin through its antioxidant and anti-inflammatory properties. 
When you purchase CBD oil for skin care or any other medical concerns, you must ensure you trust the seller is legitimate. One study revealed that more than 60% of CBD sellers mislabel their products in the online market, which does not verify their safety. 
Thus, always ensure to check the labels, lab results, and reviews. 
Products that contain organic and natural ingredients will be most suitable for skin care conditions. Natural products will not cause further harm to the existing symptoms, as there will be no harsh or artificial chemicals added. 
Final thoughts
CBD oil has proven to be highly effective for reducing inflammation in other health problems, thus helping manage inflammatory skin conditions. Acne, dermatitis, and psoriasis are all skin conditions that cause inflammation. 
Therefore, with the aid of CBD oil, you may be able to treat or manage the inflammation that your skin condition may cause. If applied directly to the skin, this can reduce itching and redness.
There is not enough sufficient evidence to suggest which CBD oil method is most useful for the skin. 
But, research suggests that direct application may offer quicker results. 
If you found this article on CBD oil for skin care exciting or helpful, read about more CBD health benefits on our blog. If you're ready to give it a try, you can buy CBD oil online from our shop – with our 30-day happiness guarantee, you have nothing to lose!