Whether in food, oils, capsules or makeup, CBD is everywhere. But can you use CBD oil for skin? Is it safe? What are the benefits for acne, dermatitis and more? Let's take a look.
CBD oil has taken the wellness industry by storm in recent years and may reach $20 billion in profits by 2024 in the United States alone. 
The plant compound is known for many benefits for wellness, and more are being discovered daily. It is used in the health and supplement industry, as well as in food, drinks, and skincare.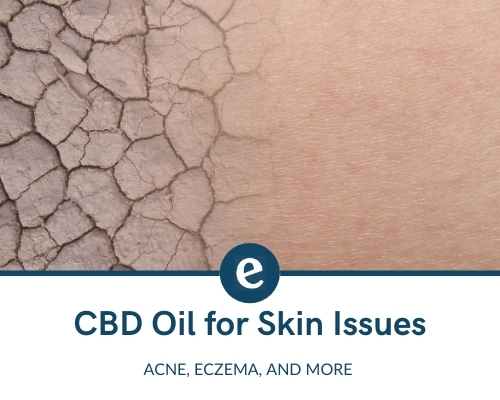 In this guide, we will cover:
Can you put CBD oil on your face?

What does CBD do for skin?

Can CBD be

absorbed

through the skin?

How to use

CBD oil for skin

How to choose the

best CBD oil

for skin care
If you want help with maintaining healthy skin, you will be intrigued to learn about the advantages of CBD oil for your skin.
Let's dive in.
Can CBD Oil Help with Skin Issues?
CBD has gained a profound audience for people who want to restore balance in their minds and in their body. It has been around for centuries for promoting mind and body wellness. 
Now, has quickly taken off in the skincare industry. 
As there are supplements that can help encourage healthy skin, CBD included, we are looking into the likely benefits a user can obtain from the oil.
CBD comes from hemp and cannabis plants. 
The product extracted is a cannabinoid, which is an active compound that can help restore good skin health and balance the processes within the skin.
Our body has a natural endocannabinoid system, which cannabinoid molecules found in CBD oil interact with.
The body's endocannabinoid system naturally works to inhibit illness and regulate our biological functions, to help our body be in balance and find its tune. 
The skin has its part to play in the endocannabinoid system and ensures our skin is healthy and free from damage. 
Because of the way cannabinoids interact with the endocannabinoid system, it is unsurprising that CBD oil could have an impact on maintaining healthy skin.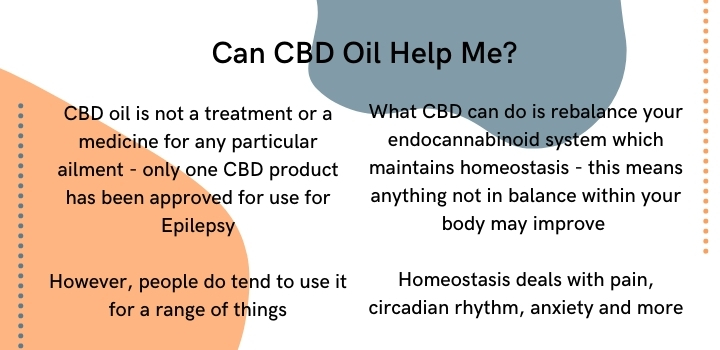 How Does CBD Oil Work for Skin Issues?
Poor skin health and hormonal imbalances are the most likely cause of skin problems for any age. Other contributing factors are diet and medications.
Unhealthy-looking skin can hinder confidence and also cause the endocannabinoid system to not do its job properly.
Therefore, a person may experience a change in mood, appetite, and stress.
When the mind and body are involved in stressful situations, it can cause the endocannabinoid system to lack its restorative and balancing advantages.
The endocannabinoid system (ECS) naturally produces signals via receptors to help manage and balance your body's homeostasis functions.
The two receptors that are key for managing homeostasis are CB1 and CB2.
When activated, these can balance these functions and therefore encourage the body to maintain good health.
The ECS and CBD work alike and can balance the functioning of the body. Without a balanced ECS, the skin may suffer, as well as other functions in the body.
CBD's cannabinoid receptors work in sync with the endocannabinoid system to help rebalance it, which means it can influence the body to promote skin health.
Although many people believe boosting skin health is hard work, it can be more straightforward with CBD oil aid.
When CBD oil is applied directly to the skin, it can work immediately to boost the skin's wellbeing.
If you struggle with an endocannabinoid system that is imbalanced, you may want to know how to use CBD oil in your skincare routine to encourage wellness.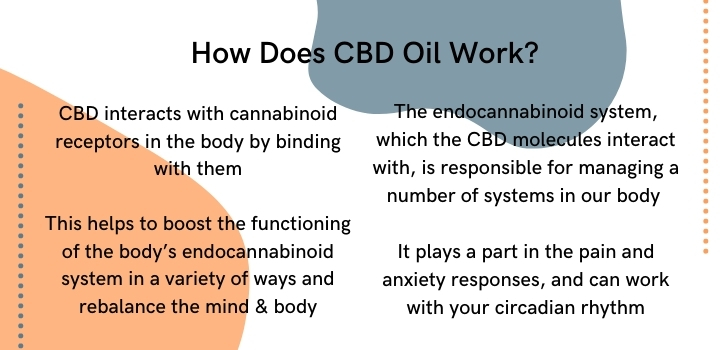 How Long Does it Take for CBD Oil to Work for Skin Issues?
If you choose to use CBD oil directly on the skins periphery, you may see results straight away or within an hour because it reacts with the skins endocannabinoid system to encourage skin health.
Alternatively, you may find that your skin health improves over a longer period of time with consistent use.
If you have a skin condition, it is best to speak directly with a medical professional, as CBD should not be considered a replacement for medical treatment.
They may also be able to assist you in whether CBD oil can be mixed with your product and, if so, how much you can add. 
For those who choose to use CBD oil sublingually, the effects may take longer. This is contrary to most problems CBD is used for, where taking CBD under the tongue is best.
As the product will not be applied directly to the skin, the oil will take longer to interact with the skin's cannabinoid receptors. 
There is no official time that verifies how long it will take to work for skin health when taken sublingually; it may differ from person to person. 
Individuals react differently to CBD products depending on their current health and medical conditions.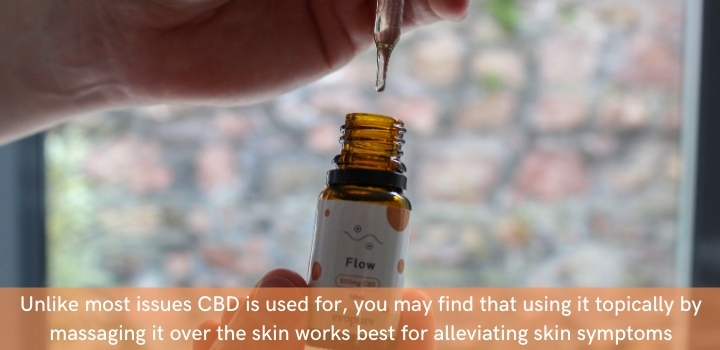 What is the Best CBD Oil for Skin?
CBD oil products are available in varying formulations. There are full-spectrum CBD oils, broad-spectrum, and CBD isolates. 
Each has its chemical structure that depends on how it is extracted and mixed with other ingredients. 
For example, full-spectrum CBD oils contain a small amount of THC, whereas CBD isolate is the purest form that does not have any other plant compounds. 
For addressing skin health, a broad-spectrum CBD oil is the best choice as it includes
cannabinoids, flavonoids, and terpenes other than cannabidiol.
When you purchase CBD oil for skincare or any other medical concerns, you must ensure you trust the seller is legitimate. 
More than 60% of CBD sellers mislabel their products in the online market, which does not verify their safety.  Thus, always ensure to check the labels, lab results, and reviews. 
Products that contain organic and natural ingredients will be most suitable for skin health because of their simple formulas free from chemicals.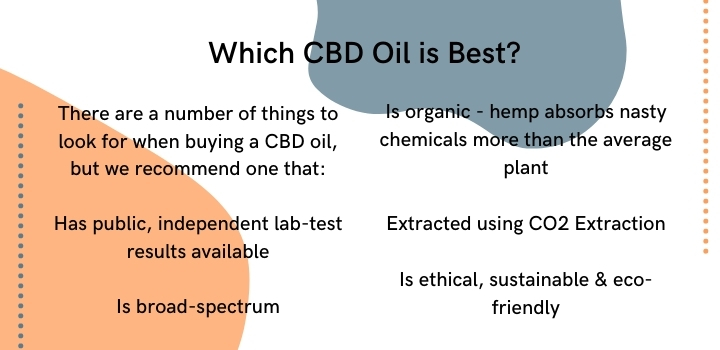 Final thoughts
CBD oil has proven to be highly effective for restoring overall general wellbeing. Therefore, with the aid of CBD oil, you may be able to restore balance to the skin.
Alongside a regular skincare routine, a balanced diet, and good lifestyle choices, CBD oil may keep the skin looking and feeling well. 
Download your FREE Buyers Guide for an introduction to CBD
If you found this article on CBD oil for skincare exciting or helpful, read about more CBD health benefits on our blog. If you're ready to give it a try, you can buy CBD oil online from our shop – with our 30-day happiness guarantee, you have nothing to lose!