Menopause is a natural occurrence that most women have to deal with as they age. It is when the menstural period stops permanently, which means they can no longer conceive a baby. 
Typically, this occurs between the ages of 45 and 55.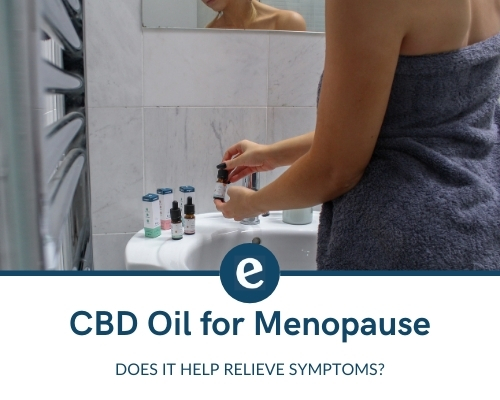 The age of the onset of menopause differs from person to person. Sometimes, it can happen earlier or later, depending on their health condition and needs.
If you're looking for relief from your symptoms, you may be interested in the benefits of CBD oil for menopause.
In this guide, we will cover:
Why CBD oil could help with symptoms of menopause
How to treat or relieve menopausal symptoms using CBD oil
CBD oil dosage for menopause symptoms
And which oil is most beneficial for menopause
Most symptoms involve hot flushes, restlessness, anxiety, night sweats, and vaginal irritation. The severity and types of symptoms depend on the person. Some people may have fewer symptoms or issues than others. 
CBD oil may be an effective method for reducing the severity or inhibiting specific symptoms. Although research into CBD oil is early, numerous reports suggest positive results for menopausal discomfort relief.
Today, we will share with you all the details you need to know about CBD oil for menopause – let's get into it.
Is CBD Oil Beneficial for Menopause?
Although the research into CBD oil for menopause is early, many people provide plenty of anecdotal evidence for its benefits. It's not that research has failed; it is more so that not many studies have looked into the benefits of CBD for menopause specifically. 
On that note, there have been a few recent studies looking at the impact CBD has on menopausal symptoms.
A 2020 research study looked into CBD oils efficacy for chronic pain, lack of sleep, and inflammation. The study demonstrated that CBD could be useful for reducing pain, inflammation and improving sleeping patterns. 
Although more research needs to be complete to verify the impact CBD can have on menopause, it has some benefits for menopause symptoms. 
CBD interacts with the endocannabinoid system (ECS). This system involves cell receptors all around the body which influence certain aspects of the body. These receptors are better known as cannabinoid receptors, which help regulate:
Mood

Pain

Sleep

Memory

Fertility

Temperature
All of these things are affected during menopause. As a result, it would make sense to assume that CBD may help regulate these symptoms because of the way it interacts with the endocannabinoid system.
The endocannabinoid system is a crucial part of why CBD has helped people all around the world. Find out more in our video guide below:
How Does CBD Oil Work for Menopause?
CBD oil is an alternative but helpful way of managing symptoms that menopause can cause. It's not to say that CBD oil can inhibit or get rid of symptoms altogether.
Instead, it may help reduce the severity of the sign or help a person manage them better. 
There are several ways in which CBD might work for menopause symptoms and issues. 
CBD helps improve mood
A common issue people suffering with menopause deal with is mood changes. The risk of mood swings, anxiety, and depression is much higher than in those who are pre-menopausal.
Studies reveal that CBD can be useful as an anti-depressant, due to its mood-enhancing effects. Within the study, CBD is shown to activate the neuroreceptors CB1 and CB2, which are issues for people who suffer from depression or anxiety. 
Further research suggests that CBD may help reduce stress, which is a common symptom of menopause. Heightened stress can lead to mental health issues, such as depression. As a result, taking CBD oil may help reduce the risk of developing depression. 
CBD should not be considered a guaranteed alternative to anti-depressants. But it can be a useful option for those who are menopausal or perimenopausal.
CBD may improve sleeping patterns
CBD may help stimulate sleep for those who suffer from disturbed or an irregular sleeping pattern. Instead of feeling restlessness, the body can feel slightly sedated with CBD products. 
The cannabinoid ingredient promotes relaxation and calm, which can help the body feel heavy and ready for sleep. It is not guaranteed that CBD will help regulate sleeping patterns for those going through menopause. But some evidence suggests it may help. 
CBD helps reduce inflammation
Many menopause and perimenopause sufferers report issues with muscle and joint pain, which is often caused by menopausal inflammation. A research study from the University of Albany suggests that participants saw a significant decrease in muscle and joint pain after consuming cannabinoid products. 
Other inflammation concerns for those experiencing menopause include arthritis and osteoarthritis. Due to the reported anti-inflammatory effects of CBD, it may help reduce the risk of arthritic conditions. 
CBD oil may help with hot flashes
Hot flushes are a common issue that occurs due to menopause. Studies demonstrate how CBD may help maintain an average body temperature, which may help people going through menopause. 
CBD works by binding the G-proteins in the receptor cells, which plays an active role in reducing inflammation. Decreased inflammation helps to regulate body temperature, which could help cool the body and reduce hot flushes. 
CBD for increasing bone strength
Thinning of the bones, better known as osteoporosis affects 1 in 4 after menopause. After the years of menopause, around 60 years of age, is a vital time when the bones are prone to easy injury. Keeping them healthy is essential for inhibiting pain, injury and joint conditions. 
Although there is not much a person can do about bone density loss, it can be slowed down. Reports suggest that CBD may help slow down the rate of thinning bones, which could slow down the risk of joint issues. 
To help manage menopausal symptoms from the potential CBD oil health benefits, you should know how to take CBD oil to get the best results.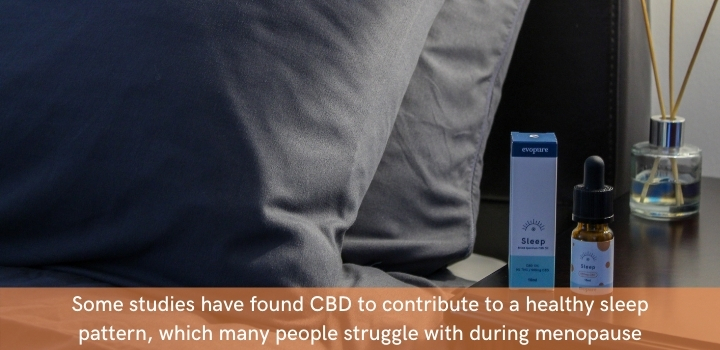 How do you Use CBD Oil for Menopause?
There are several different types of CBD, which can benefit various medical concerns. Similarly, there are many ways in which you can use CBD.
How you take it is your choice. If you want some guidance, the following forms may be the most effective.
How to use the CBD products will depend on the type you choose.
For those experiencing menopause, CBD oil drops may be the most effective. This is due to their quick impact on targeting receptors and cells, resulting in improved mood, regulated sleep, and reduced inflammation.
Oils are best used sublingually, which means they should be placed under your tongue for a minute or so to absorb quickly into the bloodstream.
Alternatively, CBD oil capsules can be taken at any time of day with food and water.
Topical creams may be best suited for joint issues. By applying a cream to the area of concern the CBD balm becomes absorbed directly into the problem area.
Consuming CBD through gummies and teas are an easy and natural way to integrate the ingredient into your lifestyle. It takes longer for CBD to be absorbed when being digested like food and drink, so may be more suited to new users.
In addition, some people find the taste of CBD oil unpleasant.
The quantities to use of each product will vary. The consumer should always check the labels and follow the instructions carefully.
Keeping your products in a cool, dark place can increase and maintain their efficacy. Ensuring the container is sealed and putting your CBD in the fridge is the best way to keep your CBD product fresh.
Looking for more help on storage and keeping your products effective? Find the best top tips on

How to Store CBD Oil

on our blog.
Storing your chosen CBD product to help manage menopausal symptoms will increase the longevity of the product. Also, if you plan to buy a large quantity of CBD products for continual use, you will want the CBD to last as long as possible.
More on how long the CBD itself will take to work for menopause to follow.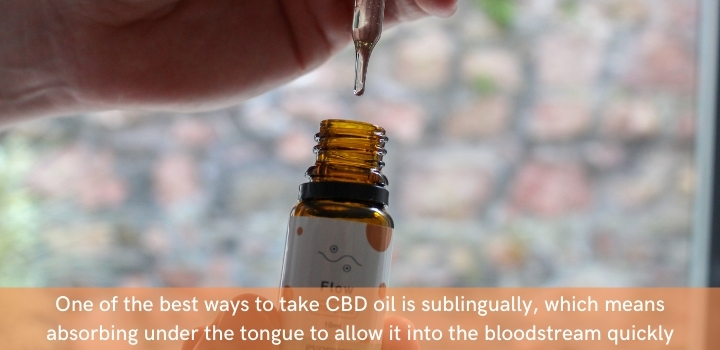 How Long Does it Take for CBD Oil to Work for Menopause?
CBD affects people differently, so no two people will have the same results. It can depend on age, health, metabolic rate, and weight. Some users may achieve instant results, whilst some may see the benefits after a couple of weeks. 
Most studies suggest that the benefits are noticeable within the first month. More than 65% of people who took CBD for sleep and anxiety saw results within this timeframe. 
For those that do not notice results within the first month should consider increasing the dose. 
Ultimately, CBD cannot guarantee efficacy for everyone with menopausal symptoms. However, with continual use most people are likely to notice results.
What's the Best CBD Oil for Menopause?
With the CBD industry growing, many brands are manufacturing CBD products. Of which, some are more effective and natural than others. 
Some brands selling CBD oil may not be sufficient for specific issues, such as menopause. Thus, certain CBD products are better suited to menopause symptoms. 
Instead of finding the right, or most effective, CBD product for menopause, it is worth deciding which brand is most reliable. As mentioned, certain brands will target specific needs, such as pain, anxiety, or insomnia, which will benefit the user more. 
Official lab results
Brands that openly provide official laboratory results mean that the CBD product is certified as safe and legal. 
These results display how much CBD is in your product, where it's from and manufactured, and details of other ingredients – such as other cannabinoids, terpenes, and flavonoids. 
Organic and natural CBD
Ensuring the brand you choose is ethical, organic, and sustainable will mean the product is safer and contains no pesticides. 
Natural CBD products may enhance the benefits of menopause, which is a natural occurrence, due to a lack of artificial ingredients that could worsen the symptoms. 
Sublingual, broad-spectrum CBD products
Broad-spectrum CBD products that are for sublingual use, such as oils, may offer more benefits. By placing the product under the tongue, the application is more direct and will provide quicker results. 
Broad-spectrum CBD oil means that other cannabinoids and terpenes are present within the oil – these can contribute to the entourage effect, where the benefits of CBD oil is greater when other cannabinoids work together.
Creams, capsules, and teas may take longer to work because they first need to digested before being absorbed by the bloodstream. However, they may be a great option for new users and those who do not like the taste of CBD oil. 
Following this advice should hopefully mean you find the highest quality of CBD product to help manage your menopause symptoms.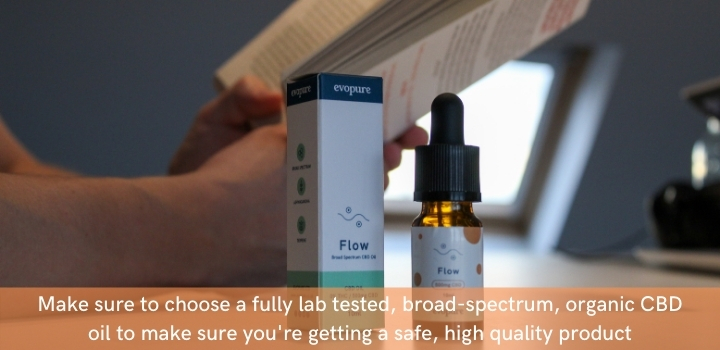 Final thoughts
There is not an abundance of scientific research to verify the efficacy of CBD oil for menopause. Yet, anecdotal evidence has shown that many people may benefit from the benefits of CBD oil for menopause. 
There are many reports showing how CBD can benefit the individual symptoms that menopause can cause. For example, CBD for anxiety has proven to be highly effective. 
Anxiety, as well as insomnia, and pain have all been suggested by scientists to be relieved by CBD oil, and more research is published every week indicating the same.
If you found this CBD article useful, or are seeking more information before you take the plunge into your CBD oil journey, check out our other posts on our blog. It's not just the menopause that CBD can benefit.