When you say menopause, it's a grim picture for most women. 
Hot flushes, restlessness, night sweats, loss of bone marrow, anxiety and weight gain, to name only a few menopause symptoms. 
Menopause symptoms can vary between individuals, with some experiencing mild and easily manageable symptoms and others experiencing more extreme side effects that impact their quality of life. 
Research has explored many natural remedies for these symptoms, but the results have been mixed. 
However, with CBD becoming increasingly popular in improving overall wellness and restoring balance in the body, there is hope that CBD could offer a way forward for women. 
It's important to note that CBD oil for menopause is not a treatment or a medicine that can cure menopause symptoms. Yet, even without scientific evidence, it has become a popular alternative treatment that some may find effective. 
So, if you are interested in trying CBD oil for menopause relief, read on to find out: 
Can CBD oil help with menopause?

What is the best CBD oil for menopause symptoms?

How to use CBD oil for menopause
Can CBD oil help with menopause?
CBD is a chemical compound found in the hemp plant. Unlike THC, it does not offer or result in psychoactive effects such as feeling 'high'. 
CBD interacts with the endocannabinoid system (ECS). This system is made up of receptors and neurotransmitters that send messages between cells. 
These receptors are better known as cannabinoid receptors, which help regulate a wide range of functions, including: 
Mood

Pain

Sleep

Memory

Fertility

Temperature


All of these things are affected during menopause. By supporting the ECS to function correctly, it is hoped that it could help women achieve an improved sense of wellness during this difficult transitionary time.
It is important to recognise that CBD oil cannot be used to treat menopause nor eliminate the symptoms. Instead, it can only be used to aid and restore balance, which can improve your quality of life when experiencing menopause symptoms.
10% off on your first order
Complete this one-minute quiz and find the right products for you.
What is the best CBD oil for menopause symptoms?
The CBD industry is growing quickly and many brands are manufacturing CBD products. 
Some are more effective and natural than others. 
Instead of finding the right, or most effective CBD product for restoring balance and promoting wellness, it may be worth deciding which brand is most reliable.
These are some of the things you should look for when choosing the best CBD oil for menopause symptoms in the UK: 
Independent lab results
Brands that openly provide official laboratory results mean that the CBD product is certified as safe and legal. 
These results display how much CBD is in your product, where it's from and manufactured, and details of other ingredients, such as other cannabinoids, terpenes, and flavonoids. 
Brands that don't carry out lab testing should not be trusted, as you can't confirm the contents.
Organic and natural CBD
Ensuring the brand you choose is ethical, organic, and sustainable will mean the product is safer and contains no pesticides.
When a CBD product is as close to nature as possible, you'll also enjoy a wide range of plant compounds. These compounds offer additional therapeutic benefits, and so they would be ideal for promoting wellness and wellbeing for those experiencing menopause.
Additional cannabinoids in CBD also encourage the 'entourage effect', which many believe is key in maximising the benefits of CBD.
Broad-spectrum CBD products
When choosing the best CBD oil for menopause relief, there are three types of CBD to consider: broad-spectrum, full spectrum and CBD isolate.
Broad-spectrum CBD products contain 0% THC but are full of other cannabinoids, flavonoids and terpenes, which work together to provide overall greater benefits for the mind and body. 
Full-spectrum CBD has trace amounts of THC, which may offer further therapeutic benefits. The amount of THC in full-spectrum products is legal, but it may still make people uneasy.
CBD isolate is a completely pure form of cannabinoid product that contains only cannabidiol.
When it comes to choosing a CBD oil for menopause, it makes sense to select one with a wide range of cannabinoids and other beneficial plant compounds, such as broad-spectrum CBD.
Many terpenes and flavonoids are beneficial in the treatment of menopause symptoms, so it's worth exploring how these could help to improve your symptoms.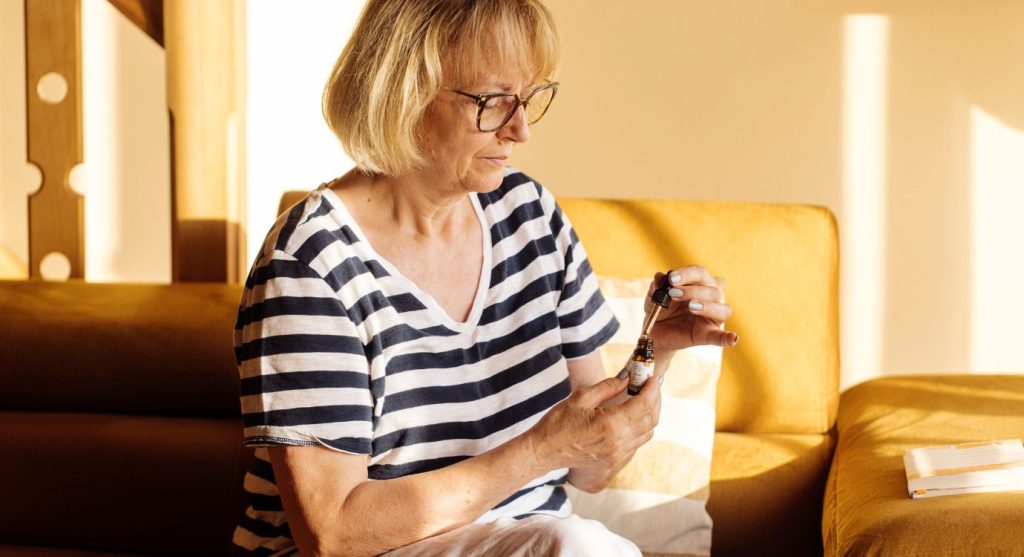 How to use CBD oil for menopause
When you are using CBD oil for menopause relief, it's important to understand that CBD products are not a quick fix. You can't take a single dose as you would with paracetamol and then expect it to deliver the same results.
Instead, you should treat CBD like any other health supplement. Consistency is key to the success of any CBD product.
There are several different types of CBD which can offer many therapeutic benefits. These include:
The type of product that works best for you will all depend on the menopause systems that are troubling you the most.
For example, if you are struggling with sleep disturbances, you might take CBD oil around 30 minutes before bed to help promote restful sleep.
But if your main concern is joint paint, a topical CBD product applied directly to the site would be more effective.
You can also mix-and-match products, provided that you do not exceed more than 70mg of CBD per day.
First-time CBD users would be best starting with a low dose of around 10-20mg per day for at least 30 days. After this time, you can slowly increase the dosage.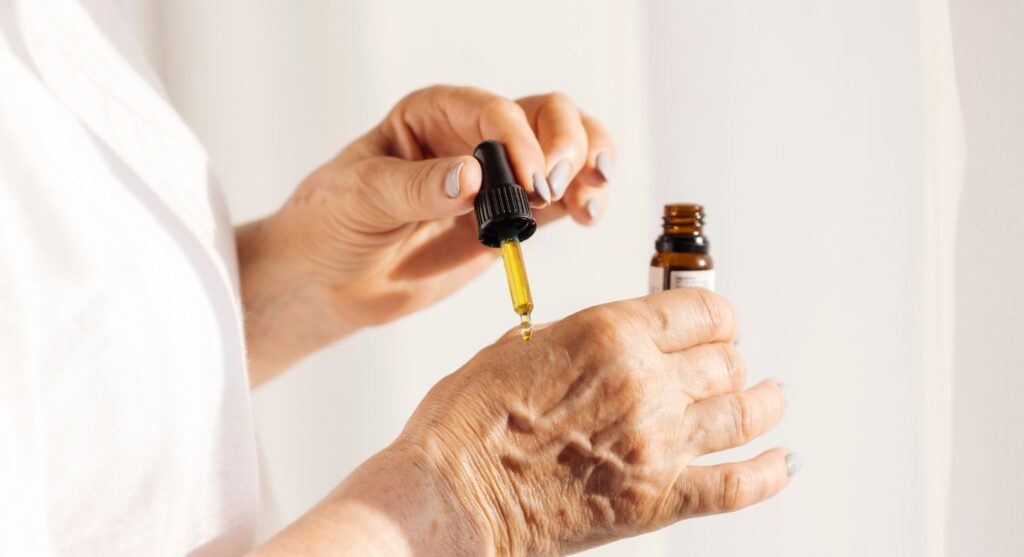 Why should you be wary of companies selling CBD for menopause?
CBD is not a medicine or treatment and should not be used to treat any ailment. 
Instead, you should use CBD oil as a supplement. In the same way, vitamin C and vitamin D work to aid and promote better wellness, CBD can do the same. 
Many companies claim to be able to treat ailments with their CBD oil, which is simply not true.
You should be wary of any company that claims to be able to treat menopause because they are going against Advertising Standards Agency guidelines on CBD marketing.
As time goes on, this may change because more and more research is being carried out daily about the properties of cannabinoids – but for now, companies can only promote CBD as a supplement.
Final thoughts on CBD oil for menopause relief
So in summary, can CBD oil help with menopause?
CBD oil may help restore balance and promote wellness, which will improve a person's quality of life when experiencing menopause. 
CBD can promote balance within the ECS, which could enhance a person's health. This is why some believe that menopause symptoms may be easier to manage while taking CBD products.
Since CBD is widely considered safe for most healthy adults, there is no reason not to add this powerful botanical supplement into your daily routine.