CBD oil is cropping up everywhere, from morning lattes to relaxing bath bombs. 
While the jury is still out on whether CBD oil is really needed in clothing, pillows or toilet paper (yes, really), some exciting new products could prove beneficial.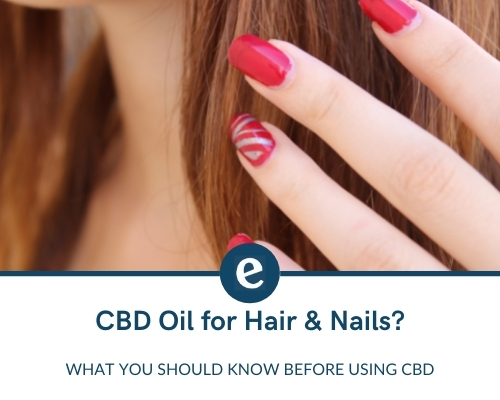 We've only really seen the tip of the iceberg for what CBD and other cannabinoids can do, so the CBD community eagerly awaits more research and product development in this area.
CBD skin care, nail care and hair care are booming. 
But is this the result of research and testing or just an attempt to capitalise on a growing trend? 
Let's explore some of the science behind these products so you can decide whether CBD for hair and nails is worth exploring.
Can You Use CBD For Hair And Nails?
The skin does have cannabinoid receptors, so it makes sense that CBD oil applied directly to the skin, scalp, or hands would offer some benefit. 
CBD oil is also rich in fatty and amino acids, which can be beneficial to hair and nails. 
So far, it seems that CBD could be a welcome addition to your beauty routine.
For those with inflammatory skin conditions such as eczema and psoriasis, CBD could also offer some promise. And finally, CBD has also shown promise for tackling conditions like acne and breakouts.
So, what does the research say? 
One study explored the therapeutic potential of CBD for skin health and disorders. 
This study points to the existence of cannabinoid receptors in the skin and how these could be involved in skin homeostasis and barrier function.
Does CBD Do Anything For Hair?
CBD won't have an impact on hair since the individual strands do not have cannabinoid receptors, but the scalp does. 
And even if CBD oil doesn't interact directly with the hair, there are plenty of beneficial ingredients in CBD oil to help nourish hair strands.
If you're looking for a deep conditioning treatment, the carrier oil might be more beneficial than the cannabinoids. Hemp seed oil and MCT oil may offer some heat protection from styling.
Hemp seed oil is also rich in omega-3 and omega-6 fatty acids, which are beneficial for hair. In 2015, a study found that hemp seed oil helped improve the hair diameter and density of those taking omega-3 and omega-6 oral supplements.
MCT oil is also beneficial to hair and scalp health. 
It is an antifungal, which could help to keep the scalp healthy. It's also a natural moisturiser, and a healthy scalp can contribute to healthier hair growth. 
MCT also penetrates the hair shaft instead of just coating it, so it could help to make hair look healthy and shiny without the weight.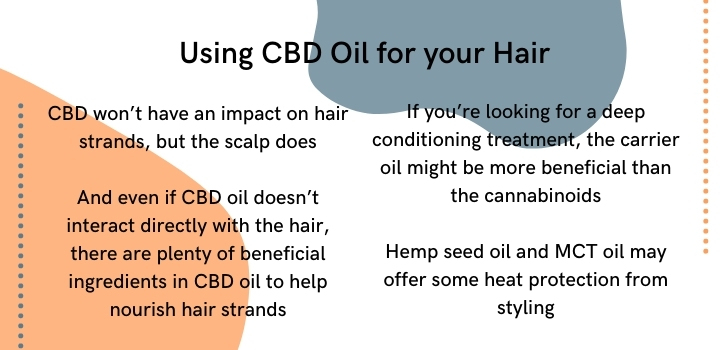 Does CBD Strengthen Nails?
There are no studies to suggest that CBD can help to strengthen nails or prevent breakage. 
But this hasn't stopped companies from adding CBD oil to their nail polish formulas.
The entourage of extra ingredients in CBD oil may be the real source of benefit for nail care. While we know that the skin has cannabinoid receptors, we still don't know how to make the most of this knowledge.
Moisturing the cuticles is one way to help protect nails. 
For those with skin conditions like eczema on their hands and cuticles, this could also help to protect the moisture barrier and avoid dryness from frequent hand washing.
Some salons are now offering CBD infused manicure and pedicure treatments, although there is little evidence that this treatment is more beneficial than a basic manicure and pedicure. 
Using topical CBD muscles balms could help to ease arthritis pain in the hands and feet, but this is not proven. 
Look for balms with ingredients like menthol, camphor and methyl salicylate.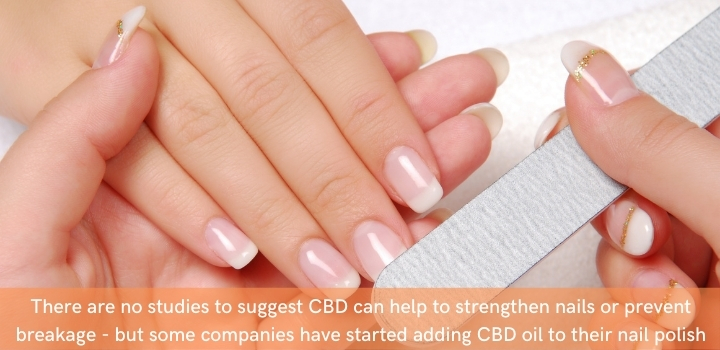 Can I Put CBD Oil in my Shampoo?
Without further evidence that it offers considerable benefits, adding CBD oil to your shampoo could be little more than an expensive waste. 
When you've purchased a high-quality CBD oil, we recommend saving this for your daily oral drops.
There are CBD shampoo, conditioner and styling products available, but the quality of the CBD and the concentration could vary significantly. 
Poor quality CBD oil or a very low concentration of CBD isolate is unlikely to offer any benefits.
If you're looking for a cannabis-derived product to help condition your hair and nourish your scalp, hemp seed oil could be a wallet-friendly alternative to CBD. 
Apply it to the scalp and massage in well, then comb through the lengths of your hair and leave it overnight. Wash it out in the morning and your hair should be smooth and more manageable.
Using a small amount of hemp seed oil on the ends of dry hair could also help to keep hair under control. 
Curly and natural hair can also benefit from the gamma-linolenic acid found in hemp seed oil, as it helps to moisturise each hair strand.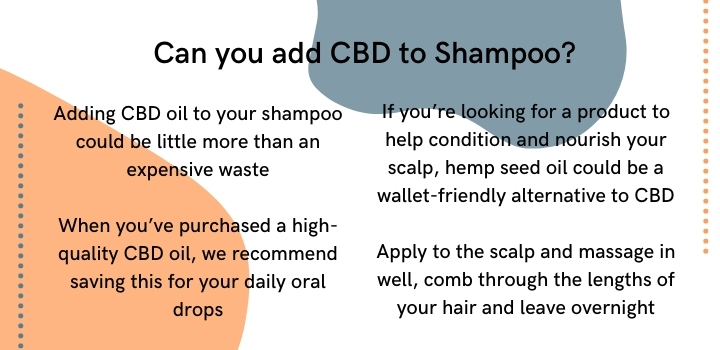 Could CBD Damage my Hair and Nails?
CBD is unlikely to damage your hair or nails, but there is always the risk you could be sensitive to ingredients. It's important to be aware of this before applying any CBD products to your skin or hair. 
Pay close attention to how you feel and stop using it if you think you might be sensitive.
Even all-natural ingredients can cause allergic reactions. 
For example, lavender essential oil commonly causes a reaction. 
And the reaction might not happen immediately. You could have a reaction called a delayed-type hypersensitivity. 
This means you won't have an immediate allergic reaction, but it could develop after a few days after you have been using the product more often. 
As a result, many people assume the allergy is caused by something else.
Since linalool is often present in CBD oil, and this is the fragrance terpene that causes the allergic reaction to lavender essential oil, it's worth being mindful of how you use CBD oil and how your body reacts.
If you are using high-quality, cold-pressed hemp seed oil instead of CBD oil for your hair, skin or nails, there is a lower risk of an allergic reaction, but you should still be aware of how your skin and scalp react.
Download your FREE Buyers Guide for an introduction to CBD
Don't forget to browse our blog for more posts on the benefits and usage of CBD. With our 30-day happiness guarantee, you can buy CBD oil online and send it back if it's not for you!