As CBD oil continues to grow in popularity, it seems that one of the most common things people look to CBD for is for pain relief or pain management.
But does CBD oil work for pain?
In this guide, we'll cover: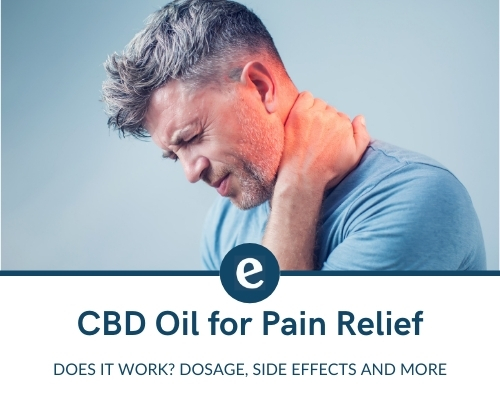 Does CBD oil help with pain relief?

How to use CBD for pain

How much CBD oil to use for pain

Where to buy the best CBD for pain relief
Over 62% of CBD users start using it in an attempt to treat medical conditions, and pain is one of the three most common – as well as anxiety and sleep disorders.
If you've landed on this page, there's a good chance you're either one of those people, or are at least curious about the potential benefits of CBD oil for pain relief.
Whereas research into the connection between cannabinoids and pain relief is still ongoing and a 100% definitive answer is still a long way off, there have been numerous studies with positive findings already. 
The vast majority of those studies have found beneficial links between CBD use, the endocannabinoid system and pain management.
Before we look at how CBD for pain relief works, how best to take it, and what dosage to use, first we have to take an honest, unbiased look at the evidence at hand to see whether it truly can be considered beneficial at all.
Does CBD Oil Help With Pain?
One of the earliest studies into CBD's efficacy for managing pain took place in 2008, looking specifically at the use of cannabinoids in the management of difficult to treat pain. 
While this early study looked at a range of cannabinoids including THC as opposed to CBD alone, it concluded that cannabinoids do offer strong analgesic effects without significant negative side effects, while also noting the presence of some beneficial side effects including that both THC and CBD offer antiemetic effects.
In 2016, a study into the transdermal effects of CBD on inflammation and pain-related behaviours in rats with arthritis found that a dose of 6.2mg per day did significantly reduce both swelling and pain symptoms. 
This study was particularly significant as it suggested that CBD had "long term therapeutic benefits without psychoactive effects" even when applied topically.
It also was the first suggestion that CBD could be a beneficial treatment for arthritis and further evidence that it helps to reduce inflammation, which is a common cause behind a huge percentage of pain-related complaints.
In recent years, these studies have accelerated considerably due to the popularity of CBD and the need to find a scientific baseline, however, varying legality across the world has still been a major obstacle.
Studies into oral CBD and cannabis-based medicine's use as a treatment for neuropathic pain have found promising results and suggested that they might indeed be effective for chronic pain treatment, primarily for neuropathic pain.
In 2018, a complete review of existing literature regarding cannabinoids' effects on chronic pain investigated a variety of pain types such as inflammation, neuropathic pain and cancer pain, decided that existing clinical trials were limited and not completely clear. 
With that said, they also found that the effect of cannabinoids on all forms of pain was promising and that evidence of anti-anxiety, anti-inflammatory, antiemetic, analgesic, anticonvulsant effects were all evidenced in varying degrees.
Another review in the same year looking at a variety of cannabinoid delivery systems for pain and inflammation treatment found mixed results, but stated that "combining formulations may provide an opportunity to produce rapid systemic effects and long-term outcomes (e.g. analgesia)."
The same study also noted that "interesting and promising transdermal results can also be found in the use of terpenes (from the same source) as CBD and THC penetration enhancers and thus improve the effectiveness of the therapeutic components. 
This, once again, highlights the role that quality plays in defining the composition, dosage and related safety of the components extracted from cannabis".
This is a particularly interesting finding as it does seem to suggest that terpenes from the same plant source as the cannabinoids are more beneficial than ones artificially added later. 
This is something that many CBD enthusiasts have claimed previously, suggesting that the correct ratios of cannabinoids and terpenes as presented naturally in the hemp plant are the ideal mix, but this is the first scientific evidence to back that up.
It's probably also a sign that high-quality, full-spectrum CBD from ethical sources should always be a priority, and that you probably don't want to buy CBD oil from Holland & Barrett for pain relief.
More recently, a randomized trial from April 2019 tested several strains of pharmaceutical-grade cannabis against each other in regards to reducing pain in fibromyalgia sufferers.
The research concluded that the strain with the highest CBD content resulted in a 30% decrease in pain scores when compared to a placebo and was more beneficial than THC dominant or balanced strains.
While research into CBD for pain is ongoing, and many more studies are required before any results can be considered conclusive, we are sure you'll agree that the results so far are promising.
Whether you believe the existing evidence around CBD for pain relief, or wish to wait for further research is a personal choice, but following on from the above studies, let's look at exactly how CBD is thought to be able to manage these benefits…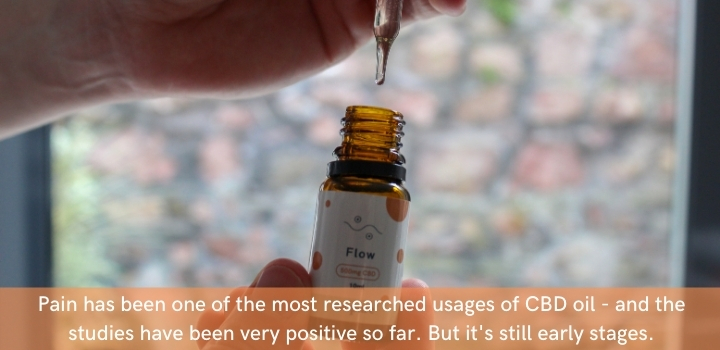 CBD Oil Benefits for Pain
If anecdotal evidence is positive and objective evidence is beginning to accumulate, the next question should be "how does CBD oil help pain?".
All signs so far point to the endocannabinoid system.
Whereas you might be aware of systems within the human body such as the digestive system, respiratory system or the immune system, the endocannabinoid system is in charge of regulating all of them and maintaining a healthy balance (otherwise known as homeostasis).
It contains different cannabinoid receptors that essentially act as locks while cannabinoids are "the key", working together to send signals around the human body and help manage the other systems.
CB1 receptors are found in the brain and spinal cord and help to manage pain, whereas CB2 receptors are found all around the body and help to reduce and manage inflammation.
Both are influenced by the presence of CBD, and are thought to be behind any benefits of CBD for pain management, along with the other benefits.
How to Use CBD for Pain Relief
Of course, if you want to try out how effective CBD for pain can be for yourself, your next question is probably regarding how to take CBD oil for pain relief.
There are a variety of ways to take CBD for pain in the UK, ranging from CBD oil tinctures to vaping e-liquids, capsules, gummies, CBD snacks and many more.
E-liquids should be avoided for health purposes as they generally contain CBD isolate as opposed to full-spectrum CBD, which means you miss out on the terpenes, flavonoids, other cannabinoids, and tons of similarly beneficial ingredients from the hemp plant that should ideally be working together.
Outside of this, the most important thing to keep in mind when considering how to use hemp oil for pain is to get high quality CBD from a reputable source, otherwise you could end up with a product containing CBD isolate anyway, or that isn't organic.
As the study mentioned above concluded, the quality of the CBD extract and whether or not it has the correct, natural ratios of ingredients does have a major impact.
Outside of that though, the actual method of delivery isn't a major factor, and for example capsules can be just as good as CBD oil drops, or nowhere near as good – it depends entirely on the manufacturer, ingredients and process being used.
With that said, we do personally prefer to use drops simply for the fact that it's easy to measure accurate doses and to quickly take CBD when out and about.
When choosing a product containing cannabis oil for pain, the method of delivery comes second to the main priority, which is ensuring the CBD oil is:
Full spectrum

Naturally contains ingredients from the entire hemp plant

Organic

Ethically produced
After all, nature knows best!
The answer to "where to buy hemp oil for pain relief", then, is any legitimate company whose product is all of the above as opposed to being a low-budget CBD isolate cash grab.
This is usually something you can tell by reading their website in detail. If a CBD oil company doesn't mention full spectrum on their page, then it almost certainly isn't.
Doing your own research and coming to the right conclusions for yourself will make this an easy choice, and hopefully as regulations start to come in place regarding cannabis oil for pain in the UK, the low quality products will start to disappear.
But from there, the next question is how much CBD oil should you use for pain?
The answer isn't as simple as you might think.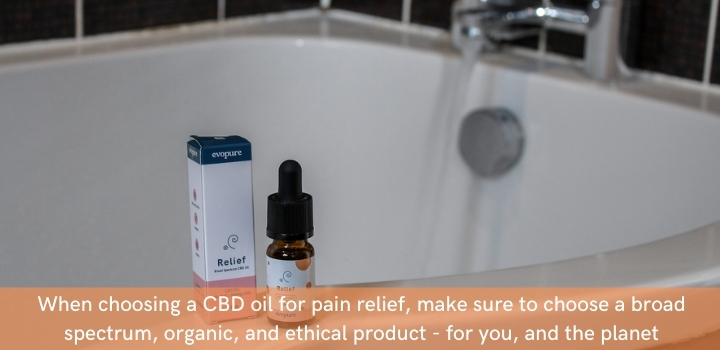 CBD Dosage for Pain
The ideal CBD for pain dosage varies from person to person.
After all, there are numerous factors that can have an impact on this, such as:
The quality of the CBD oil product

The concentration of CBD within the product

The person's size and weight

The condition causing the pain

The person's history with CBD
As you can see, working out the correct dosage can be quite difficult when all of these things have to be taken into account.
This is especially the case when issues with legality have slowed down research and appropriate regulation so much.
However, the positive side of this is that there has been no conclusive evidence of negative side effects from CBD use.
This means you can simply start with a small dose each day (say, a single capsule or drop) and then gradually increase your dose over time.
Doing this carefully and taking note of any changes in how you feel will make it easy to find your ideal dosage over time, and with no major risk of negative side effects, there is no reason not to spend a little time doing this.
Once you've got your CBD pain relief routine underway, when can you expect to see results?
Let's take a look:
How Long Does it Take for CBD Oil to Work for Pain?
Unfortunately, since cannabis oil pain relief is more a case of using a health supplement to rebalance the body's systems than it is an actual medication, there is no real "timeline" regarding how long it takes.
Most people who have taken cannabis oil for pain and found beneficial results, have done so almost immediately.
Of course, in cases where severe inflammation is causing chronic pain, long-term CBD use may reduce the inflammation and therefore reduce the pain for as long as you continue to use CBD. 
Despite this, it could also fail to have an effect on the underlying cause of the inflammation, causing pain to return when CBD is no longer being taken.
This depends entirely on the cause of the pain and there is no real answer as of yet, but if your pain is caused by inflammation, there is a good chance you'll experience beneficial results after your first dose of CBD oil.
Best CBD for Pain in the UK
If you are looking for the best cannabis oil for pain relief in the UK, there is no 100% reliable answer as of yet, but ensuring you find one that is full spectrum and organic is the best possible start you can make. 
At the very least, this means you know you are getting the full benefit of the hemp plant, and if you're looking for, for example, the best CBD oil for back pain, or the best CBD oil for joint pain, for as long as the symptoms are related to inflammation, the answer is likely to remain the same.
CBD oil for nerve pain may be benefitted by CBD in a slightly different way due to the differences in the CB1 and CB2 receptors, but ensuring you have the full spectrum of hemp ingredients ensures you are getting the right ingredients at the right ratios regardless.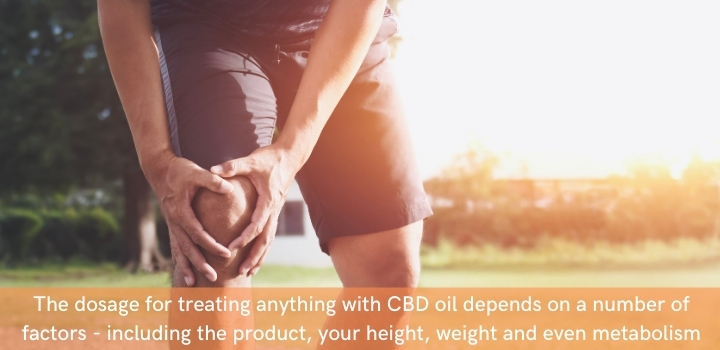 CBD Oil for Back Pain
Cannabis oil for back pain has good anecdotal evidence, and real scientific evidence backs it up when the cause is related to inflammation, but other forms of back pain are still uncertain and further studies into the connection between CBD oil and back pain are needed.
If you are still unsure, we recommend reading a mixture of CBD for pain reviews from genuine people who have tried CBD for similar conditions to your own, and academic research studies.
Privately written studies or articles written by companies that sell CBD can often ignore the real scientific evidence in order to position their own product as the best possible source of CBD.
Avoiding such content and sticking to the trustworthy ones will make your journey with CBD a lot smoother and more naturally beneficial.
Interested in trying CBD for yourself? Buy CBD oil online from our shop for your 30-day happiness guarantee – don't like it? Send it back!