CBD products are growing in popularity with everyone from athletes to the elderly and even to CBD for dogs.
One of the products gaining popularity is cannabinoid-infused edibles. 
If you're not a big fan of the bitter taste of CBD oil, you might be interested in learning how to make it more palatable.
CBD brownies offer the perfect way to enjoy your daily dose of CBD oil in a delicious sweet treat.
We've spent some time in the kitchen testing some of the best CBD brownie recipes from around the web. We've added CBD oil to traditional brownie recipes, and even come up with our own CBD brownie recipes for you to enjoy.
We will also cover:
Tips for how to make CBD brownies

How much CBD to add to brownies

CBD brownie effects
Scroll down to check these out and get cracking with your own homemade CBD brownies.
What are CBD brownies?
Brownies are chocolate cake squares that often have a dense and fudgy texture. They are made with a mixture of butter, sugar, chocolate, eggs and flour.
CBD brownies are simply baked treats containing CBD oil. If you're not a fan of the taste of CBD, or if you just want to explore new ways to take CBD, then CBD brownies are ideal.
CBD brownies are not the same as cannabis brownies. They will not get you high, but they do contain ingredients that will help to support the human endocannabinoid system. 
People use CBD oil for a wide range of potential benefits. While days are early and research is ongoing, a variety of academic studies have found links between CBD use and a variety of positive effects. 
CBD brownies are a simple way to enjoy the benefits of CBD in a tasty little treat.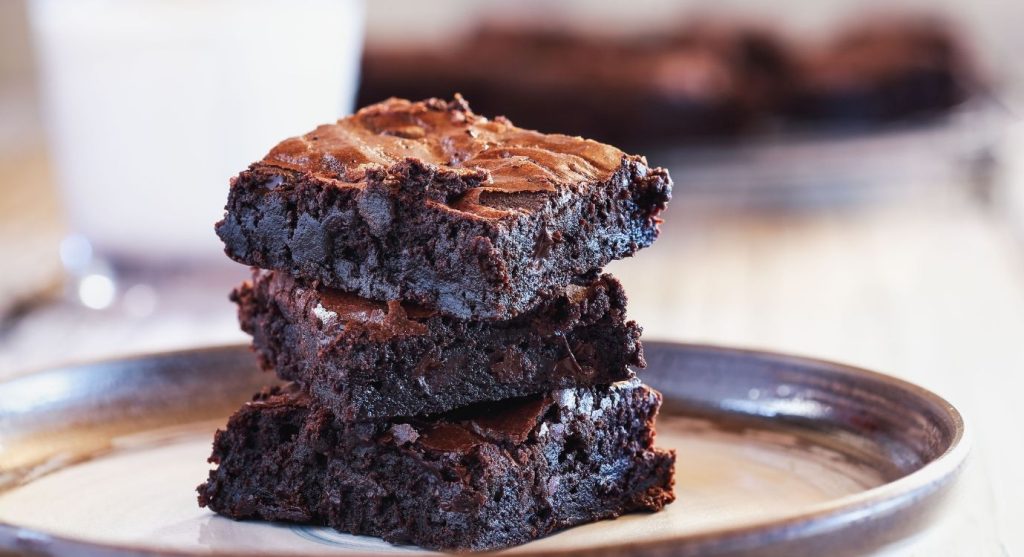 How to make CBD brownies
So, how do you make CBD brownies?
There are a few methods, but the simplest way to add CBD to brownies is by making a batch of CBD butter. 
CBD butter is simply melted butter with CBD oil mixed in. The CBD butter can then be melted and added to recipes, or creamed together with sugar to create the base for CBD cakes.
When you make CBD brownies, it's a good idea to track how much CBD is in each brownie. 
To calculate this, simply divide the total amount of CBD you added to your CBD butter by the number of brownies you have made. So, if you add a total of 50mg of CBD to your brownies and this makes 9 squares, then this would be around 5.5mg of CBD per brownie.
You can make CBD brownies from scratch or use a packet of brownie pre-mixed packet instead of entirely from scratch. Explore recipes for both methods below!
CBD brownie recipes
We've gathered three delicious CBD brownies recipes that will be perfect for every occasion. You could serve these brownies with ice cream at your next dinner party, or you could stash them in the freezer and defrost one every time you're craving something sweet.
If you freeze your brownies, simply pop one in the microwave for around 60 seconds to enjoy a warm and squishy brownie.
One tip to keep in mind: don't overmix your brownie batter. Overmixing the batter develops the gluten in the flour and will result in tough, chewy brownies!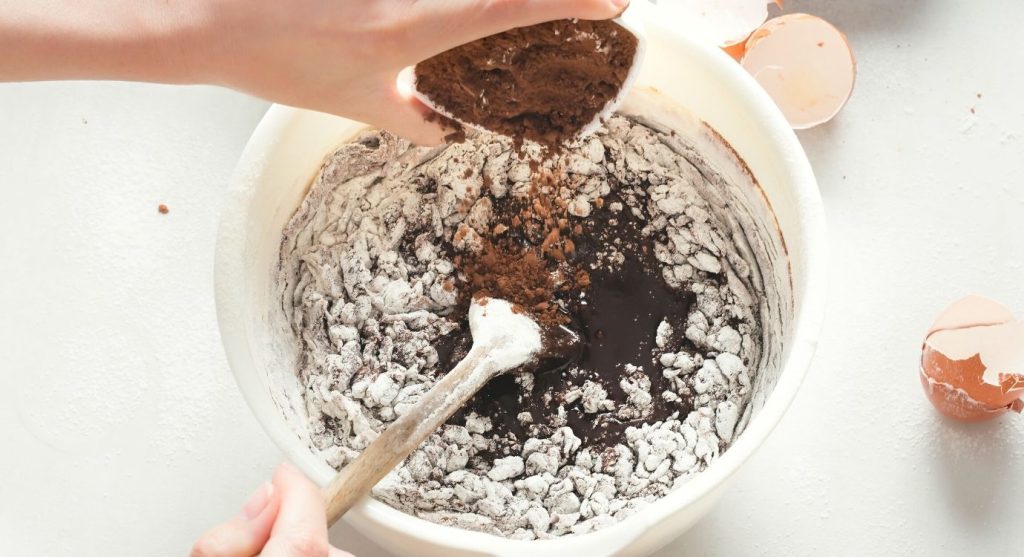 Easy CBD brownies recipe
You can complicate brownies with the addition of other ingredients, but sometimes only a classic brownie can hit the spot. 
We begin our CBD brownies recipe collection with traditional, irresistible brownie squares. They are incredible whether served cold, or hot with ice cream and chocolate fudge sauce.
The dose of CBD is the icing on the cake! Here's what you'll need:
Ingredients
255g of

CBD butter

100g of dark chocolate in chunks

50g cocoa powder

A pinch of salt

4 eggs

½ a teaspoon of vanilla extract

50g plain flour

Iced sugar

200g caster sugar

A square baking tin (ideally around 8 inches square)

Greaseproof paper

A small amount of regular non-CBD butter for greasing the tin

Optional – 75g of walnuts, other nuts, marshmallows, chocolate chips etc.

Method
Preheat the oven to

180°C/350°F/Gas Mark 4

Add the CBD butter and chocolate chunks to a small pan with a thick bottom. Leave on the lowest heat setting and stir constantly until fully melted, but remove the pan and put it to one side before the chocolate gets hot.

In a large mixing bowl, mix the sugar, eggs and vanilla.

Mix the melted chocolate into the mixing bowl

Using a sieve to make the powder finer, gently shake in the flour, cocoa and salt, then mix thoroughly again.

Stir in any optional fillings now.

Grease your baking tin with the butter and line it with greaseproof paper

Pour your brownie mixture into the tray and spread it out until smooth and even

Gently bang the bottom of the tin on something hard to shake out any air

Bake for 25 minutes

Leave to cool completely

Cut into equal squares (you should get 12-16)

Sprinkle the tops with icing sugar

Voila! A tray of indulgent CBD brownies!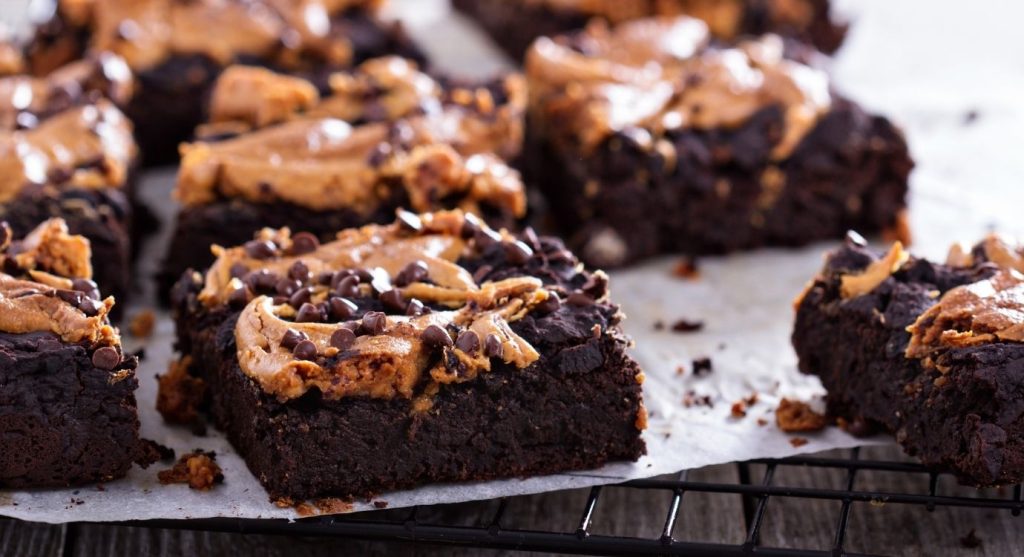 CBD chocolate peanut butter brownies recipe
For those of you that love both peanut butter and brownies, you'll struggle to find anything tastier than these!
Ingredients
For the brownies:
A pinch of salt

115g of our

CBD butter

(salted butter is fine for this recipe!)

228g of cooking chocolate, broken into chunks

80g of all-purpose flour

3 eggs

50g light brown sugar

150g regular sugar

1 teaspoon of vanilla extract

2 tablespoons of unsweetened cocoa powder
For the sweet peanut butter filling:
185g of smooth peanut butter

120g icing sugar

30ml of whole milk

2 tablespoons of chocolate chips

2 teaspoons of vanilla extract

2 tablespoons of Reese's peanut butter chips

Square baking tin, ideally 8-9 inches square

Aluminium foil

Method
Preheat the oven to

180°C/350°F/Gas Mark 4

Add the CBD butter and chocolate chunks to a small pan with a thick bottom. Leave on the lowest heat setting and stir constantly until fully melted, but remove the pan and put it to one side before the chocolate gets hot. Heating this too much will burn the chocolate and destroy the CBD, so being slow and gentle here is the most important part of the whole process.

Pour into a large mixing bowl and leave to completely cool. While it's cooling, you can make a start on the peanut butter filling.

In another mixing bowl, beat together the vanilla, icing sugar, peanut butter, and milk until the mixture is fully combined and looks like a rough cookie dough

Line the baking tin with the foil

Whisk the brown sugar and regular sugar into the now cooled chocolate

One by one, whisk the eggs into the sugar/chocolate mix

Mix in the vanilla

Gently fold in the cocoa powder, flour and salt

Spread half of your brownie batter into the pan and spread until smooth

Grab your peanut butter filling and squash with your hands into flat patties

Put these flat peanut butter pieces on top of the brownie mixture, ensuring they cover the entirety of the brownies

Pour the remaining brownie mixture over the peanut butter pieces

Sprinkle the Reese's chips and chocolate chips over the top and gently push them down into the brownie mixture using a flat surface like a spatula

Bake for 35 minutes until the brownies begin to come away from the edge of the baking tin

Leave to cool completely!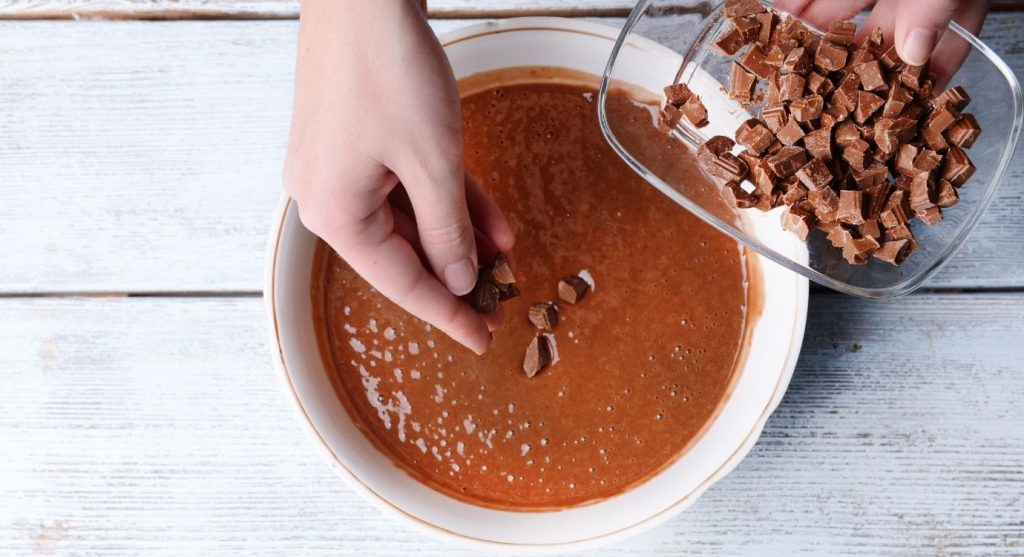 Crunchy rocky road CBD brownies recipe
We thought we'd mix it up a little with this one and give you a super easy, quick way to make CBD brownies with a brownie pre-mixed packet!
Not only is this easy to do, but it frees up your time to get more adventures with the other ingredients if you wish.
This recipe contains only a small amount of butter, so we recommend adding much more CBD oil to your CBD butter recipe to ensure you still get a high dose.
The easiest way to work this out is to check the brownie mixture to see how many individual brownies it makes, then multiply this number by the amount of CBD you need in each brownie.
These crunchy rocky road CBD brownies are so tasty that you can forget everything we've told you about CBD not being addictive.
Let's jump right in:
Ingredients
1 box of ready-made brownie mixture

1 and ½ cups of Rice Krispies

½ tablespoon of

CBD butter

½ a cup of salted peanuts

1 and ½ cups of chocolate chips

1 and ½ cups of smooth peanut butter

1 cup of Reese's peanut butter cups, chopped into rough pieces

Method
Mix up the brownie batter according to the packet's instructions

Part bake them for 20-25 minutes in a baking tin

Remove from the oven and add the peanuts and Reese's cups

Bake for a further 4-5 minutes

While they are baking for the final few minutes, gently melt the chocolate chips, peanut butter and CBD butter.

Stir the Rice Krispies into the chocolate chip/peanut butter mix

Pour the peanut butter mixture over the brownies straight from the oven

Leave in the refrigerator to completely cool for at least 2 hours before serving
How much CBD oil should I put in brownies?
If you're interested in learning how to make brownies using CBD but are already experienced in baking, this may be your only major question.
All of our CBD brownies recipes listed above will make use of CBD butter and CBD coconut oil and as such use a general CBD dosage.
It is usually best for people to work out the best CBD dosage for themselves since there are a wide variety of variables involved such as the quality of CBD used, the size and weight of the person, and the expectations and concerns.
Because of this, there is no real answer for the exact right amount to use.
Our recommendation would be to start with the standard quantity of CBD and gradually increase the dose from there until you find optimal results.
Luckily, no big risk of CBD overdose have been discovered,  no big risks of CBD overdose have been discovered, so you are pretty much free to experiment and find your ideal amount.
Use your normal dosage, multiplied by the number of CBD brownies you want.
Start with between 1-5 mg of CBD for every 5 kg of bodyweight.
If you normally use 10mg and you want to make 10 brownies, use 100mg of CBD.
If you weigh 70kg, start with 14 mg of CBD per brownie and increase it slowly to find the perfect dose.
Can you use butter instead of oil in brownies?
Since the majority of brownie recipes use oil, this is quite a common question, both in the world of cooking with CBD oil and in traditional baking.
The answer is yes, as long as you use high-quality unsalted butter.
Generally, oil is considered better for brownies as it has a higher fat content, and as such, we would recommend using our CBD coconut oil for brownies instead of CBD butter whenever possible.
However, this is only because butter can create a slightly more cakey texture, and if it's all you have to hand, don't worry – you aren't going to ruin your brownie recipe with oil simply by substituting it with butter.
How long do CBD brownies last?
CBD can deteriorate if not stored correctly – however, it lasts longer than brownies do.
This means you can just store the brownies in your refrigerator and eat them before they go off, which is more than enough to ensure your CBD stays active and in good condition.
CBD brownie effects
Since CBD brownies do not contain any THC, they aren't going to get you high. So, what exactly are they going to do?
CBD oil does not alter your mental state, but it does contain compounds that can support the human endocannabinoid system. The 
The endocannabinoid system helps to regulate and manage all other systems in your body to maintain a state of wellbeing and homeostasis. 
However, eating too many CBD brownies might result in a few mild side effects: 
Dry mouth

Stomach upset

Digestive issues

Drowsiness and lethargy

Therefore, we recommend always checking how much CBD is in your brownie!
10% off on your first order
Complete this one-minute quiz and find the right products for you.
Are CBD brownies legal?
There are some countries where CBD remains illegal to this day, so we recommend doing your research. However, generally, CBD is legal in the vast majority of countries in the West, including the ones where cannabis is illegal.
This is because of the differences between THC and CBD. THC is the cannabinoid responsible for the psychoactive effects recreational cannabis users are looking for, whereas CBD is the cannabinoid with zero psychoactive effects and a range of potential health benefits.
The bottom line: If CBD is legal in a country, so are CBD brownies!
Final thoughts on CBD brownies
We hope this guide to making CBD brownies has given you some inspiration to get baking.
If you just want a quick, easy way to make CBD brownies, you can of course follow our rocky road recipe without all the extras – just add CBD butter to a packaged brownie mixture.
If you have the time, though, it's absolutely worth doing one of these slightly more fancy recipes using our broad-spectrum hemp oil.
The taste – combined with any benefits you potentially receive from the CBD content – will have you coming back again and again.