The CBD industry has been taking the world by storm – but why are so many athletes recommending CBD oil?
If you know anything about the benefits of CBD oil, you'll be able to guess why so many athletes are in favour of using the supplement.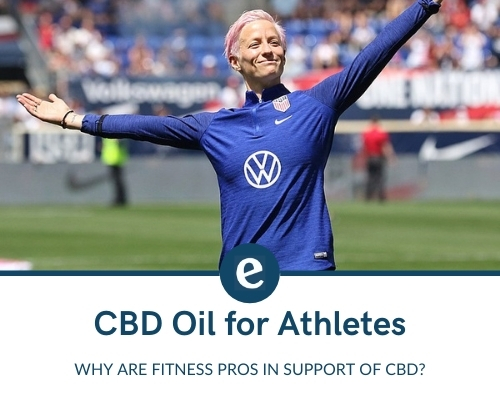 In this article, we'll look at:
Is CBD oil good for athletes?

Is CBD oil legal for athletes?

What athletes use CBD?
CBD is good for a number of things, but in general is used for encouraging better overall wellness throughout the mind and body.
But that's not all: there are a number of famous athletes who take CBD to aid with their recovery after competitions.
Not only are the numbers of professional athletes using CBD growing all the time, but so is the collection of famous athletes who are publicly advocating for the use of CBD products in sport.
Let's dive in.
Why do Athletes use CBD Oil?
Many in the fitness world are looking for CBD for athletes but may be hesitant to do so as they are worried that this may cause them to get an adverse result in a drug test that could see them fined or even banned from their sport.
CBD is one of around 100 cannabinoids, or unique compounds, that are found naturally in the cannabis plant.
It is completely different from that other famous cannabinoid, THC, in that it is completely non-psychoactive and has no potential for addiction or overdose and has no significant side effects.
CBD has many properties that make it beneficial to humans, notably supporting the endocannabinoid system in the human body.
Given that CBD is a non-psychoactive, non-addictive compound, you would think that there would be no problem with athletes using it to aid with training and competition, just like they take vitamins and other supplements.
However, misinformation and confusion with THC and other forms of cannabinoids has meant that CBD for athletes was banned in many competitions.
Worried about getting drug tested but wanting to use CBD? Learn more about

CBD and drug tests

in general on our blog – and check worldwide legality in our guide "

Is CBD Oil Legal

?"
When it comes to CBD for athletes, however, drug testing comes down to the rules set by the sport's governing body. These are the organisations that decide which substances are banned in competition and therefore which compounds are tested for.
Each body determines its own rules, but they are all guided by the World Anti-Doping Agency (WADA).
So what's the real story? Let's take a look at what the WADA says about CBD.
But first, if you're new to the CBD oil world, check out our handy video guide so you know what the big deal is!
Is CBD on the WADA List?
The World Anti-Doping Agency is an international and independent agency, established in 1999 and funded equally by governments and the sport movement across the world.
The WADA has a number of diverse roles, from scientific research and education to developing anti-doping capacity and monitoring the World Anti-Doping Code, the document which harmonizes anti-doping policies across all sports and all countries.
The WADA says that all natural and synthetic cannabinoids are banned except for CBD (cannabidiol).
So athletes are allowed to use CBD oil and other CBD products, but are prohibited from using hashish or marijuana.
This change happened in 2017, when WADA removed CBD from its prohibited substances list. This means that athletes across almost every sport can now freely use CBD to help performance and recovery during both training and competitions.
However, some sports still make their own decisions and ban CBD oil – which is why some athletes use their platform to fight against the bans.
What are the Benefits of CBD Oil for Athletes?
This is just a snapshot of the reasons why more and more athletes are choosing to use CBD, but should give you all you need to know.
CBD oil can support the digestive system
Gastrointestinal problems are inconvenient in daily life, but they can be detrimental for athletes.
CBD works on the cannabinoid receptors in the body's endocannabinoid system, which controls the pars of our body associated with regulation and control, including the thyroid gland, pituitary gland, pancreas and kidneys.
This, in turn, promotes better digestive health and appetite as well as boosting your mood. 
Athletes use CBD oil for sleep 
High-quality sleep is also essential for athletes. A good night's sleep before a competition could make all the difference to the result, and regular, quality sleep is critical to support proper training.
Many of our body's most vital processes occur while we sleep, including repairing damage and building new tissue.
This makes sleep vital to muscle growth, not to mention focus and concentration.
CBD oil supports the body's natural systems
More than anything, CBD has been found to encourage balance and support the body's natural processses.
The way CBD works in the body is by interacting with the endocannabinoid system.
The endocannabinoid system maintains homeostasis throughout the body and influences all other systems in the body. 
CBD can encourage balance and restore wellbeing within the endocannabinoid system through the interactions with the cannabinoid molecules and the cannabinoid receptors.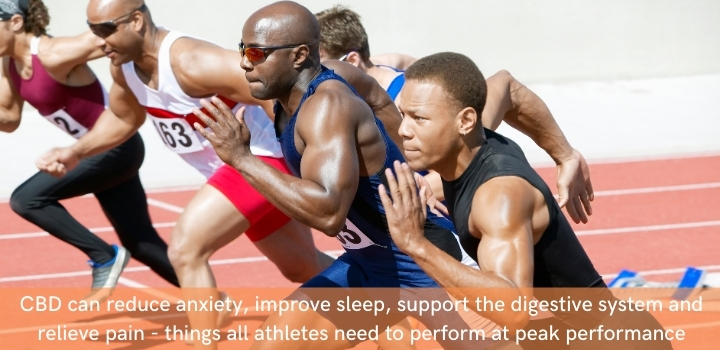 Famous Athletes who use CBD
Given the many benefits of CBD for athletic performance, training and recovery, it is not surprising how many athletes are using the component. These include some of the world's most famous players in a range of sports.
Let's take a look at the stars of rugby, boxing, NFL and more who have been enjoying the benefits of CBD for years.
Rugby Players
1. George Kruis
George Kruis is a renowned rugby player with over 12 years' professional experience, including five successful seasons with the Saracens and as a member of the England Performance Squad.
He now plays with Japanese side the Panasonic Wild Knights.
George was first referred to CBD by his then Saracens teammate Dominic Day.
Day had started including a CBD supplement in his daily routine to help him recover from a knee injury and had been very impressed by the instant improvement.
Dominic Day suggested it would also be beneficial for Kruis in helping him to recover from recent ankle surgery.
2. James Haskell
Another English Rugby player who takes CBD is James Haskell.
The retired rugby player is one of the UK's most famous rugby internationals and has 78 senior England caps.
After retiring from the sport he signed up with MMA outfit Bellator, and is renowned for his dedicated training and fitness regime, as well as the impressive physique he has as a result.
Haskell and his wife Chloe Madeley, a fitness influencer, also have a strong social media presence. They share a great deal of content about fitness and nutrition, mostly focusing on better training and recovery.
He has released a number of YouTube videos about the benefits of CBD, where he shares how we and Madeley like to take CBD before a workout.
3. Ben Franks
Ben Franks, probably one of the world's top rugby players, in another CBD fan.
The Australian-born athlete debuted his career with New Zealand teams the Crusaders and the Hurricanes, before moving to England to play with the London Irish and then the Northampton Saints.
In his 20 year career, he has so far secured two Rugby World Cup titles and almost 50 caps for the All Blacks.
Franks has spoken about how he has used CBD for years, well before it became a popular supplement for athletes.
He was first recommended to use CBD by a team mate, and has been using it to improve his training and performance ever since.
Football Players
4. Megan Rapinoe
Women's soccer legend Megan Rapinoe is not only an exceptional ball player and feminist icon, she is also an enthusiastic advocate of CBD for athletes.
Her successful career stretches back to the FIFA U-19 Women's World Championship in 2004. She has competed on teams in the US, Europe and Australia, and now plays for the Seattle Reign Football Club.
She has been widely praised for her superb leadership of the US Women's National Team, taking them to gold in the 2012 Olympics as well as the 2015 and 2019 FIFA Women's World Cup.
Rapinoe has spoken publicly of the advantages of CBD oil as a healthy, natural method to maintain general wellbeing while training and competing.
She's also discussed the importance of changing the "status quo" around pain management in sports.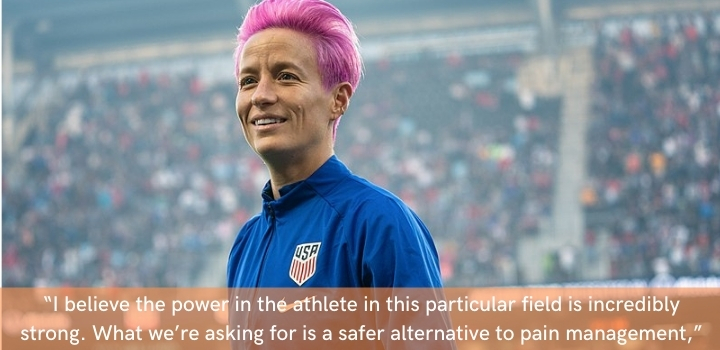 American Football Players
5. Rob Gronkowski
Rob Gronkowski is a celebrated player in the US' National Football League (NFL). A former leading player with the New England Patriots, he now plays with the Tampa Bay Buccaneers.
His career to date has included three Super Bowl wins, and he was selected in the NFL's 2010's All-Decade Team and the NFL 100th Anniversary All-Time Team.
Gronkowski has spoken out about the benefits of CBD for athletes, speaking about the difference CBD would have made to his wellbeing earlier in his career.
He has publicly called for the NFL and other governing bodies to legalise the use of CBD oil for injury recovery.
6. Eugene Monroe
Eugene Munroe is another US NFL player who has been vocal in his support for CBD use, particularly by athletes. Munroe was a very successful NFL player who played with the Jackson Jaguars and the Baltimore Ravens.
He retired in 2016 at age 29 over concerns about head trauma he'd sustained throughout his career.
Munroe became the first active NFL player to advocate for CBD and cannabis in 2014, publicly arguing that CBD should be used to encourage wellness.
Fighters
6. Mike Tyson
He was the first heavyweight boxer to hold WBA, WBC and IBF titles simultaneously.
Mike Tyson is not only one of the most famous names in boxing, but he is also probably the athlete who is the most vocal promoting CBD oil. Tyson was a champion boxer and was the undisputed world heavyweight champion from 1987 to 1990.
Tyson has not only been very vocal in promoting the benefits of CBD for athletes, but he has also publicly stated that he uses CBD for training, as well as using it both before and after fights.
He has been a supporter of CBD for years. Tyson also has his own legal marijuana farm and company that sells cannabis products.
7. Nate Diaz
Nate Diaz is a leading athlete in the Ultimate Fighting Championship (UFC), a lightweight fighter with 19 recorded wins out of 30 fights. He was also crowned The Ultimate Fighter 5.
He also enjoyed attention-grabbing wins against Ray Maynard, Donald Cerrone and Connor McGregor, the latter fight breaking the record for pay-per-view in the sport.
Diaz is a regular user of CBD, and has not only publicly advocated for its use but has used it in public appearances in front of the media.
He generated a fair amount of attention when he vaped cannabidiol at the post-fight press conference following his famous face-off with Connor McGregor.
He took the opportunity to talk about the positive impacts the compound has on the human body and explain how he takes CBD to help to restore his wellbeing.
8. Alex Montagnani
British Mixed Martial Arts (BMMA) star and actor Alex Montagnani competes at welterweight and has a stunning professional record of 10 wins to just three losses so far.
He is known in the sport as the "Mean Albatross" for his tenacious and relentless fighting style.
Montagnani widely advocates for CBD on social media, and CBD oil in particular.
Like many of his fellow athletes, he's shared how CBD oil has allowed him to take his training to another level, promoting better all-round health.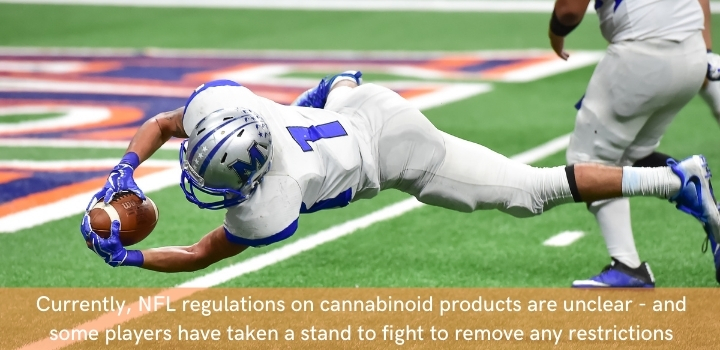 Bodybuilders
9. Kieran Kevan
Bodybuilding is an exceptionally competitive discipline that is extremely demanding on their athletes. Kieren Kevan is the reigning UK Drug Free Bodybuilding Association (UKDFBA) British champion and a role model for many in the sport.
Kevan is also a vocal CBD user, regularly sharing his passion for CBD products on Instagram.
He describes how CBD is useful in helping him relax after a workout as well as aiding with post-competition wellbeing.
10. Tomas Wolfe
UK Bodybuilding Fitness Federation (UKBFF) Northwest champion Tomas Wolfe is one of the biggest names in UK bodybuilding at the moment.
He has also become a staunch fan of CBD throughout his career, and often promotes its benefits to his growing fan base.
In particular, he talks about the power of CBD for athletes to promote wellbeing in the mind and body, which is particularly useful when dealing with competition.
Other Athletes
11. Paul Pierce
Seasoned National Basketball Association (NBA) Paul Pierce played a total of 19 seasons in the sport, many of those as captain of the Boston Celtics.
During his career, he earned 10 All-Star selections and was a four time All-NBA team member. He is now an analyst on ESPN shows The Jump and NBA Countdown.
Pierce uses CBD for a very specific reason: to manage mental wellness following a traumatic event.
In 2000, at the height of his career, he was the victim of a violent attack in a Boston nightclub.
The attack, where he was stabbed 11 times and had a bottle smashed in his face, left him with emotional scars.
12. Charley Hoffman
CBD is becoming especially common in the golfing field, with a number of professional golfers becoming involved in the CBD industry in one way or another.
Professional US golfer, Charley Hoffman, has had four PGA tour wins to date, and has won a total of six international tournaments.
Hoffman has shared how CBD has helped him with post-competition wellbeing recovery, as well as encouraging relaxation.
Other famous golfers who are known to use CBD include Bubba Watson and Lucas Glover.
13. Eddie Hall
Officially crowned the World's Strongest Man in 2017, Eddie Hall is one of the most physically powerful men on earth. He was the first, and to date only, many to deadlift 500kg (over 1,102 lbs) in international competition.
Hall is also a regular CBD user and often speaks publicly about its ability to improve physical wellness.
He has also made efforts in the field of CBD awareness raising, helping to educate the public about this 100% natural compound and dispel myths about the link between THC and CBD.
14. Albee Layer
Hawaiian surfer Albee Layer is another proponent of CBD for athletes. The pro surfer is well known for not only his prowess in the waves, but also his raw, progressive style that pushes the boundaries of the sport.
He debuted in the 2008 season and continues to compete at a global level.
Layer first started taking CBD while recovering from his second hip surgery and was highly impressed.
Since then, he's been a vocal supporter of CBD for athletes, proudly promoting their benefits for better daily health.
15. Ross Rebagliati
Canadian snowboarder Ross Rebagliati is not only a leader in his sport, he also won the first ever gold medal for snowboarding, taking the gold for Men's Snowboarding at the 1998 Winter Olympics.
Rebagliati is an active supporter of not just CBD but also medical cannabis, having his own medical marijuana business.
He has spoken about how he believes CBD has the most health benefits and can be very effective boosting personal wellbeing. He is a strong proponent of CBD oil for athletes and non-athletes alike.
16. Brooke Ence
There are also a number of CrossFitters who have embraced the CBD trend. Amateur and professional CrossFit athletes alike have adopted hemp oil and other CBD products to aid with general wellbeing.
Brooke Ence is one elite CrossFit Athlete who has publicly promoted the benefits of CBD for athletes.
She said that she's been taking CBD for quite some time and that it has been very valuable for her training and for her life in general.
Other professional CrossFitters, including five times Games athlete Noah Ohlsen and four times Games athlete Alex Anderson have shared how they noticed significant improvements in their lives since adopting CBD.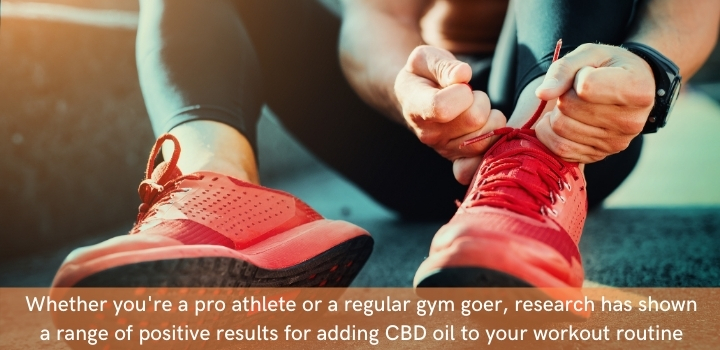 Final thoughts
Given the many benefits of CBD for encouraging general wellbeing, it is no surprise that so many athletes are big fans of the compound.
Whether you are one of the world's most famous players or an amateur athlete, there seems little doubt that CBD could be extremely useful to support performance.
Although the world's leading authority on drugs and sport, the WADA, has ruled that athletes are free to use CBD, it is always important to check the rules set by your sport's own governing body, as well as the laws where you live.
Otherwise, you'll find it worthwhile learning more about how CBD could help you to improve performance, aid with training and assist in recovery to make you a better athlete.
Check out our blog for more on the benefits and uses of CBD, and keep your eye on our blog for new posts! If you're ready to start your CBD oil journey then you can buy CBD oil online at our shop – with our 30-day happiness guarantee you have nothing to lose!