The world of CBD oil can be overwhelming for newcomers.
There are so many products available on this young, exploding market. All are claiming different things – some more legitimately than others. 
So how to know which you need?
The options can be baffling: hemp oil vs CBD oil vs cannabis oil vs hemp seed oil, anyone?
All these terms are often confused (shock)! But crucially, these products are very different. 
In this article, we'll outline the differences between hemp oil and CBD oil while offering some tips to ease buying these products.
What is hempseed oil?
Hemp seed oil is extracted from the hemp seeds of the hemp plant. The product is typically cold-pressed and raw, so it remains very close to its natural state.
How does hemp seed oil compare to hemp oil? 
Drum roll…. they're the same thing! Some people refer to hemp oil as hemp seed oil. 
But for the remainder of this article – now that our mic-drop moment is out the way – we'll refer to it as hemp oil to avoid further confusion. 
Hemp oil – for all those still following – is made up of more than 80% omega fatty acids and doesn't contain any cannabinoids. That means there's no CBD in hemp oil.
Regardless, hemp oil is a very healthy and nutritionally balanced product.
As it has a low smoking point, it's not suited for frying or cooking
Hemp oil is also commonly used in soaps, skin lotions, shampoo, and even biofuel. 
Finally, you might see hemp oil listed as an ingredient in your CBD oil as it can be used as a carrier oil.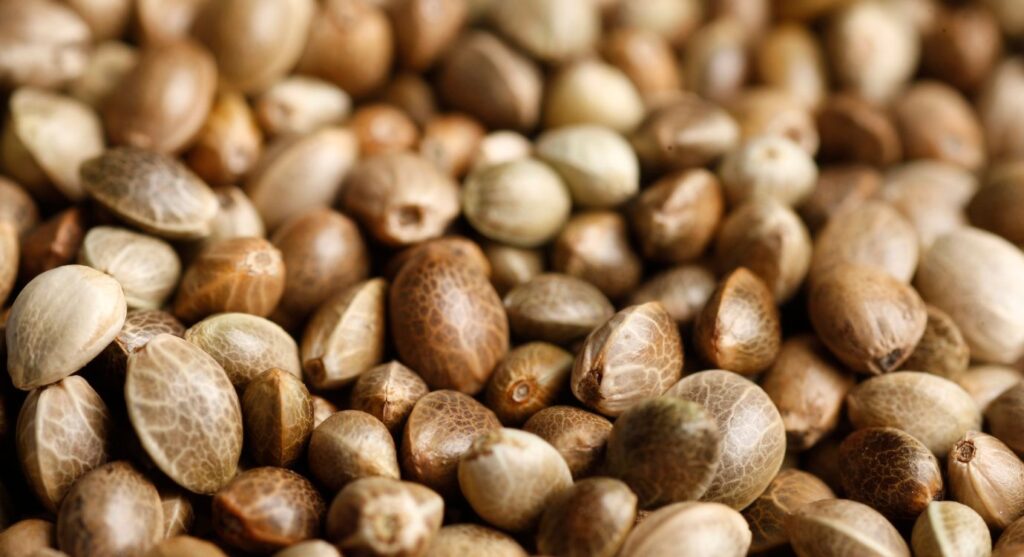 What is CBD oil?
CBD oil, short for cannabidiol, is one of the most well-understood cannabinoids – a group of over 150 different natural chemical compounds found in the cannabis and hemp plant.
CBD does not have any psychoactive effects whatsoever, meaning it doesn't make you feel "high", or even drowsy.
CBD oil is legal in the UK, so long as manufacturers adhere to tight regulations. 
CBD must be derived from the industrial hemp plant (rather than the cannabis plant), pass Novel Foods regulations, and contain no more than 1mg of THC per bottle.
What's the difference between hemp oil and CBD oil?
While both CBD oil and hemp oil are wellness supplements, they are beneficial for different reasons. 
However, the main difference is that CBD oil contains cannabinoids, whereas hemp oil does not – it's a seed extract, and there are no cannabinoids present in hemp seeds.
Research is ongoing around the potential for the application of CBD in clinical settings. The key difference here is that due to its cannabinoid content, CBD oil interacts with the endocannabinoid system – whereas hemp oil does not.
How is CBD oil vs hemp oil made?
Hemp seed oil is made by extracting seeds from the hemp plant before cold pressing them – similar to the way olive oil is made. 
Hemp oil then has to be stored in a cool, dark place before it's processed and shipped. 
In contrast, CBD oil is created through a more complex extraction process, often using carbon dioxide.
After the CBD (and other cannabinoids found naturally in the hemp plant) is extracted, the compounds are mixed with a carrier oil – MCT oil, which is made from coconuts.
What are the benefits of hemp oil vs CBD oil?
"I'm looking to extract the maximum benefit from my supplement. Should I choose CBD oil or hemp oil?"
The answer depends on specifics. What are you looking to gain from your supplement? Here's a quick look at the respective benefits of hemp oil vs CBD oil.  
Benefits of CBD oil
CBD oil has many potential benefits due to the ability of phytocannabinoids to interact with the human (and animal!) endocannabinoid system (ECS). 
Research into potential applications remains ongoing, but CBD is already thought to be an anti-inflammatory, a useful tool for pain management, and a neuroprotective.
While CBD isn't a medical treatment, scientists believe that using a supplement cannabinoid may boost our wellness by restoring the ECS to healthy levels – and thus may be a useful tool to utilise alongside traditional medical treatments. 
Also ongoing are studies into the ability of CBD to potentially treat seizures. 
Currently, one CBD-based medicine – Epidyolex – has been approved by the NHS as an option for some people with epilepsy.
Benefits of hemp oil
Hemp oil can be an excellent dietary supplement due to its unique composition and ratio of omega-6 (linoleic) to omega-3 (alpha-linolenic), as well as a wealth of omega-9 essential fatty acids. 
Many experts agree this 3:1 fatty acid ratio is ideal for health benefits in humans.
Hemp oil has a nutritionally dense profile and is packed full of vitamins and minerals, including carotene, calcium, sulfur, magnesium, potassium, zinc and iron.
In particular, a diet rich in omega-3 and omega-6 fatty acids may contribute to overall cardiovascular and skin health. 
Moreover, hemp oil may match CBD's anti-inflammatory properties: research suggests that adding omega-3s, such as those found in hemp oil, to your diet can reduce inflammation.
10% off on your first order
Complete this one-minute quiz and find the right products for you.
What are the uses of hemp oil vs CBD oil?
Let's take a closer look at hemp oil vs CBD oil. 
Hemp oil vs CBD oil as a food source
Hemp oil is often used as an ingredient in cooking and has a light and nutty flavour, which makes it ideal as a salad dressing. However, it makes a great pesto ingredient!
As hemp oil it's a low smoking point, it's not suited for frying or cooking.
CBD can also be used in a variety of edibles such as CBD brownies, CBD cakes, CBD smoothies, CBD coffee and CBD tea.
Hemp oil vs CBD oil as a beauty and skincare product
Hemp oil is also an excellent addition to beauty and cleansing routines, and can be found in soaps, skin lotions, and shampoo.
CBD oil is also used in skincare – products seem to use either hemp or CBD oil interchangeably.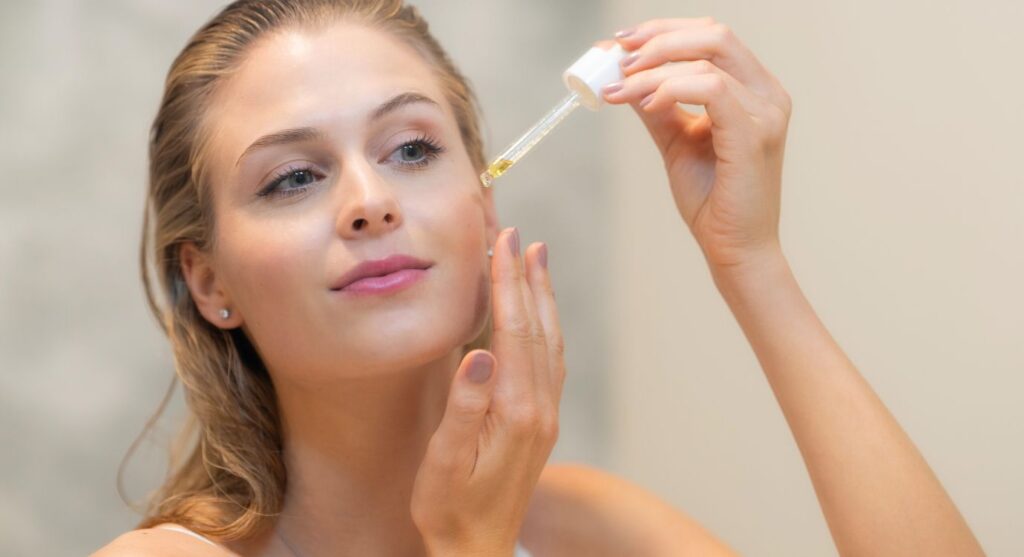 Hemp oil vs CBD oil as a fuel 
Here's a curve ball for you – hemp oil can also be used to make biofuel – either bioethanol or biodiesel.
CBD oil can't be converted into a biofuel – so hemp wins this one pretty easily. 
Hemp oil vs CBD oil as a carrier oil 
This one doesn't quite fit the format either (we tried!)
But you might see hemp oil listed as an ingredient in your CBD oil, as it can be used as a carrier oil – although MCT oil is more commonly used.
Hemp oil versus CBD oil as a supplement
We've already covered the key differences here; your choice of supplement will depend on the benefits you're looking to gain. 
For boosting general wellness, CBD oil is great as it interacts with your ECS. For help with consuming a nutritionally complete diet, hemp oil may be ideal. 
We'll let you all in on a secret, too – there's no reason why you can't take both!
Both have really strong safety profiles and are generally well tolerated by humans.
However, CBD oil may interfere with other prescribed medications. Make sure you speak with a medical professional before integrating any supplement into your health and wellness routines.
How do you take hemp oil vs CBD oil?
Let's begin this comparison with our resident favourite –  CBD oil. 
There are a number of ways to take CBD oil. Some of the most popular methods include:
Sublingual ingestion


Dropping oil under your tongue and holding it for 45 seconds to a minute. This method is fast acting and has high levels of

bioavailability

. 

CBD edibles or capsules


Less fast acting than sublingual ingestion, but can be easy to integrate into a routine and help

mask the taste of CBD

!

CBD topicals


Applying CBD oil directly to the skin – either for pain management or skin nourishment purposes.

Vaping CBD


This can be a rapid way to ingest CBD if you're looking for specific symptom relief.

Vaping CBD

allows the compound to travel directly to your lungs and quickly get to work. Still, you will be consuming

CBD isolate

– something to consider if you want to benefit from the entourage effect.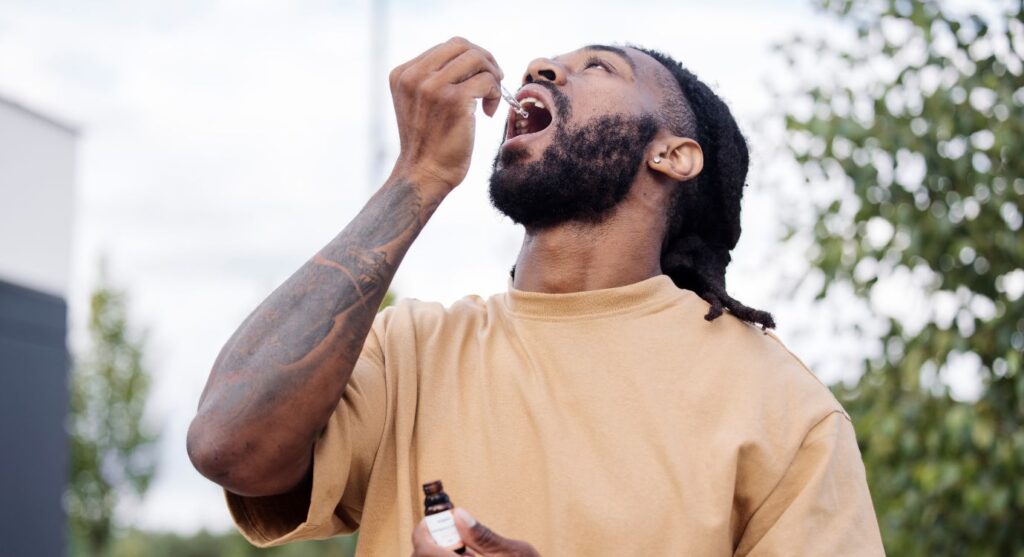 Okay, so there are many ways I can ingest CBD oil. 
What about hemp oil?
With hemp oil, consumption options are more limited. Let's take a look.
Eating it


You can use hemp oil as an ingredient in food and cooking. Or, you can swallow hemp oil on its own – we'd say try a tablespoon measure in the morning or evening.

Topically
Like CBD oil, hemp oil can be applied directly onto skin or is often found ready mixed in skincare products. 
Frequently asked questions:
No, hemp oil is CBD-free.
There should be 0% CBD in hemp oil, as hemp oil does not contain any cannabinoids.
It depends on what you mean by stronger. Neither CBD nor hemp oil is a psychoactive substance – but both have quite strong tastes.
Final thoughts
What's clear, first and foremost, is that the hemp plant is a truly magnificent species. It's the crop that keeps giving! 
Whether you want to extract CBD from its leaves and stems or press hemp oil from its seeds, there are so many ways we can benefit from this plant (and we've hardly even mentioned its multitude of environmental regeneration properties!)
When push comes to shove, CBD oil vs hemp oil isn't about competition. Choosing the right supplement is down to your priorities and personal needs.
If you're looking to boost your consumption of essential vitamins, minerals, and unsaturated fatty acids, hemp oil could be perfect. If you feel like giving your endocannabinoid system a boost – then CBD is the better choice.