Skin diseases are some of the world's most common health issues. They do not often cause severe lifestyle limitations, but they can cause daily irritation and stress. 
Psoriasis is among one of the most common skin diseases, which affects 125 million people worldwide.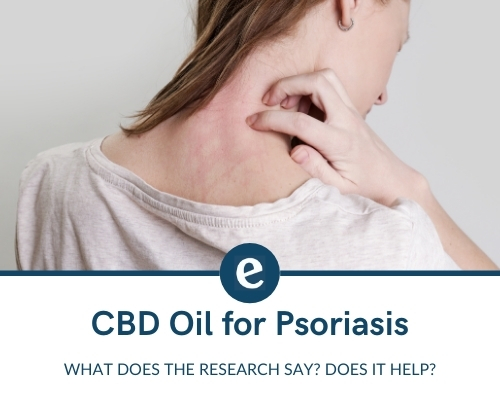 This makes up around 3 percent of the global population, all of which seek a way to prevent or treat the condition.
But what does CBD oil have to do with it?
CBD oil for skincare conditions like psoriasis, has been increasingly popular over the past few years. After research found that it can reduce pain and treat inflammation, which psoriasis causes, we are looking into if and how CBD oil can treat the skin condition. 
In this guide, we will cover:
Can you put CBD oil on your affected areas?

What can CBD do for psoriasis?

What does the research say?

How to use CBD oil for psoriasis
Let's take a look at CBD oil, its uses, and its effects for those looking for help treating and reducing their psoriasis. 
What is Psoriasis?
Psoriasis is a skin condition that causes red, dry, and flaky skin patches, which are typically covered by silvery scales. 
Most people develop small patches of psoriasis, typically on elbows, knees, scalp, and lower back. 
While the areas that are affected are small, psoriasis can cause pain and irritation. 
These psoriasis' patches develop due to the skin producing too many new skin cells, which multiply and cause patches of dryness and redness. In time, this leads to pain and inflammation.
Psoriasis is said to be an immune disorder. The immune system is your body's natural defense against disease and infection. Yet, the healthy skin cells are attacked by the immune system by mistake for people with psoriasis.
The most common cause is due to a specific trigger or event. 
Common triggers are due to skin injury from cuts or wounds. Throat infections and certain medications can also cause psoriasis to kick in.
Other causes can be due to lifestyle factors, such as weather, stress, heavy alcohol consumption, and smoking. To lower the risk of developing psoriasis, curbing these habits can help.
Now, let's get into how CBD oil can help treat and manage psoriasis.
Short on time? This video on using CBD oil on the skin may help you:
Does CBD Oil Help With Psoriasis?
Treating psoriasis effectively will help keep the symptoms under control. The most common and useful treatment choice is topical ointments, which CBD oil can be used as.
More research needs to be completed before suggesting that CBD oil can help all types and symptoms of psoriasis. 
However, it seems that CBD oil may offer some benefits for inflammation and pain relief caused by psoriasis from research.
Reviews on the efficacy of CBD oil psoriasis are mixed and still inconclusive. There is insufficient evidence to conclude that CBD oil can treat all types of psoriasis and all symptoms. 
One study found that CBD oil effectively reduces the rate of skin cell growth, which is the cause of psoriasis. If it can help slow down cell production, this may help prevent psoriasis instead of treating it, which provides more benefits. 
Also, there is abundant evidence for how using CBD oil for psoriasis can help manage inflammation and pain that comes with it. Thus, this suggests CBD oil may be a potential treatment for symptom management.
The effects of CBD may be much weaker than topical steroids like hydrocortisone. It has proven to be effective for treating other skin conditions that cause inflammation and pain, such as dermatitis and eczema. 
CBD is used to reduce flare-ups, irritation, and discomfort on the skin.
Some psoriasis patients who suffer from mild symptoms may prefer to use CBD because it is safe to use with most other medications and is a natural alternative to some medical products, which causes minimal side effects.
Psoriasis patients have found that CBD-infused ointments have a therapeutic impact on their symptoms. Some suggest applying a CBD product directly onto the affected area has relieved symptoms and improved their quality of life. 
Although there is limited research on the efficiency of CBD oil for treating psoriasis, some evidence suggests it can help manage symptoms such as inflammation and pain.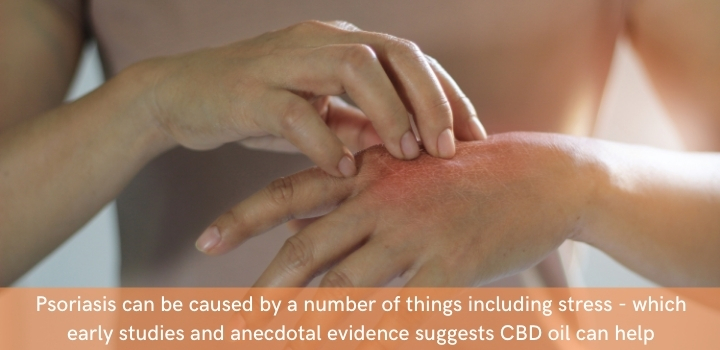 How Does CBD Oil Work For Psoriasis?
CBD is a cannabinoid, which works with the body's endocannabinoid system to help keep the body healthy. More than 100 cannabinoids exist, but there are two which are most well-known. 
Both are used for different reasons. One is CBD; the compound used to treat help conditions. The other is THC, the part of the cannabis plant that causes a high effect. 
CBD does not cause a high effect. Instead, it works to treat health conditions. 
The endocannabinoid system works to help with the digestive system, brain, and skin. In this case, we are looking at how it helps the skin. 
When CBD interacts with the body's endocannabinoid system, it can help stop or slow down skin cells' reproduction. Psoriasis is inflicted by too many skin cells. 
Thus, CBD has proven to help with that.
The benefits of CBD oil include reducing inflammation, which is often an issue for people with psoriasis. The skin flare-ups cause swelling, which in turn causes itching and can sometimes result in bleeding. 
Thus, cannabinoid products such as CBD oil, may help reduce the inflammation caused by psoriasis.
CBD oil can also help manage pain, which is a common symptom for those with psoriasis. Pain is induced by open lesions, burning sensations, or dry skin. 
Therefore, seeing as psoriasis is a painful skin condition, using CBD oil for psoriasis may help subdue the pain.
How To Use CBD Oil For Psoriasis
People with psoriasis may benefit from cream, lotion, or oil-based products. Thus, CBD oil or infused skincare may be the most suitable and effective option. 
Liquid products can be applied directly to the skin for immediate relief and maybe long-term benefits. 
As there are various types of psoriasis, we will break down each case individually as they may benefit from different CBD applications or doses.
Scalp psoriasis
Scalp psoriasis can cause itching, which may lead to a build-up of dead skin in the hair. CBD-infused shampoos, conditioners, and treatments will be most effective. Or, add a full-spectrum CBD to your current conditioner to reap its benefits. 
Psoriasis flare-ups
Flare-ups of psoriasis can be caused by stress, illness, and external factors, such as the weather or allergies. 
These are best treated with full-spectrum CBD oils, as they are higher concentrated and ideal for newbies to CBD.
Facial psoriasis
As facial psoriasis is more sensitive and difficult to manage than body psoriasis, you may want something more sensitive. A full-spectrum CBD oil mixed with water or other skincare products will reduce its potency and be gentle on the scalp.
For all psoriasis conditions, applying a CBD oil directly to the impacted area will work best. It will interact well with the body's endocannabinoid system to offer quick results. 
Either use it straight from the bottle, dilute it with water, or mix it with your current treatment products. 
If you would prefer to use edible CBD products, such as gummies or capsules, start with a small amount, like 5 or 10 mg. Gradually increase it after a week, if needed, until your symptoms are a little better.
Before committing to using a CBD oil for psoriasis, always ensure it has passed lab testing and is from a reputable source. 
They should also declare what the CBD oil product contains.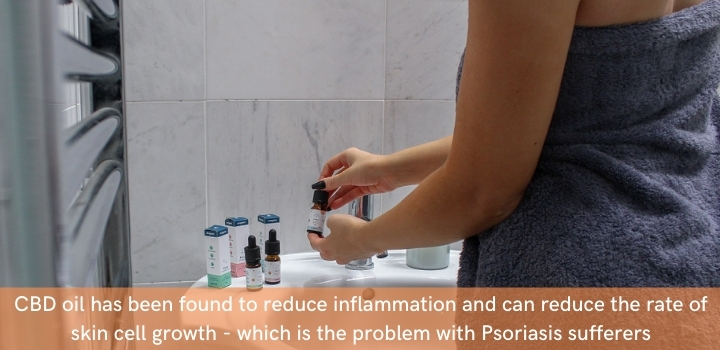 How Long Does It Take CBD Oil to Work for Psoriasis?
Because of the way CBD oil works with the body's endocannabinoid system, the time it takes to work can vary amongst people – even if these people are the same height and weight.
However, generally you can expect to see results within an hour of topical application or taking CBD oil sublingually.
If using topical CBD, you may even notice relief instantly – although this could be as a result of other ingredients in the topical CBD such as essential oils added to provide a cooling feeling on the skin.
What is the Best CBD Oil For Psoriasis?
Choosing the best CBD oil for psoriasis is crucial, otherwise you may not get the benefits you're looking for.
There are a few options for types of product you can choose, including:
Topical CBD:

Such as a balm or lotion. This is applied directly to the psoriasis to relieve discomfort, which may be noticed immediately

CBD Oil:

This is a very common way of taking CBD. You can apply it topically as you would a balm or lotion, but the most popular way – and the way with the best CBD bioavailability – is sublingually, which is a popular method because it's one of the quickest ways to notice the benefits of CBD
CBD capsules/edibles:

Taking CBD capsules makes it really easy for people who do not like the earthy CBD oil taste to take. However, it can take longer to notice the effects because the CBD first needs to be digested before being absorbed into the bloodstream
Whichever method you choose, you should also choose CBD oil that is:
Broad-spectrum or full-spectrum, so you can experience the entourage effect from other cannabinoids, terpenes and flavonoids

Organic, non-GMO, and natural

Fully lab-tested and transparent, so you know exactly what you're getting

Sustainably sourced and produced
To Sum It All Up…
Although there is limited evidence to suggest CBD oil is highly effective for treating and managing psoriasis symptoms, some studies show it can help with inflammation and reduce irritation or pain. 
Whether you want to try CBD oil on its own or mix it with another product, it is most effective for skin conditions when applied directly to the skin. You will attain quicker results and immediate relief. 
If you have severe psoriasis or long-term symptoms that impact your life, you may need to seek advice from a doctor before using CBD oil for psoriasis or other non-prescribed products.
Those who found this article useful can browse our other posts on our blog to learn more about CBD. If you're ready to start trying CBD oil for psoriasis, we have a 30-day happiness guarantee when you buy CBD oil online from our shop!