Are you interested in baking with CBD Oil?
If so, you've landed on the right page!
Here, we've assembled the best CBD cake recipes, including a few you won't find anywhere else.
We've also put together some tips on cooking with CBD oil that will hopefully make it easy for you to come up with your own CBD oil baking recipes.
Baking with CBD is an excellent way to get all of the CBD benefits for people who love cake (like we do!) or for people who don't like the taste of CBD.
We'll be covering:
Can you use CBD oil for baking?

Baking with CBD oil tips

Our favourite CBD cake recipes

Scroll down a bit further to see our CBD baking recipes, but first, here are a few tips on making edibles for a fun way to take CBD:
Can you use any CBD oil for baking?
Before we get into the delicious recipes, let's cover the basics – which CBD oil is best for baking?
Technically, you can use any CBD oil for baking, but we recommend looking for the following:
Organic CBD oil to avoid nasty pesticides, toxins 

and other chemicals.

Broad-spectrum CBD oil ensures you have the best possible mix of

cannabinoids

, terpenes and flavonoids in your cakes.
Avoid flavoured CBD oils as they'll change the taste of your cake.
Avoid hempseed oil since, although this is very healthy and great for cooking, it only contains tiny traces of CBD and is unlikely to have the same benefits in terms of your endocannabinoid system.
10% off on your first order
Complete this one-minute quiz and find the right products for you.
How do you Bake with CBD Oil?
Make a CBD butter or equivalent
For effective baking with CBD oil, you need to first bind your CBD with fat.
The most common and effective ways to do this are to make CBD butter or CBD coconut oil.
Remember the ideal CBD baking heat
Another important factor of using CBD in cakes is the temperature you bake at.
Heat is important to the decarboxylation process, which makes CBD more effective.
However, too much heat will destroy the CBD and mean your CBD cakes will have no positive benefits besides being tasty.
The boiling point of CBD is between 320 and 356 degrees Fahrenheit, or 160 and 180 degrees Celsius.
As a result, and to take the difference between various oven dials into account, we'd recommend never going over around 300 degrees Fahrenheit or 150 degrees Celsius.
Vegan baking with CBD oil
Whereas there are plenty of recipe options for vegan cakes with CBD, you can technically make any CBD cake recipe into a vegan one with a few simple substitutions.
You can also easily turn any vegan cake recipe you find into a CBD one, as long as it contains vegan butter, coconut oil, or some other oil or fat that can be easily substituted out for one of your CBD fats.
The only ingredients there are to be concerned about are butter, cow's milk and eggs, which can very easily and readily be switched out for vegan soy margarine, almond milk or soy milk, and vegan egg replacements respectively.
By simply making these switches, or even just using CBD coconut oil instead of CBD butter, any recipe we've listed here, or indeed any CBD cake recipe anywhere else, can quickly become vegan.
With that covered, let's take a look at some recipes for the best cakes made with CBD oil:
4 of the best CBD cake recipes
CBD Chocolate Cake Recipe
This recipe is for a CBD chocolate cake that's decadent, indulgent, yet light.
You can cut it up into individual portions to give you a daily CBD dose, or make one to share if your friends are interested in trying CBD for themselves.
One things for sure – nobody will be turning down this cake!
Ingredients:
For the cake:
300g dark chocolate, ideally a good quality one

150g of our CBD butter made with

unsalted butter

½ a teaspoon of vanilla extract

100g caster sugar

5 eggs (not chilled)
For the chocolate topping:
100ml of double cream 

200g of dark chocolate, ideally a high quality one
Method:
To make the cake:
Preheat your oven to

320 degrees Fahrenheit/160 degrees Celsius

Break the chocolate into chunks and add it to a bowl with the CBD butter

Set the bowl over a pan of water which is hot but not boiling, stirring constantly as the water gently melts the chocolate. Avoid letting the bowl touch the surface of the water

Remove the bowl from the pan and leave to cool

Add the eggs and vanilla to a mixing bowl and mix thoroughly.

Add the sugar and mix further until you get a smooth, thick mousse-like consistency.  An electric whisk is ideal as you want this as well-mixed as quickly as possible. With an electric whisk this should take

4-5 minutes

, so if you don't have one, you're going to need to go to town for a fair bit longer to get the best results.

Ensure the mixture is thick enough by simply lifting out your whisk. When whisked enough, the mixture should leave a thick, ribbon-like trail which stays noticeable instead of simply blending back in.

Pour your melted chocolate and CBD mixture into your thick egg mixture, and mix thoroughly, ensuring everything is equally blended together

Pour into a baking tin that's been pre-greased with with butter and greaseproof paper

Bake for

45-55

minutes.

Remove from the baking tin and leave to cool completely
To make the topping:
Turn your cake upside down. The base should be the flattest part due to the tin, and is therefore better to apply the topping to

Chop or grate the chocolate into small pieces and warm it up again again using your bowl over warm (not boiling water), this time with the double cream instead of CBD butter. However, this time you only need to half-melt the chocolate, which should take 60 seconds or so.

Remove the bowl from the heat and mix the chocolate thoroughly until smooth and shiny

Pour it over the top of the cake and let it drip down the sides – there is no need to spread it or ensure it's even.

Leave overnight, then serve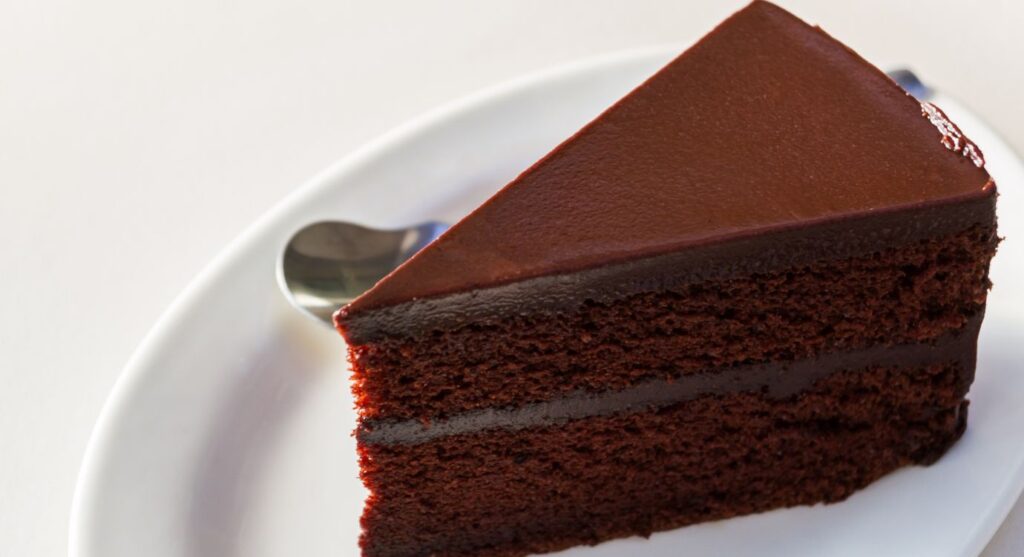 CBD Carrot Cake Recipe
This is one of the best recipes for baking with CBD because the end result is relatively healthy as cakes go and isn't too sickly to eat on a daily basis without getting bored. 
This makes it an excellent way to make CBD tasty for those who want to take it daily but struggle with the taste of drops.
Ingredients:
For the cakes:
2 cups of flour

1 teaspoon of baking powder

2 teaspoons of ground cinnamon

¼ of a teaspoon of salt

3 eggs

1 cup of buttermilk

1 cup of our CBD coconut oil or CBD olive oil

2 cups of shredded carrots

1 cup of flaked coconut

1 cup of chopped walnuts (optional)

1 cup of raisins
For the frosting:
1 cup of butter

1 cup of cream cheese

4 cups of icing sugar

1 teaspoon of vanilla extract

Method:
Preheat the oven to

just under 320 degrees Fahrenheit

Add your baking soda, flour, cinnamon and salt to a mixing bowl and mix together

In a separate bowl, add the eggs, buttermilk, CBD/oil mixture, sugar and vanilla, and mix together.

Add the contents of the two bowls together, and stir thoroughly 

In another bowl, mix together your flaked coconut, walnuts (if using), raisins and shredded carrots

Add the above mixture to your batter and mix thoroughly

Pour batter into a greased cake pan and cook for 1 hour
To make your frosting:
Combine butter, icing sugar, cream cheese, and vanilla extract, and beat thoroughly until smooth

Leave cakes to cool after cooking, then add frosting to the top

Cut into appropriate portion sizes and serve/refrigerate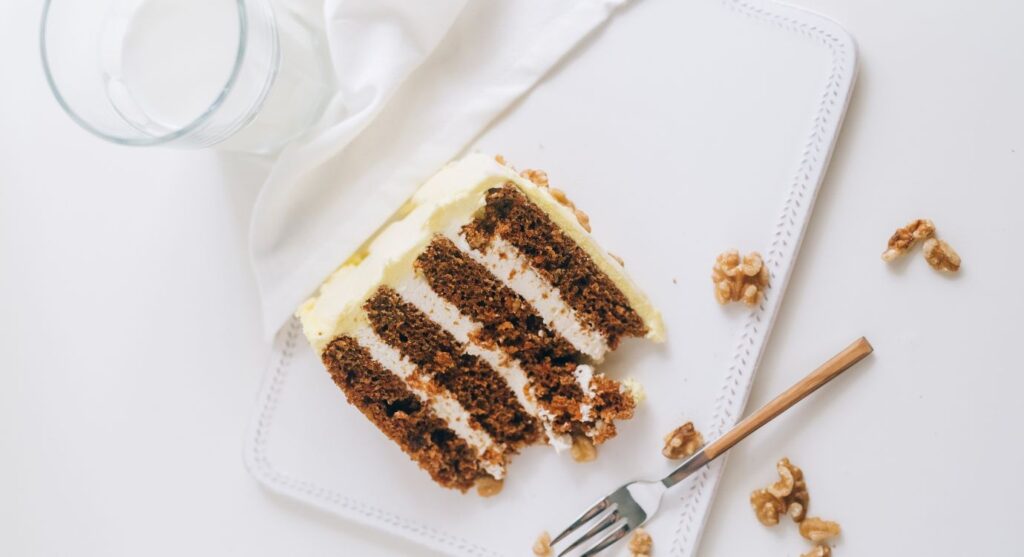 CBD Cupcakes Recipe
The quantities given here can make 24 smaller CBD cupcakes, or 12 larger, muffin-sized CBD cupcakes.
This is an excellent CBD baking recipe since it's easy, quick, tasty, and you can control the amount of CBD in each cake.
Ingredients:
For the cupcakes:
175g of our CBD butter, made with

unsalted butter

3 pre-beaten eggs at room temperature

½ a teaspoon of vanilla extract

175g caster sugar

175g self-raising flour

½ a teaspoon of baking powder

2 tablespoons of milk
Alternatively, for chocolate cupcakes, you can swap out the 175g self-raising flour for 150g of self-raising flour plus 3 tablespoons of cocoa powder.
You will also need cake cases to put your cupcakes in, and something for the topping.
The topping can be our frosting recipe detailed above, homemade icing, packaged icing, buttercream, sprinkles, or anything else you wish.
If you made chocolate cupcakes, you can use a similar chocolate topping to the one used above in our CBD chocolate cake recipe, or even get creative with toffee, small candies or anything else you desire.
Method:
Preheat the oven to

320 degrees Fahrenheit/160 degrees Celsius

Add the CBD butter, eggs, vanilla and sugar into a mixing bowl. 

Sieve the flour, baking powder, and cocoa (if making chocolate cupcakes) into the bowl

Pour in the milk and mix thoroughly until thick and smooth

Spoon the mixture into your cupcake cases, making sure each one contains an even amount

Bake for around 15 minutes for smaller cupcakes or 20 for larger ones, until the cakes spring back into place if gently pressed. Consider turning the tray around halfway through if the cakes are baking evenly.

Remove from the oven and leave to cool until completely at room temperature

Add your icing, frosting or other toppings, and serve!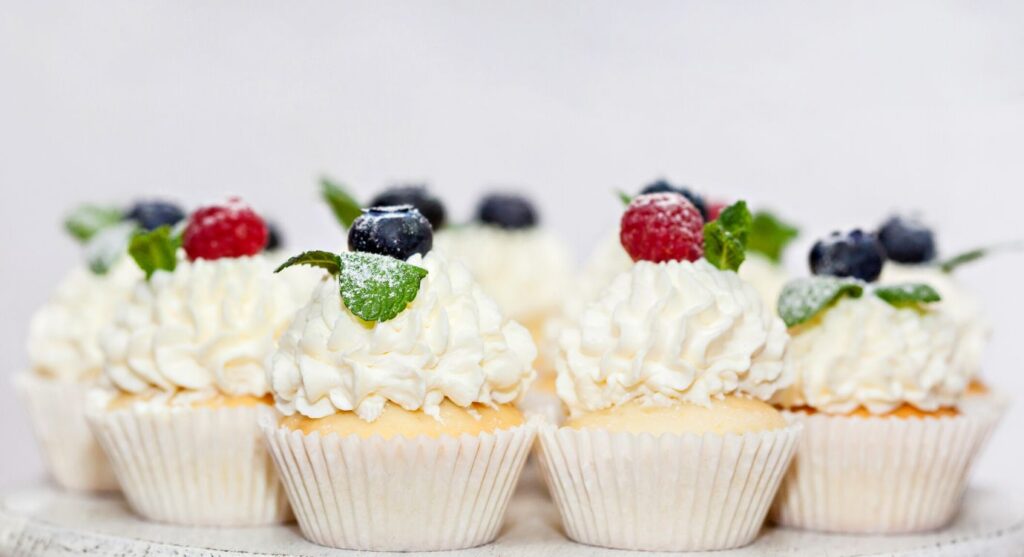 CBD Cake Pops Recipe
This recipe is for one of the best CBD cakes since they are so fun to make and eat, and also because it's easy to make sure each cake pop contains a specific amount of CBD.
It's also an incredibly easy recipe to personalise because the actual cake baking part is open to different ideas and you can even use cake mixture from a box if you're in a rush.
First, simply bake a simple sponge cake. Yep, that's it. Use your favourite cake recipe, use a packaged cake mixture, get a friend who's good at baking to make it for you, whatever – just get a cake.
Prepare the same frosting we used above in the CBD carrot cake recipe, but replacing the butter with our CBD butter. Alternatively, use a different frosting recipe that you prefer, or once again, simply buy some frosting, and add your desired amount of CBD oil directly to it. The quantity above will be perfect for an average sized cake which will result in 10-15 cake pops, but for a larger cake or more pops, simply multiply the quantities.
Here comes the fun part – crumble up your cake and add it to a mixing bowl with the frosting. Mix thoroughly.
Roll the mixture into equal sized balls.
Leave them in the refrigerator for 2 hours to firm up
Dip the balls into icing sugar, icing, melted chocolate or any topping you prefer. That's it!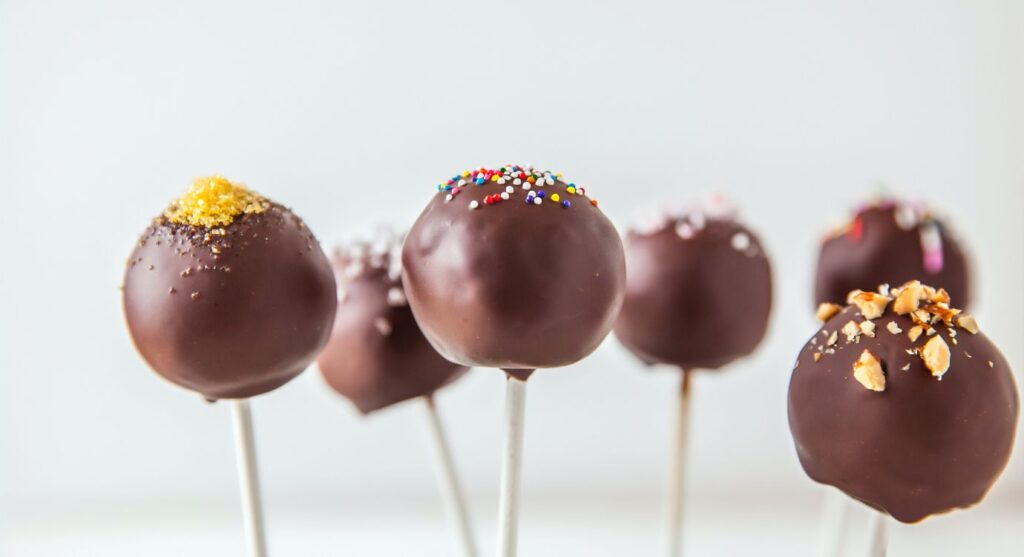 The verdict on CBD cakes
In our opinion, CBD cakes are one of the best ways to get your CBD fix. 

Try one of our recipes, or experiment by adding CBD to your favourite cake recipes. 
But remember, always use high-quality CBD oil and follow the guidelines we share here. 

And, if you have a delicious recipe – send it to us at hello@evopure.co.uk – we'd love to try it out!