We've summed up our favourite CBD smoothie recipes below. Interested in how to make them? Read on.
The best superfood smoothie uses a variety of fresh, healthy ingredients to ensure the widest range of nutrients. 
Considering the range of CBD oil products out there and all the benefits it can offer, the compound makes an ideal addition to any smoothie that combines other beneficial, natural ingredients.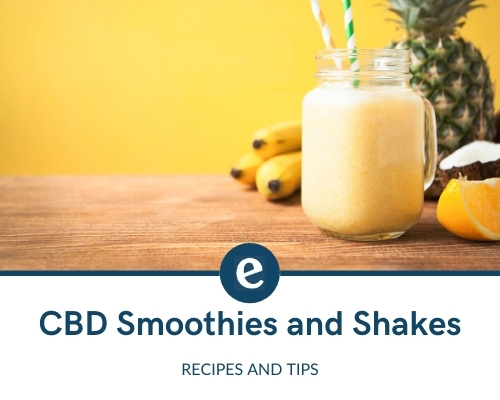 After all, a superfood smoothie that also gives your endocannabinoid system everything it needs to promote homeostasis and wellbeing is unlikely to be a bad idea.
As a result, we've compiled some of the best CBD smoothie recipes you'll find anywhere, with a focus on natural ingredients that will give your body the boost it needs. 
So whether you're looking for a morning shake to get things started the right way, or a lunchtime smoothie to keep your blood sugar levels stable and prevent the afternoon crash, it's all right here!
Why Add CBD to Smoothies?
While research into the benefits of hemp oil are ongoing, there has been some positive evidence that CBD interacts with the endocannabinoid system to promote homeostasis and general wellbeing.
While we would never recommend you come off prescribed medication for these issues, and doctor's advice should always be prioritised, CBD has been suggested to help maintain healthy, balanced bodily processes.
CBD smoothies provide an easy way to make the most of these benefits, allowing you to mix CBD oil with other beneficial herbs and nutritious ingredients to get an easy and tasty boost.
It can also be an excellent way to take CBD for people who dislike the natural, earthy flavour of unflavoured CBD oil.
With that in mind, we've put together some of the best CBD smoothie recipes you'll find online – some for their nutritious content, and some just for fun – you can consider this your one stop resource for CBD smoothies and shakes!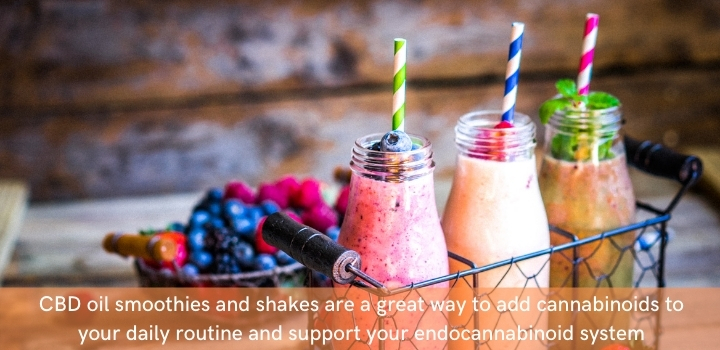 CBD Smoothie Recipes
Savoury Tropical CBD Smoothie
This one is relatively unique in that it's savoury and not sweet – ideal as a morning nutritional boost or to wash down a healthy lunch for those who find regular smoothies a little too sweet for that early in the day!
It also packs a wide range of nutrients, and both ginger and turmeric offer antioxidant and anti-inflammatory qualities.
It's also incredibly easy to make, with no preparation necessary. 
All you need to do is throw the following ingredients into your smoothie maker or blender on smoothie setting, and mix until smooth:
2 drops of unflavoured full spectrum CBD oil
1 whole orange, peeled
1 carrot, peeled and sliced
⅔ cup of coconut water
½ cup of mango chunks
1 tablespoon hemp seeds
½ teaspoon peeled and grated ginger
1.5 teaspoons of turmeric (ideally peeled and grated from fresh but you can use dried if necessary)
A pinch of salt and cayenne pepper for flavour
½ cup ice cubes
You can also use frozen mango chunks instead of fresh, making this even quicker and easier to make and removing the need to add ice cubes.
Feeling adventurous? 
Add ½ cup of diced papaya to make this even more tropical, if that's even possible.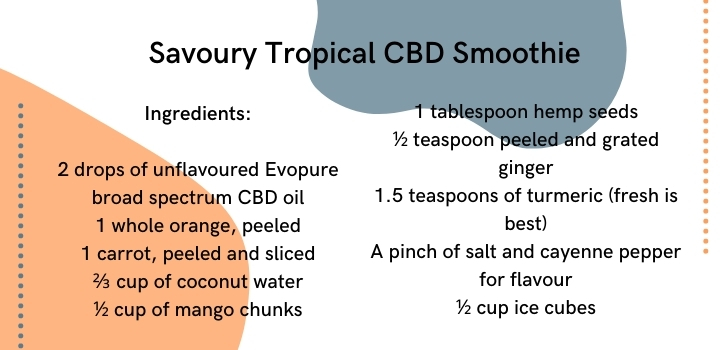 Green Superfood CBD Smoothie
This one is all about getting as many nutrients and healthy ingredients as possible into one shake, covering all of the nutritional bases. 
It's high in fibre, antioxidants, vitamins, minerals and a decent source of protein while remaining low in fat, making it an ideal post-workout recovery drink, healthy morning shake to get you ready for the day, or even a hangover cure!
The beauty of this one is that the taste, while refreshing and tart, is relatively neutral, meaning you can easily customise it or add extra ingredients, as long as they aren't overpowering enough to be noticed in terms of flavour.
Try adding the following to your blender or smoothie maker:
Half a ripe avocado, peeled and pitted

1/2 cup of kale

1/2 cup of spinach

½ cup of almonds

½ cup of cashews

5 drops of unflavoured full spectrum CBD oil

1 cup coconut water

2 tablespoons fresh squeezed lemon juice

1 tablespoon agave nectar

1 tablespoon matcha powder
Simply blend all of the ingredients together until smooth. 
If the consistency isn't to your preference, you can make it thicker or thinner easily without drastically changing the flavour by adding coconut meat or more coconut water respectively.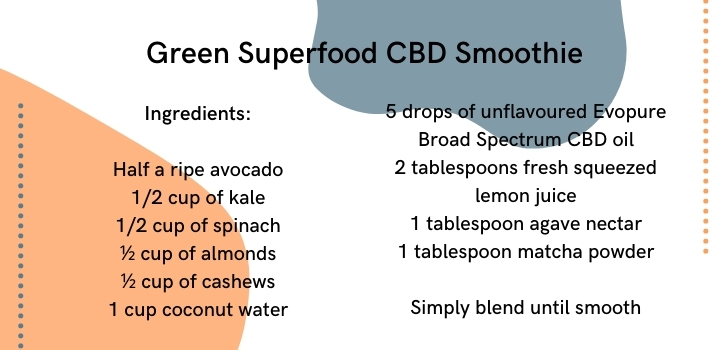 CBD Breakfast Lassi
Lassi is a traditional Indian drink made from milk, yoghurt, mango and other ingredients, and is an excellent option for a way to get your healthy fats and energy in the morning, especially for those who struggle to find the time to eat a solid breakfast.
But as you'll be aware if you follow our blog, one of the best ways to ingest CBD and to get the highest bioavailability is to mix the CBD oil into some form of fat first.
Lassi provides an excellent option to do that, providing you with a slow burn of energy, healthy fats, and nutrients, mixed with a rapid and powerful dose of CBD.
Simply mix together:
½ cup of whole milk
1 tablespoon of salted, grass fed butter
1 cup of plain Greek yoghurt
5 drops of unflavoured, full spectrum CBD oil
You can also use semi skimmed milk if you prefer but this will increase the lactose ratio to fat and decrease the absorption rate of the CBD so is generally not advised.
Next, blend your CBD/milk/butter/yoghurt mixture together with the rest of the ingredients as listed below:
1kg of mangoes, peeled, pitted and diced (or from frozen)
2 diced peaches
1 teaspoon grated ginger
You can also optionally add honey and fresh mint leaves to taste.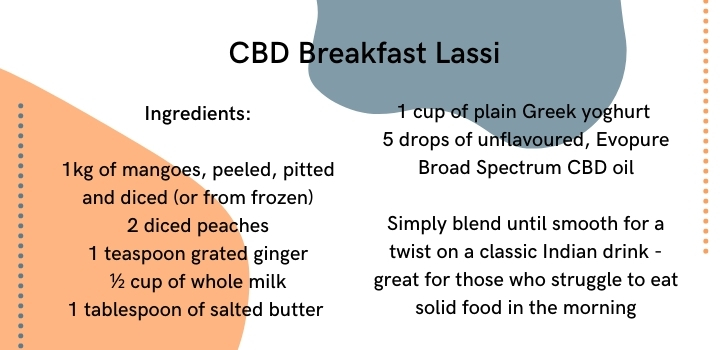 Oat & Banana CBD Powershake
This one is a simple, easy to make classic but it's convenience and status as an energy packed all-day breakfast drink make it a must, and a dash of CBD oil takes it from ideal breakfast to gamechanger.
Perfect for athletes & those who need lots of energy!
Simply blend the following together until smooth:
5 drops unflavoured full spectrum CBD oil

¼ teaspoon cinnamon

1 teaspoon honey

1 whole banana

½ cup plain Greek yoghurt

¼ cup rolled oats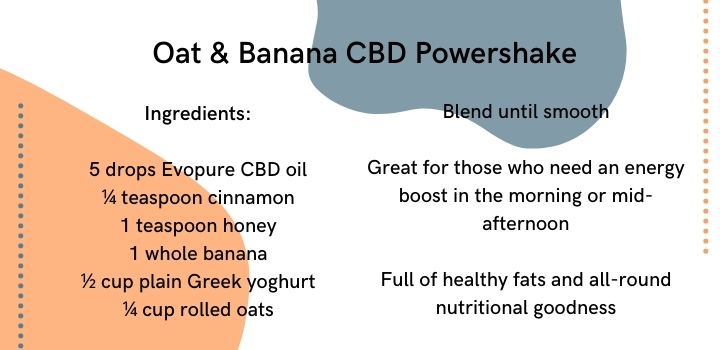 Very Berry Super CBD Smoothie
This very berry smoothie is bursting with colourful goodness and can be made with freshly picked berries for a tart flavour journey or frozen berries for instant mixability. 
If using fresh fruit instead of frozen, we would recommend adding 1 cup of ice cubes to ensure your smoothie is cold. 
You can also customise the berries as much as you like, for example adding blackberries or substituting one for another. This is our favourite blend though.
One of these bad boys will give you your 5-a-day in one satisfying gulp, with the CBD dose only adding to the benefits.
Here are your ingredients:
1 banana
5 drops of unflavoured full spectrum CBD oil
½ cup raspberries
½ cup blueberries
½ cup strawberries
1 small avocado, peeled and pitted
½ cup almond milk
2 tablespoons of honey
1 tablespoon hemp seeds
1 tablespoon chia seeds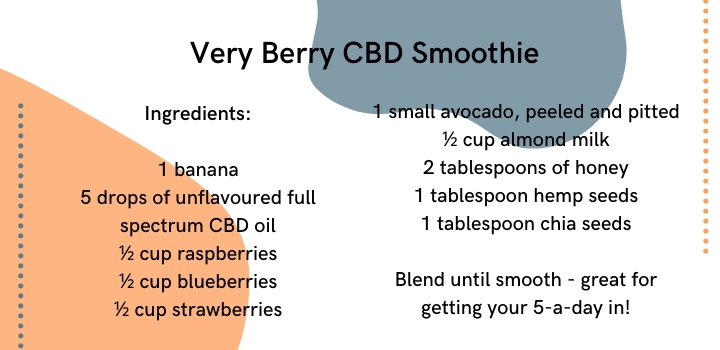 Decadent Coco-Chocolate CBD Smoothie/CBD Chocolate Milkshake
This one is a little more fun and may be the best option for those with an aversion to healthy foods! 
The coconut helps to carry the CBD and the dark chocolate gives an extra kick of antioxidants to help your immune system keep doing what it should.
Simply blend the following together:
5 drops of unflavoured full spectrum CBD oil

½ cup of chocolate milk

1 block of dark chocolate

½ cup grated coconut (frozen or fresh)

2 tablespoons of coconut milk
You can also add a pinch of sea salt to taste, or switch out the chocolate milk for ½ cup of regular milk and use 5 blocks of dark chocolate for a darker, less sugary version.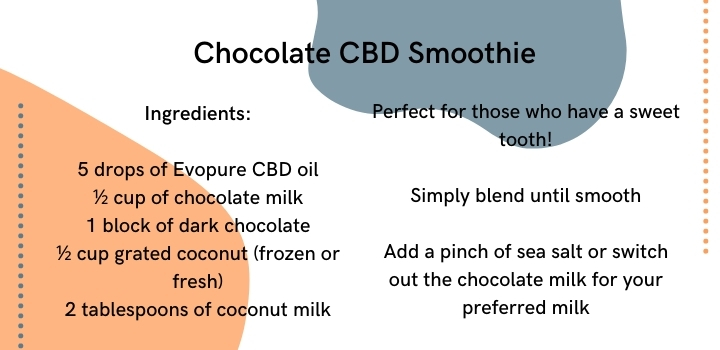 What is the Best CBD Oil for Making Smoothies & Shakes
If you're wondering which CBD oil to use for your smoothies, here are some things to look out for:
Third party test results.

A company that doesn't provide these either has something to hide or simply doesn't care.
Full spectrum CBD oil.

This means it contains all of the beneficial ingredients from the hemp plant as opposed to CBD alone, and is a must if you're taking CBD oil for the potential of health benefits.
Unflavoured.

Flavoured CBD oil can change the taste of your smoothie and may contain the sort of artificial flavourings and sweeteners that you really don't want in your superfood smoothies.
Organic, ethically grown and with a trustworthy return policy

. These are generally things you should look out for in any product you plan on ingesting!
As long as a CBD product is all of the above, it is likely to be just fine to help you begin your CBD smoothie journey!
To learn more about the different types of CBD and how best to take them, take a quick look through our guide: "How to Take CBD Oil".
If you are interested in cooking with CBD oil and other ways to make it more pleasant to get your daily dose, we have also covered the following topics in previous posts: