You may think that CBD lab results are just another marketing fundi adopted by the CBD industry.
But, lab testing is actually one of the most important signs of a reputable CBD seller. 
To ensure your CBD products are safe and legal, you need to know exactly what is inside. To do this, sellers send a sample of each batch of CBD oil to a third-party lab where a qualified team will analyse the content of the CBD. 
By outsourcing this essential task, the consumer can feel more confident in the results.
While this all sounds great, CBD lab results don't mean much if you don't know how to read them. 
But fear not, we're here to guide you!
In this article, we explain: 
Why CBD lab results are important
How to read CBD lab results like a pro
What to do if you can't find a company's lab reports
Let's get stuck in.
Introduction to CBD
Before we delve deeper into CBD lab reports, let's do a quick recap on CBD.
CBD is short for cannabidiol. It is one of many cannabinoids that are found in the hemp or cannabis plant.
While there is still a lot we don't know about CBD, we do know that it is capable of interacting with the endocannabinoid system and supporting a sense of wellness.
However, the thought of cannabis might make you nervous because of another, slightly more famous cannabinoid, THC.
THC, or tetrahydrocannabinol, is the main psychoactive compound responsible for getting users high. 
It is also a controlled substance in the UK, so it's important to check that your CBD products don't contain high levels of THC (hence reading your CBD lab results!). 
Here is a short video explaining more about this wonder cannabinoid!
What are CBD lab test results?
Also called a certificate of analysis, CBD lab test results is a report compiled by a lab that confirms the cannabinoid content of a CBD product.
It isn't the individual CBD product tested but the wholesale batch of CBD.
CBD lab results should be updated every time a seller sells out of one product and switches to a new batch. This is why it's also essential to check the date on the certificate to ensure it is recent.
So, what's included in a Certificate of Analysis?
Firstly, CBD lab results confirm the concentration of CBD in a product, which is an important factor in determining the price of CBD products. For example, if lab results confirm there is 10% CBD, retailers can charge more than they can for 5% CBD oil.
Secondly, CBD lab results also confirm the safety of products by looking for potential contaminants such as pesticides and heavy metals. 
And lastly, the CBD lab report will outline additional beneficial compounds in the product, including other cannabinoids, terpenes and flavonoids.
10% off on your first order
Complete this one-minute quiz and find the right products for you.
CBD lab results & legality
CBD lab results are also vital to ensure that your CBD is legal.
CBD is completely legal in the UK and in many countries around the world, provided the THC content of the product is low. In the UK, the THC content should be below 0.2% for products to be sold legally.
One way to ensure you stay within the legal limit of THC is by buying CBD isolate or broad-spectrum CBD that contains no THC.
But, if you prefer using full-spectrum CBD, buying lab-tested CBD is essential to confirm the THC content of your CBD. 
Travelling with CBD products is a bit of a grey area as many countries will have their own rules for how strong the product can be and how much THC it can contain.  
So, if you are travelling, always check the rules of your destination country, and pack your CBD lab test report to avoid getting in trouble with the law.
2. To ensure the THC is within legal limits
It's also vital for ensuring that your CBD product is legal.
Since CBD is considered to be a food supplement and not a medicine, it is not subject to the same stringent checks and licensing rules as medication.
This means that anyone hoping to sell CBD products only needs to ensure they have legal levels of THC.
However, a seller could also fail to disclose the THC content of a product, leaving individuals using illegal products without their knowledge.
Therefore, a certificate of analysis is essential in ensuring you don't accidentally break the law!
3. To determine the cannabinoids profile of the product
And finally, the buyer should also be aware of other beneficial cannabinoids in the product. CBD can contain a range of cannabinoids, terpenes and flavonoids in varying quantities, therefore a certificate of analysis can help confirm what these additional compounds are, and the concentration of each.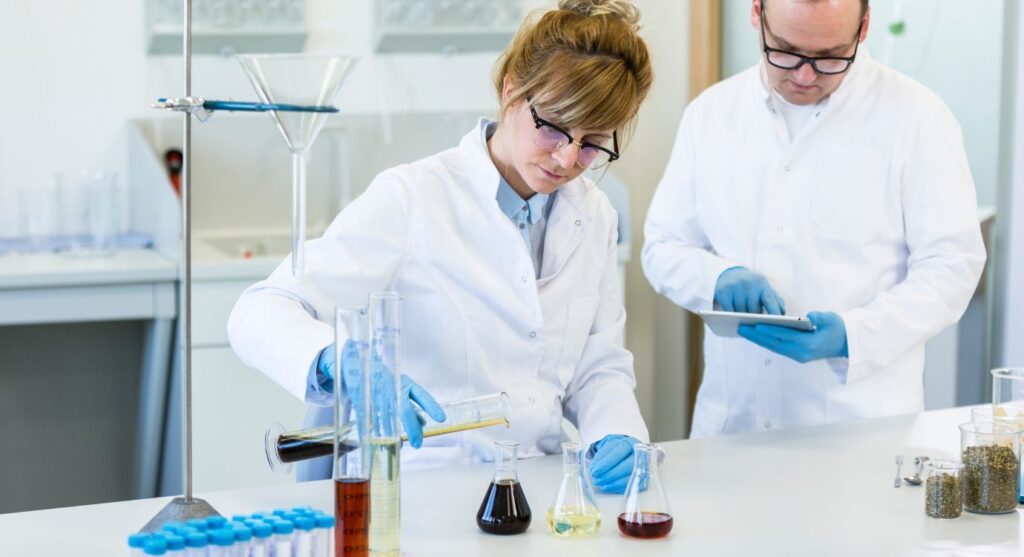 Who can perform CBD lab tests?
Only accredited labs should undertake CBD testing. Accreditation means that they follow regulations to ensure that their tests are accurate and reliable. 
Not only should the lab be accredited, but they should also be able to carry out accredited THC tests. The police use this type of lab to confirm the contents of illegal substances.
The laboratory should have the relevant accreditation, usually from UKAS or ISO. This confirms that the laboratory is able to work competently and deliver valid results. 
This type of accreditation is accepted in different countries. 
So, if your CBD product was tested in the United States, you can be confident it was tested to the same standards as a lab here in the UK.
How to read CBD lab results
On the certificate of analysis, you should see the date and a reference for the sample provided. Certificates will differ by the laboratory, but all should follow a similar structure.
One column will contain the names of substances tested for. Usually, the most important ones to look for are CBD and THC.
There are also lots of other cannabinoids such as CBG, CBC, CBN and more, and these may also be listed in the results.
You should see the results and the unit used. Most often, this will be a number followed by a percentage sign. You may also see this symbol: <. The angled bracket means "less than".
To read your CBD lab results, look for the cannabinoid you would like to confirm. For example, in our recent certificate of analysis for our 500mg CBD Oil, you can see that the CBD content is 5.2889%.
The CBD content may be slightly higher than the amount stated on the bottle. However, it shouldn't be much higher than around 1%. The important thing is that the CBD concentration is not lower than that stated on the bottle.
The THC content of the product may be split into THCV, THCA and THCVA. It should also be displayed as "total THC". This will help to confirm that your product is legal.
A product may be marked as 0.0% THC, but you might notice that there are trace amounts in your CBD product. Provided the THC level is below 0.2%, it is perfectly legal. 
Anything lower than this will be too diluted to have any effect.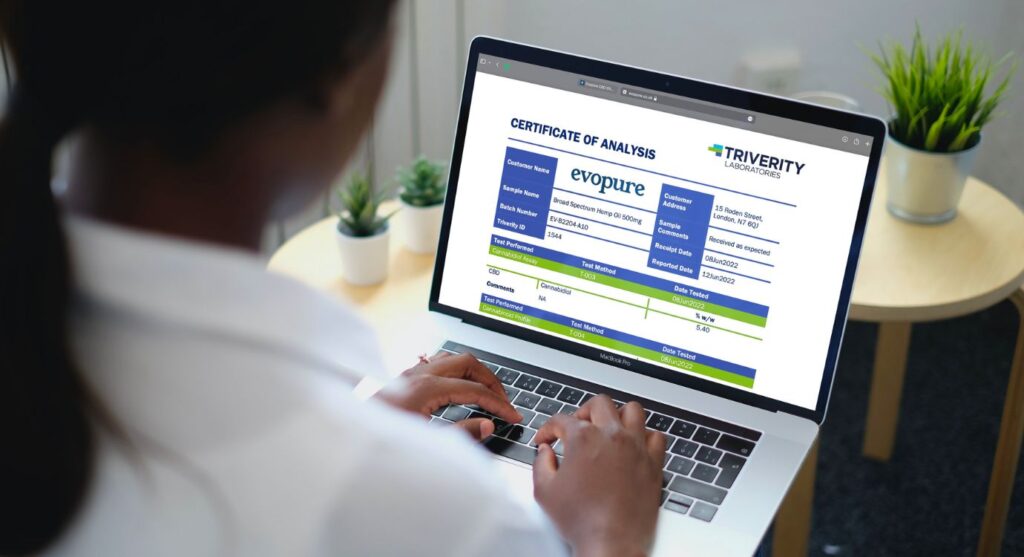 What if I can't find the CBD lab results?
Not all retailers have them available on their website, but they will send them to you if requested. If a seller cannot provide CBD lab results, then you cannot confirm the contents of their CBD oil.
At best, you could end up with a CBD product that does not contain high enough levels of CBD to be effective. And at worst, you could be buying an illegal product with high levels of THC.
Taking the time to seek out and read the CBD lab results is a small but highly effective step that will allow you to buy effective and safe products.
Final thoughts on CBD lab reports
To sum it up – always look for CBD that has been third-party label tested and has a certificate of analysis. 
This will ensure you don't waste money on ineffective CBD and, even more importantly, that you are on the safe side of the law. 
And if you are ever unsure about how to read CBD lab results, reach out to the Evopure team at support@evopure.co.uk, and we will gladly assist!