There are so many types of CBD products, each one having it's own benefits and drawbacks. So which is the best one, once and for all? Let's take a look.
CBD has gained a great deal of popularity in recent years as more and more people realise the benefits for wellness of this natural supplement.
This rising popularity has been accompanied by the rapid expansion of the CBD market.
This means that there are not only a large number of brands and manufacturers from all over the world to choose from, but also a dizzying array of different types of CBD products.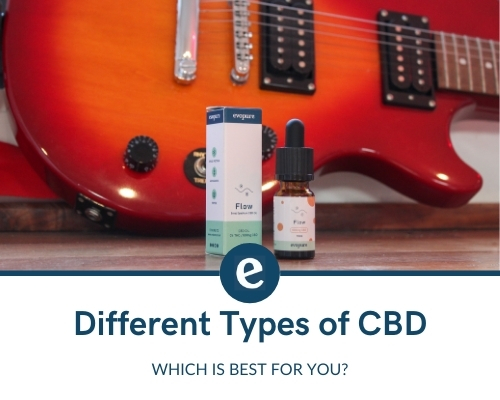 Should you choose CBD oil, CBD capsules, topical creams, vape liquid, or even edibles? 
Which is best?
In this Evopure guide to different types of CBD products, you'll learn:
The different types of CBD products

The

pros and cons of each product

How to find the

best

CBD oil
The large number of different types of CBD products available can make it very difficult to know which product to choose. 
From topical CBD that you could use for skin massage to edible gummies, CBD is available in a wide variety of different forms.
This confusion is made worse by the fact that, as a relatively new kind of product, many people don't fully understand what CBD is and how it works. 
What is the Best Way to Take CBD Oil?
There is no right answer to this question, because there isn't a one size fits all approach when it comes to CBD. 
The right product for someone else may not work so well for you, because this depends on a range of factors from why you're taking CBD and the benefits you're looking for, to your lifestyle and personal preferences.
Things to consider when choosing the right CBD product for you include:
The reason why you're taking CBD: is it for a

particular ailment

or promote general health?
Your lifestyle: how busy you are,

whether you travel often

etc
How quickly

you want the CBD to be absorbed
Whether you're comfortable using

tinctures

or

vapes
With these types of factors in mind, we're going to go through the main types of CBD products and various consumption methods available on the market today.
The range of different CBD products reflects the fact that you can take CBD in a variety of ways:
You can inhale it
Take it sublingually
Eat it
Drink it
Apply it to your skin
Within each of these categories, there are also many different consumption methods as well as specific products.
Each of these methods will deliver the CBD compound to your bloodstream and from there it will interact with your body's endocannabinoid system.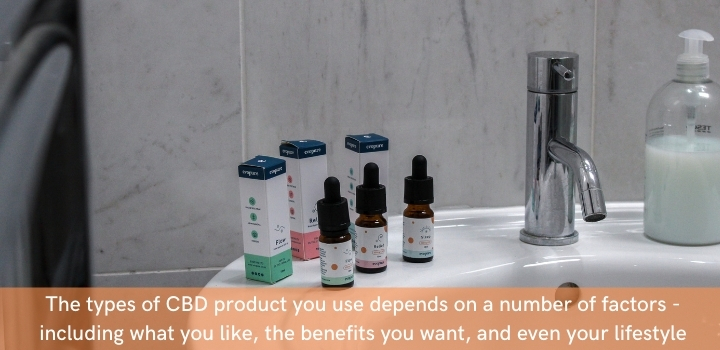 What are the Different Types of CBD Products?
There is an enormous range of different CBD products these days, which can be rather overwhelming for the consumer, especially if you're new to taking CBD. 
Here we're going to cover the most common types of CBD products available on the UK market.
Different types of CBD products include:
CBD oil
CBD capsules
Hemp tea
CBD beverages
Topical CBD 
Vape products
Emulsified CBD
CBD Oil 
One of the most popular forms of CBD products is CBD oil, sometimes also referred to as CBD tinctures or drops. 
This liquid form of CBD is available as CBD isolate, but most CBD oils are either broad-spectrum or full-spectrum CBD, meaning they contain different types of cannabinoids, as well as terpenes and flavonoids.
CBD oil also typically includes a carrier oil that increases the efficiency of CBD and speeds up the absorption.
To take CBD oil, you simply place a drop of the oil under your tongue and let it sit there for one to two minutes before swallowing. 
Most CBD oil products come with a dropper for easy application, and should clearly show how much CBD each drop contains on the label or product information.
One of the major advantages of CBD oil is that it is easy to measure and track your dosage, as you simply need to count the number of drops you take. 
It also has one of the highest levels of bioavailability of any form of CBD consumption, as the CBD is absorbed more quickly into the bloodstream through the blood vessels under the tongue.
It is important to store CBD oil properly to make sure it doesn't lose its potency or effectiveness. Our guide on how to store CBD oil should help you.
CBD Capsules
If you don't like the idea of taking CBD oil under the tongue, then CBD capsules are a good choice. 
These come in a very familiar form in which you're accustomed to taking your other health supplements: usually a gel capsule containing CBD oil.
On the market, you'll find CBD isolate, broad-spectrum and full-spectrum capsules. 
Full and broad-spectrum CBD are believed to be more effective as they contain a broad range of cannabinoids, terpenes and other ingredients that act together in the entourage effect.
Most people find CBD in its capsule form easy to use, as well as making it easy to measure the dosage of CBD. 
However, they do have a lower bioavailability than CBD oil taken under the tongue, as it takes longer to absorb CBD via the stomach.
CBD Beverages
Since CBD oil is a fat-soluble product, you cannot mix it with water. You can, however, mix it into a range of home-made beverages.
Manufacturers have also begun to launch new CBD drinks. The brands often call it the "water-soluble CBD drinks". 
You can find powdered drinks, energy shots, and other types of CBD liquids on the market. You must pay attention to the extracts added to these drinks.
Hemp Tea & Coffee
As a natural herbal supplement extracted from the hemp plant, CBD and tea seems like a natural choice! 
Although not the most potent or efficient form of CBD, hemp tea does provide a rich source of the beneficial compounds found in the hemp plant, including a range of cannabinoids.
Hemp often comes mixed with a range of other herbal teas, such as chamomile or rose hip. 
A relaxing and easy way to enjoy the benefits of CBD!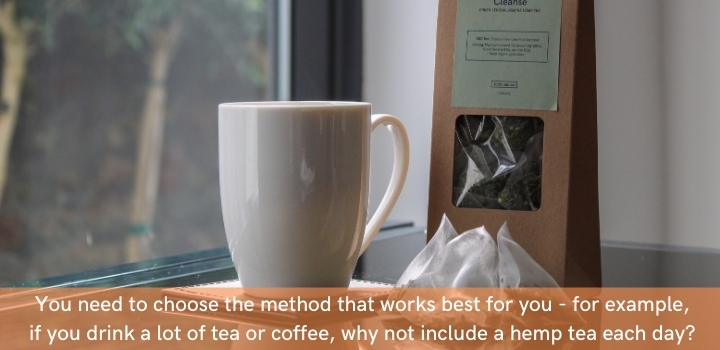 CBD Edibles
CBD edibles are becoming increasingly common, with manufacturers adding CBD extracts to various food products, including gummies, candies, brownies, cookies and chocolate. 
Like capsules, baked foods and gummies make it super easy for users to ingest this wellness supplement.
You can also make your own CBD edibles by cooking with CBD oil.
However, CBD edibles have one of the lowest rates of bioavailability. This is because the CBD needs to be processed by the digestive system.
This takes a fair amount of time and some of CBD is lost to the liver during absorption and transportation.
If you want to improve the efficiency of the CBD edibles, it is best to use products or in foods containing fats. 
Since CBD is a fat-soluble product, it can be digested more easily when paired with fatty acids. 
Another drawback of CBD edibles is that many of these products contain only CBD isolate, so you'll miss out on the benefits of the entourage effect.
Topical CBD
As well as taking CBD orally, it can also be taken through the skin in a topical method. We'll take a look at some of the more popular ways to take topical CBD next.
CBD Balm
CBD balm, or CBD massage balm is another convenient way to get CBD into your system, as endocannabinoid receptors are found throughout the human body. 
Typically, CBD is taken in balm or lotion form to address a particular area of the body that needs to be rebalanced, rather than for general overall health benefits. 
Although CBD oil can be applied directly to the skin, balm is easier to apply evenly across the relevant area.
Most CBD users find the balm or lotion should be massaged into the skin for the best results.
CBD Beauty Products
As the researchers are revealing some interesting things about the benefits of CBD, some cosmetic brands have started to include CBD into their beauty products, such as toners, soaps, serums, lip balms, face masks, gel, beauty creams & lotions, conditioners and cleansers. 
These products can be used in the same way as the regular skincare and beauty products, but make sure you read the label and instructions carefully before using any product on your skin. 
Generally speaking, CBD topicals should not be used on wounds, scratches or broken skin and you should avoid contact with your eyes and mouth.
Transdermal Patches
Like balms and lotions, transdermal patches are to be applied to your skin. 
However, the application process is a little different with patches: usually, these are strips that are placed on your wrists, releasing CBD and other ingredients into your bloodstream through the skin. 
Unlike balms and creams, transdermal patches stay on your skin for an extended duration.
Vape Products
Another way to consume CBD is through vaping. 
Vaping pens and cartridges offer one of the highest levels of bioavailability of any method of CBD consumption as the CBD is absorbed directly into the bloodstream through the lungs.
There are two main types of CBD vape products:
Vape Cartridges: Cartridges are the slim vape tanks connected to a battery. These pre-filled vape tanks can contain CBD e-juice of different flavours, usually with the choice to use the refillable cartridge or purchase a disposable one.
Vape Pens: Similar to the cartridges, these are slim and compact all-in-one vape devices. Manufacturers typically fill these disposable vape tanks with CBD oil, with the device containing a battery connected to an atomizer. Though portable and lightweight, vape pens are usually disposable and have to be thrown away after use – which is not exactly environmentally friendly!
Although effective and efficient, CBD vape products are usually CBD isolate, and so miss out on the entourage effect. 
Additionally, some people may not like the method of inhaling vapour, or find this an inconvenient way to take CBD.
Emulsified CBD
With the latest developments in technology, manufacturers have now launched water-soluble CBD products, with emulsified CBD available in powder and liquid forms. 
Basically, the oil droplets of CBD extract are broken down into small molecules that are fused with surfactants which emulsify the CBD and make it water-soluble.
There are a few different ways to take emulsified CBD:
Water Soluble Capsules: These are similar to standard CBD oil capsules. The only difference being they contain CBD water-soluble extract, helping to increase bioavailability.
Hemp Powder: Hemp powder can be used to mix CBD into different food and drinks. Since it is a water-soluble powder that dissolves into liquids, you could mix it with anything from beverages to your favourite snacks.
Water Soluble Tinctures: Manufacturers have also begun to produce CBD water-soluble tinctures. Like oil-based tinctures, you hold the drop under your tongue for a few seconds until it is absorbed by your sublingual glands.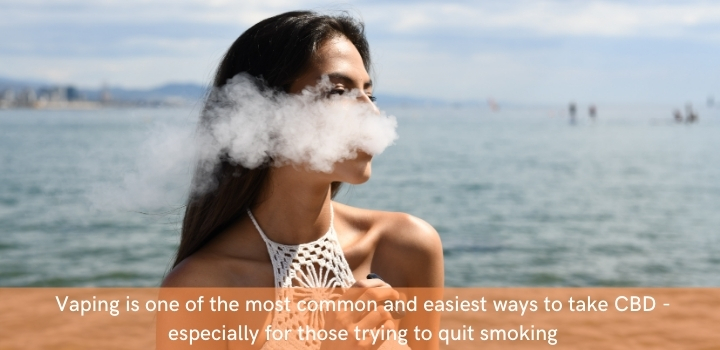 What Should you Consider When Buying CBD Oil?
Along with the type of product and form of consumption, there are also other differences to keep in mind when choosing a CBD product. 
Here are some key things to keep in mind to help you to find the perfect CBD product for you.
CBD Isolate vs. Broad Spectrum vs. Full Spectrum
Along with the different forms of consumption, CBD can also be in an isolate, broad spectrum or full spectrum form.
These terms get thrown around a lot but not everyone fully understands what they mean.
Simply put, isolate is CBD that has been refined so that it only contains CBD, without any other compounds, including other cannabinoids. 
On the other hand, broad spectrum and full spectrum CBD contain a range of different cannabinoids, and typically other natural compounds found in the hemp plant, such as terpenes and flavonoids. 
The key difference between full spectrum and broad spectrum CBD is that the latter does not contain THC, while full spectrum may have small amounts of the psychoactive compound.
Although isolate products are often marketed as being better because they are the "purest" form of CBD. 
However, this ignores the benefits of the entourage effect of taking CBD with the other cannabinoids and compounds found in broad or full spectrum CBD products.
Choose an organic CBD oil
Many consumers prefer buying organic products these days, whether it is CBD, food or something else. 
People are attracted to organic products for a range of reasons, from protecting their own health to protecting the planet.
Whether or not it is essential for your CBD to be organic is up to you, but it is a good idea to check if the product is organic and take this into consideration. 
There are many advantages of choosing an organic CBD product. 
For example, you'll know that the manufacturer doesn't involve any nasty pesticides, fungicides, or other chemicals, and that it is completely free of GMO.
If living an eco-friendly lifestyle is important to you, it is also a good idea to check how sustainable the product is overall. 
For example, at Evopure, we work with organic hemp farmers directly, simplifying the supply chain to minimise the carbon footprint of our products. 
Choose a reputable CBD brand
As with many things, there can be a massive difference in the quality and efficacy of CBD products depending on the brand or manufacturer.
CBD is, generally speaking, extremely safe and virtually risk free, but to make sure the CBD you use is as safe (not to mention as effective) as possible, it needs to be a high quality product.
Look for high-quality products from reputable brands – this is the best way to avoid scams, which are unfortunately a reality in the wellness industry. 
Buying from a reputable brand will also make sure that the product meets legal requirements, to avoid accidentally breaking the law!
Before you buy any CBD product – whether CBD oil, capsules, edibles or anything else – check the ingredients list, concentration, and product reports that show it has been lab tested to a high standard.
Understand the limitations of CBD
Finally, it is important to remember that CBD is a natural herbal supplement that has some properties that may mean it can improve your overall wellbeing.
However, it is absolutely not a replacement for traditional medication, and you may find it doesn't work for you. Always consult your doctor for advice on how to treat any medical conditions or concerns you have.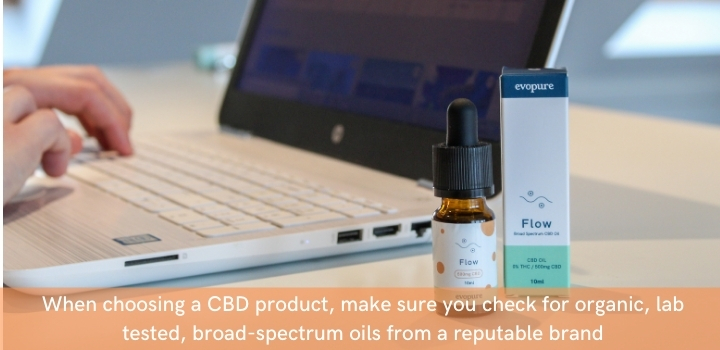 How Do you Choose the Right CBD Oil?
There are many ways you can consume CBD. 
Each method comes with its own pros and cons, as well as varying bioavailability, meaning it may be absorbed more or less quickly and efficiently into your bloodstream.
However, at the end of the day, the most important thing is your personal preference. 
If a consumption doesn't suit your lifestyle or meet your needs, it is not going to work for you, no matter how great it is on paper! 
Download your FREE Buyers Guide for an introduction to CBD