Although in the U.K, most CBD oil is derived from hemp plants, contains little to no THC, and doesn't make you high – CBD supplements are still getting tangled up with 100 years of stigma and prohibition. 
This is despite the fact there are millions of regular CBD users today and thousands of studies proving its vast range of uses as a novel food supplement.
Yet, many people are still a little unsure about whether or not CBD can get you high and, more importantly, whether or not it's safe.
One question that comes up a lot for the CBD-curious is: "Can you overdose on CBD?" 
When taking any supplement, even a novel food supplement, this is a very sensible question to ask as it's always important to know what you're putting into your body and how to use it appropriately. 
So let's explore the answer by looking at the following:
Can you overdose on CBD?

What happens if I overdose on CBD?

How to calculate your CBD dose
Can you overdose on CBD?
The recommended maximum daily limit for CBD, as set by the FSA, is 70mg per day.
However, most patients with a CBD prescription actually take more than this.
Most of the studies investigating the potential therapeutic uses of CBD use much higher doses than this too.
In fact, CBD has been safely tested in studies using up to 1500mg in a single dose with minimal adverse side effects. But this, of course, is not a suitable dose for most people, as that would essentially be like drinking an entire bottle of CBD in one go.
What we know is that even in very high doses, you can't overdose on CBD in any serious way. 
It won't kill you, like taking a box of paracetamol might. 
But that's not to say there are no side effects at all. 
Technically though, you can take too much CBD and experience mild adverse effects such as nausea, headache, diarrhoea, somnolence, dizziness, anxiety and heart palpitations. 
But, if you stick within the recommended dose and build your dose up slowly and consistently over time, drop by drop, you're unlikely to experience this.
What happens if I overdose on CBD?
If you take too much CBD for your needs and experience any of the aforementioned side effects, try not to worry. 
Drink lots of water, and if you want to sleep and have the option to – go for it! 
Most people find any adverse effects usually pass within half an hour. From then on, just make sure to lower your dose.
Can CBD interact with medications?
One point that is worth noting is that, although it would take real effort to overdose in a life-threatening way, CBD can interact with other medications. 
In very high doses, CBD can increase or decrease the rate at which other pharmaceutical drugs are metabolised by the body. This means that there can be more or less of a drug in your system than the recommended dosage. 
You can check all drug/CBD interactions as identified by NICE here. In addition, always consult a medical professional before taking CBD.
10% off on your first order
Complete this one-minute quiz and find the right products for you.
How much CBD should I take?
Although there are doses found to be effective for certain needs in studies, most people find the best way to figure out their unique CBD dose requirements is to build up gradually, drop by drop. 
This way, you can take note of how the CBD makes you feel, upping the amount if you're noticing very little or pulling back if you feel it's too much. 
The trick is to start with 2-4 drops held under the tongue for a minute or two (to allow time for absorption), two or three times a day for best results. 
Oral drops tend to wear off after a couple of hours, CBD vapes after around an hour, and CBD capsules and edibles a little longer, around 4 hours. 
The amount that will work for you is very individual and will depend on a number of factors, including body & weight, the type of CBD and your natural endocannabinoid levels. 
While endocannabinoid tests are largely unavailable in the UK, it's just up to you to work that out, ideally within the recommended daily limit.
How to calculate your CBD dose
Keeping a CBD journal to track your progress can be very helpful when trying to ascertain your best CBD dose. 
It's also helpful to know exactly how much you're taking by calculating how much CBD is in a drop of the oil you're using. Some brands detail this information on the product labels, but some don't. 
CBD oil usually comes in a 10ml bottle or 30ml bottle, and the size will change the amount of CBD you get per drop. 
Although it might look as though you're not getting as much product in a 10ml bottle, this isn't true, as each drop will contain a higher concentration than in a 30ml bottle, meaning you can take less oil to reach the same dose.
This is really vital information to have, but not something that's commonly known, as one 30ml bottle of 500mg, for example, will contain approximately 17mg per 1ml, whereas a 10ml bottle of 500mg will contain 50mg per 1ml dropper.
Here's how you can work it out:
Mg ÷ ml = CBD per 1ml dropper

Divide the total by the number of drops in the 1ml dropper (usually 20, but it is best to check with the supplier)

Or, if you don't want to do the match, you can use a CBD dosage calculator.
Now you have calculated the exact amount of CBD per drop, you can accurately document and tailor your dose and have peace of mind that you won't overdose on CBD.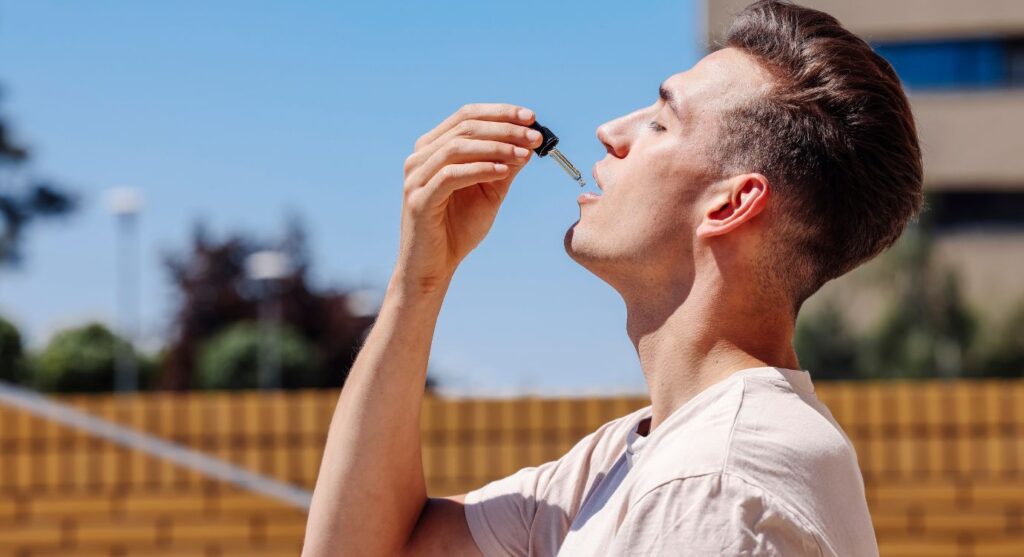 Final thoughts on CBD overdose
So, can you overdose on CBD? No!

But, taking too much CBD can have mild side effects. To avoid this, determine the right CBD dosage for you by starting low and going slow and do not exceed the recommended dose of 70mg daily.